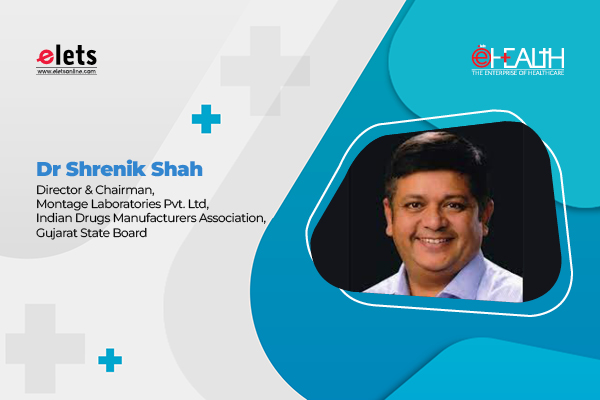 The Indian pharma industry has witnessed a complete makeover in the past few years. From online application and approval of licenses, use of robotics and automation for mass production to supplying COVID vaccines to over 150 countries across the globe. Sharing his perception of the transformation of the Indian pharma industry, Dr Shrenik Shah, Director & Chairman, Montage Laboratories Pvt. Ltd, Indian Drugs Manufacturers Association, Gujarat State Board spoke at the Pharma Leadership Summit.
Dr Shrenik Shah cited the example of the Hindu mythology and said, "There are three major gods – Brahma, the god of creation; Vishnu, the god of preservation and transformation; and Shiva, the god of disruption and destruction. In Ramayana, lord Hanuman, the incarnation of Shiva, disrupted Lanka's ecosystem and lord Ram, the incarnation of Vishnu, transformed the ecosystem. Perhaps, through our religious texts, we've been told that no creation is possible without disruption and no creation is valuable unless it's transformative. This is a reality today." Creating something new without disrupting the existing is humanly impossible, therefore disruption is necessary before the transformation.
Highlighting how the COVID pandemic impacted the lives of people, he said, "An officer, who didn't have to take efforts for a glass of water for himself and was served right at his table, has mopped and swept his house during the lockdown. This is a transformation."
Ahead of economic disruption, there was no thought about the open economy concept, however, the pandemic situation led to such innovative moves to continue growth. The disruption caused by the pandemic pushed the government to take up transformative steps. Similarly, the pharma sector is going through a transformation and the industry has to match its pace to stay afloat and trail the path to growth.
Dr Shah lauded the efforts of Dr HG Koshia who made the application processes for licenses and permits online. The move not only made it easier for the retailers but also the time taken for the entire process was cut short significantly. Also, he mentioned how Dr Koshia has tried to make his authority work in a paperless fashion.
In the near future, another wave of transformation will affect the Indian pharma sector and would require us to come at par and comply with the global standards. This will further lead to significant growth and development of the Indian pharma sector. Even today, the industry is leveraging technology tools to optimise operations. Dr Shah highlighted, "The way we hold conferences, webinars and workshops on online platforms was unimaginable a few years ago. Technology has bridged the communication gap and brought the world closer. However, to match the transformation, an industry has to be agile and adaptive."
He cited various examples of how emerging technologies and digitization has transformed not only pharma but almost every economic sector. He said "change is the only constant" and the key is to constantly adapt to the changes to trail the path towards growth and development.

Follow and connect with us on Facebook, Twitter, LinkedIn, Elets video