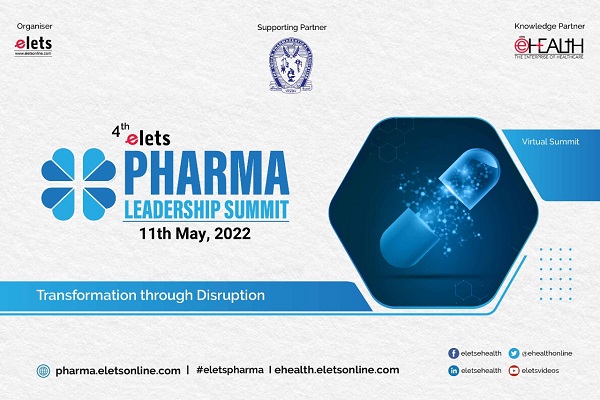 The Covid-19 pandemic has fetched an accelerated adaptation in the Indian Pharmaceutical sector. With technology engulfing the entire gamut of the pharma universe, the wide-ranging transformations have unlocked new prospects.
With the government categorizing Pharmaceuticals as a Sunrise sector in Budget 2022, new vistas of support have opened up. Unraveling the road forward for the Indian Pharma sector, Elets Technomedia along with eHealth Magazine announces the 4th Elets Pharma Leadership Summit 2022 on the theme 'Transformation through Disruption' on 11th May 2022. This networking-cum knowledge gathering will deliver a medium for exchanging views and measures for transforming the Pharmaceutical industry.
The day-long event will host a series of panel discussions on topics-Indian COVID-19 vaccination journey: Technological disruptions in Pharma – Leveraging Data for actionable insights, Championing change within the organization towards a digital future – CIO Perspective, AI enabled Automation strengthening Pharma Supply Chain & Packaging, Intelligent automation – Making Pharma Future Ready and Transformations Driving Futuristic Patient-Centric Care.
The key participants for the summit will be – Government Officials, Policy Makers, Regulatory Officers, Chairman, Promoters & CEOs, R&D lab and Drug Development Heads, API Development Heads, Pharma Packaging & Labeling Heads, Supply Chain & Logistics Heads, Facility Managers, Procurement Officials, Purchase Managers, Equipment Suppliers & Distributors, Senior Managers from Pharma Industry, Hospital Administrators, CIOs, CTOs from Pharma Companies, Top Office Bearers from Apex Industry Associations, Entrepreneurs and Promoters, Technology Companies, Packaging, Labeling & Risk Solutions Companies.
Join us to witness deliberations on the future of this recently christened sunrise sector with the prominent thought leaders at the 4th Elets Pharma Leadership Summit 2022.


Follow and connect with us on Facebook, Twitter, LinkedIn, Elets video