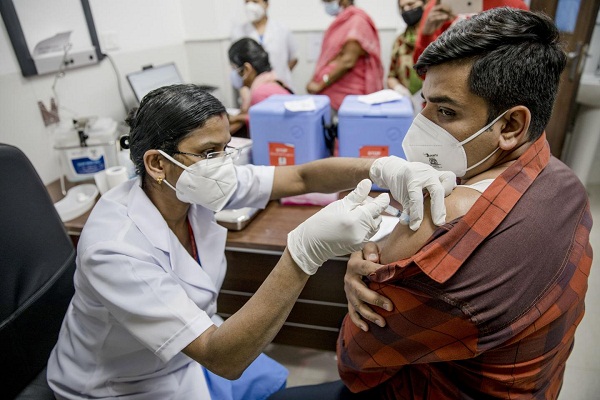 Lucknow, Uttar Pradesh
Uttar Pradesh crossed the 25 crore vaccine doses milestone on Monday. As the state continues to conduct one of the most successful vaccination campaigns in the country, the numbers come as a strong indication since the rollout of the mass immunisation drive. Committed to providing protection cover to children in the age group of 15-18, the state of Uttar Pradesh has so far administered vaccine doses to over 57 percent teenagers.

Since the beginning of the inoculation drive for this age bracket, more than 81 lakh teens have received their first dose of vaccine within a span of 3 weeks. Uttar Pradesh has also administered over 8.45 lakh 'precaution doses' to healthcare, frontline workers and those above 60 years.
In view of the participation of people in the upcoming assembly elections, the vaccination drive has been intensified since the last 15 days in the state. A total of 5 crore vaccine doses have been administered in the last twenty days.
In order to ensure a 'Covid-safe' election in Uttar Pradesh, the State Government is relying on enhanced vaccination, considering which the Chief Minister has ordered to complete 100 percent vaccination in all the districts in a phased manner.
The Chief Minister has also ordered the officials to prepare a detailed action plan on vaccinating the entire state ahead of the Assembly polls. UP is followed by Maharashtra with 14.64 crore doses administered so far. In terms of percentage, nearly 65.31 per cent of the adult population is fully vaccinated and nearly 98 percent have received one vaccine dose.
To speed up the vaccination drive for children in the state, Yogi Adityanath has also asked the concerned officials to ensure adequate availability of vaccine doses in Uttar Pradesh. Keeping in mind the new variant of covid-19, the UP government is committed to providing vaccine shields to the people of the state at the earliest.
Top 5 states with most vaccinations
State ————— Vaccination
1. Uttar Pradesh – 25.04 crores
2. Maharashtra – 14.64 crores
3. West Bengal – 11.86 crores
4. Bihar – 11.01 crore
5. Madhya Pradesh – 10.87 crores


Follow and connect with us on Facebook, Twitter, LinkedIn, Elets video