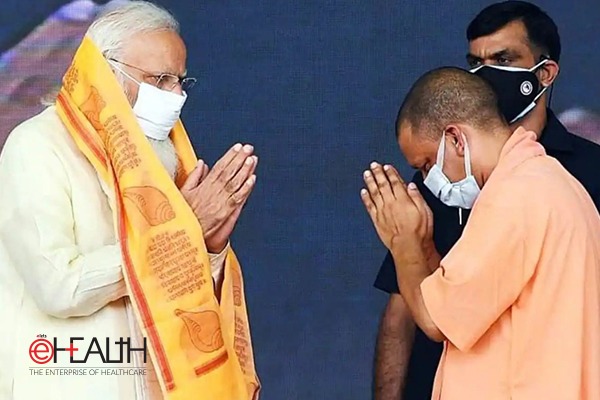 Lucknow, Uttar Pradesh 
The Uttar Pradesh Chief Minister Yogi Adityanath on Wednesday attended the virtual meeting of Prime Minister Narendra Modi with Chief Ministers of various states and informed him about the steps being taken by the UP government to control the spread of Covid-19 in the NCR districts.

"With successful implementation of 'Test, Trace, Treat and Vaccination' policy of the Prime Minister, UP is working to save lives and livelihood and control the spread of Covid-19," said Yogi Adityanath, adding that, "surveillance and precautionary measures have been stepped up in the NCR districts to avoid any surge in the fresh cases." The Chief Minister also expressed gratitude to Prime Minister Narendra Modi for his constant support and guidance throughout the Covid-19 pandemic.
He further updated the Prime Minister on UP's Covid-19 statistics, treatment, availability of medical resources and state's preparedness to deal with any kind of future challenges.
Currently, Uttar Pradesh has sufficient availability of medical resources with the presence of 508 functional oxygen plants and over 42,000 oxygen concentrators are available. People are also being made aware of covid-19 related information through public address systems at more than 6000 places.
The funds received in the form of Emergency Covid Relief Package are being used to further improve the health infrastructure in the state. Yogi also said that his government worked to save lives and livelihood. Resultantly, amidst the challenges of Covid, the revenue of the state has increased by about 25 percent and exports have risen by a whopping 30 percent.
It is noteworthy that the Uttar Pradesh government has been maintaining the Covid situation in the state effectively. Currently, out of the total 1384 active cases in the state, only 19 people are hospitalized. The overall Test positivity rate (TPR) in the state is 1.87 percent. The number of cases per million in the state is only 06.
So far more than 11 crore Covid tests have been done in Uttar Pradesh. While UP has also administered over 31.26 crore total doses of the vaccine. Out of these, over 17.09 crore first doses have been given. While, over 13,89 crore have been fully vaccinated in the state. As many as 27.35 L precaution doses have been administered so far.
The entire population aged 18+ has received at least one dose of the vaccine, while more than 87 percent of adults have received both doses. In the age group 15 to 17 years, 94 percent of adolescents have received the first dose and 65 percent of adolescents have received both doses. After the first dose, children in the age group of 12 to 14 are now being given the second dose as per their eligibility.

Follow and connect with us on Facebook, Twitter, LinkedIn, Elets video