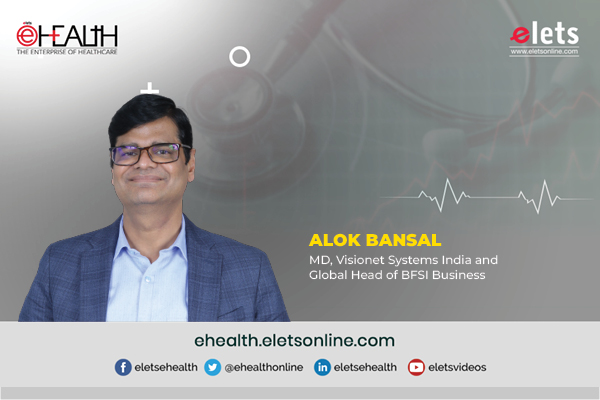 Healthcare data is being digitised at a rapid pace. It benefits healthcare organisations, practitioners, and patients, well-being and health, shares Alok Bansal, MD Visionet Systems India and Global Head of BFSI Business in a conversation with Elets News Network (ENN).
What are the challenges in the current cybersecurity landscape?
With the increased emphasis on digital transformation, cybersecurity threats have also multiplied. Industries across the world are dealing with frequent eruptions of malware and ransomware, data breaches, distributed denial-of-service (DDoS) attacks, phishing, and cloud threats. DDoS attacks prevent an organisation from providing seamless online services. In healthcare, this means disruption in sending and receiving emails required for patient care, accessing records, and retrieving important data. Data breaches in the healthcare industry could also compromise sensitive health information while unencrypted data sent to the cloud network may result in cloud and phishing attacks respectively. As for ransomware attacks, they rapidly infect systems through malicious links, drain precious funds and slow down critical operations. The BFSI industry also deals with reams of personal data and this is one of the reasons why we developed DocVu. AI, a cutting edge system that not only helps in processing documents faster, but also helps prevent identity theft, fraud, and tampering with processes by detecting anomalies at an initial stage and using predictive analysis to stem a threat before it grows too dangerous. DocVu. AI assists clients to analyse, search, extract, and manage stacks of documents, including industry-specific contracts, trade documents, agreements, and more. This solution can be used across all industries dealing with heaps of documents.
How do you see automation offering viable solutions for the healthcare & the pharma industry?
India's pharmaceutical industry has traditionally relied on manual operations. In order to remain competitive, it has however, been working assiduously to improve product quality, efficiently utilise raw materials, develop e-prescriptions, and adopt Information Technology and automated operational technologies. Smart technologies will be most helpful also in the area of developing drugs, apart from facilitating e-prescriptions, maintaining health records, and Bar Code Identification (BI). Artificial Intelligence and telecare will also play a huge role in transforming the industry. In the next five years, we could even see 3D-printed organs for transplants and digital pills which refer to an innovative drug-device technology that combines traditional medications with a futuristic monitoring system. Virtual Reality is also being used for modeling compounds and is becoming a useful tool for scientists and even surgeons. Technical developments have highly impacted the practice of studying medicine, managing diseases, and preventing the adverse effects of drugs with what is now known as pharma covigilance. Industrial Internet of Things (IIoT) – related technologies and approaches such as smart sensors, big data, predictive analytics, and cloud computing are some of the disruptive technologies that are revolutionising the health sector.
How do you see the future landscape of cyber security, automation & data management evolving in the country?
According to CERT (The Indian Computer Emergency Response Team) which works under the aegis of the Ministry of Electronics and Information Technology, there were more than 6.7 lakh cyber security threats in the year 2021. However, a proactive defense mechanism and secured organisational environment can be made possible through the right mix of analytics, automation, and intelligence. Cybersecurity automation tools not only automate processes, but they also help with Security Orchestration, Automation and Response (SOAR) products, Robotic Process Automation (RPA), and custom-developed software.
Automation solutions will make industries more intelligent with the use of AI, ML, and data analytics. More and more companies are now adopting a multi-cloud approach. Automation additionally helps industries avoid vendor lockins, adopt agile solutions, and enhance Advanced Identity and Access Management (IAM). Big Data analytics will also be utilised more and more to monitor the behavior of consumers. In short, a more robust security culture will be adopted.
How does data management contribute to speeding research & operations?
The primary goal of CDM is to deliver high-quality data with minimal errors. Clinical Data Management (CDM), when used in clinical research, helps generate high-quality and statistically sound data from clinical trials that will help fast-track drug development. It also increases reliability, visibility, and scalability in organisations. The CDM standards, in the current scenario, need to get improved to meet the regulatory requirements. This can be made possible by implementing regulatory compliant data management tools. Smart data management is important as it helps in preventing duplication costs by scaling data and usage and streamlining processes that are repetitive. Computer vision and machine learning are critical for the medical field as they help in the pursuit of long-term goals efficiently and rapidly. Products with built-in architectural flexibility also adapt well to the needs of medical enterprises – be it large or small.


Follow and connect with us on Facebook, Twitter, LinkedIn, Elets video