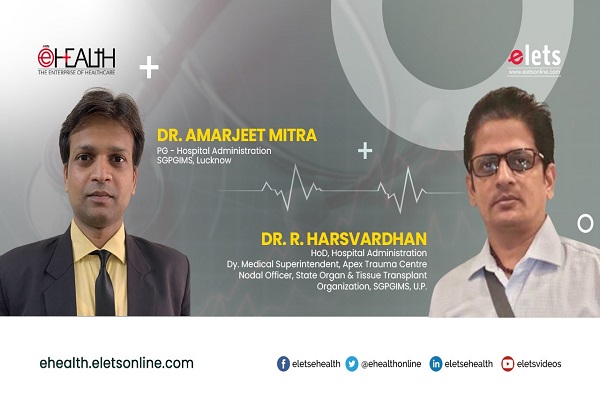 Digital India is a campaign launched by the Government of India, in order to ensure government's services are made available to the citizens electronically by improved online infrastructure and by increasing internet connectivity or making the country digitally empowered in the field of technology. The role of digital health technologies such as wearable tech, telemedicine, genomics, virtual reality (VR), robotics, and artificial intelligence (AI) are changing the landscape of the Indian healthcare system. Like many other markets, India too is at the cusp of a 'digital health' revolution. Digital health technology is a pivotal pillar in delivering value-based care across the healthcare continuum in India. Adaptive intelligent solutions can help lower the barriers between hospitals and patients, improving access to care and enhancing overall patient satisfaction, particularly in tier II and III cities in India. The driving force in India is lifestyle diseases, ageing population, rising income levels, increased access to insurance, and growing health awareness.
The goals/objectives of the digital health program in India are to the prevention of disease, lessen healthcare costs, customisation of medicines as per patient requirements, monitor and manage chronic conditions, enhance and boost access, and expand & improve the quality of healthcare, facilitating the individuals at best.
In India, the digital transformation of health is likely to reach the utmost level like telemedicine. This facility exploded in popularity soon after the lockdowns, imposed by the pandemic came into effect and continues to be a game changer for various health institutions. It not only has the ability to remotely consult specialists who have been beneficial to existing customers, but it has also enabled new customers to connect with specialists of their choice, irrespective of location. Hence, facilities which used to have only a local clientele are now able to reach out to a much wider audience. The delivery of health care services, where distance is a critical factor, by all health care professionals using ICT for the exchange of valid information for diagnosis treatment and prevention of disease and injuries, research and evaluation, and continuing education and the aspects are Tele-Radiology (Radiological patient images- X-rays, CTs, and MRIs), Tele-Nursing (Delivery, management, and coordination of care and services), Tele-ICU (Real-time audio, visual and electronic means, and health information), Tele-Consultation, Tele-Surgery (Remote surgery) and the advantages of telemedicine are like saving of cost and effort, especially of rural patients, providing timely and faster access, maintenance of records and documentation, patient's safety, as well as health workers safety and telemedicine can also enable the availability of vital parameters of the patient available to the physician with the help of medical devices such as blood pressure, blood glucose, etc for the management.
Electronic Health Record (EHR) An electronic health record is the systematised collection of patient/ population electronically-stored health information in a digital format. These records can be shared across different health care settings. EMR – Digital version of a patient's chart which contains the patient's records from multiple doctors and provides a more holistic, long-term view of a patient's health.
The Government of India has introduced a bunch of new regulations and standards such as amendments to the Clinical Establishment Act for ensuring data compliance, the National Digital Health blueprint, and the personal data protection bill. These initiatives have ensured that digital copies of a patient's medical history, investigation findings, medication, diagnosis, and treatment are now easily accessible online or through authorized mobile applications and the advantages of EHR is to get accurate, up-to-date, and complete information about patients, quick access to patient records for more coordinated, efficient care, diagnose patients, reduce medical errors, and provide safer care, more reliable prescribing, privacy and security of patient data, reducing costs.
Robot-assisted surgery is the assistance of robots; doctors are able to perform surgical procedures more efficiently with the assistance of robotics, surgeons are able to maneuver more precisely and with smaller incisions, and the advantages are reduced loss of blood, and better pain management, and quicker recovery. The innovation of Microbots for diagnosis and treatment of diseases (Capsule endoscopy, in which the patient swallows a tiny camera so that the healthcare provider can take pictures of the digestive tract) and the future focus is to remove plaque from arteries, taking tissue biopsies, attacking cancerous tumours directly, delivering targeted medication etc.
Remote Monitoring of Patients Tools that enable medical facilities and professionals to remotely supervise their patients, have their readings sent to them from time to time, and facilitate two-way communication have also become popular. More companies are entering the market with upgraded offerings, as such tools solve two major problems. They enable professionals to monitor and diagnose patients remotely at a time when getting beds in hospitals could be difficult, and they also improve patient experience as they don't have to visit the facilities in person for every check-up.
On the other hand, the Self-Monitoring Healthcare Devices / wearable medical device are very popular in every age of groups, a wearable medical device can be defined as a device that is autonomous, non-invasive, and that performs a specific medical function such as monitoring or support over a prolonged period of time. Some examples are Wearable Biosensors, it is a combination of wearable objects and biosensors. It can measure the blood glucose level, BP, heartbeat rate, and other biometric data to be constantly measured. The real-time information is then sent to the healthcare providers and there it becomes two-way communication.
The Internet of Medical Things (IoMT) is the amalgamation of medical devices and applications that can connect to health care information technology systems using networking technologies. It can be a combination of telemedicine, mobile technology, and wearables, including ECG monitors. Many other common medical measurements can also be taken, such as skin temperature, glucose level, and blood pressure readings.
M-Health (Mobile health) also known as mobile health – refers to the practice of medicine and public health supported by mobile devices such as mobile phones, tablets, personal digital assistants and the wireless infrastructure. Digital health application for M-Health includes education and awareness, diagnostic and treatment support, disease and epidemic outbreak tracking, healthcare supply chain management, remote data collection, remote monitoring, healthcare worker telecommunication and training telemedicine and chronic disease management.
Some technologies are introduced for general public like Mobile Diagnosis, mobile phones are enabling self-diagnostics, enabling patients to identify & manage health. Netra-G is a device that attaches to a smartphone and enables the patient to perform their own eye test by measuring the refractive error of the eye. Heart monitoring – The device snaps onto the iPhone and wirelessly communicates between the app and your phone resting your fingers from each hand on the electrodes, the app recognizes skin contact and performs the ECG while it records, it displays and saves your heartbeat. Ear view – Parents can view their child's ear canal and eardrum, then share images & symptoms with their physician remotely.
Glucose management- The meter will automatically sync data with the Diabetes Manager app tracking glucose, insulin and carbs while also charting glucose patterns over time. Examples of mobile applications are Diet & Nutrition apps, Fitness (and/or tracker) apps, Patient & Provider care apps, Medical Device Accessory apps, Wellness apps, Patient & Provider care apps, and Medical Device Accessory apps.
Several Ongoing initiatives in Digital Health by MoHFW like reproductive Child Healthcare (RCH), Integrated Disease Surveillance Program (IDSP), Hospital, e-Shushrut, Electronic Vaccine Intelligence Network (eVIN), National Health Portal (NHP), National Identification Number (NIN), Online Registration System (ORS), Mera Aspatal (Patient Feedback System), National Medical College Network (NMCN) and the advantage of Digital Health are quicker access to test results, easy to pay the bills, sharing of information with your family members, offers clinicians note feedback, the patient can review information for medical errors, instructions. The information is simple and easy to document, and the patient has a better approach and access to the medical records tool for health protection and the disadvantage are complicated and complex health information causes concerns for the patients, clinician's reports elevate patient provider's relationship concerns, hackers can approach and access patient's records. It needs to be upgraded on a regular basis; digital health records are expensive, complex, and composite processes.
Health System Challenge (Hsc) Digital Health are Population denominator (Delayed reporting of events, Lack of quality/ reliable data information, communication roadblocks lack of access to information or data, insufficient utilization of data and information, lack of unique identifier), Availability (Insufficient supply of commodities, insufficient supply of services, insufficient supply of equipment, insufficient supply of qualified health workers) Quality (Poor patient experience, insufficient health worker competence, low-quality health commodities, low health worker motivation, insufficient continuity of care, inadequate supportive supervision, poor adherence to guidelines), Acceptance (lack of alignment with local norms and programs which do not address individual beliefs and practices ), Cost & Utilisation (Low demand for services, geographic inaccessibility, low adherence to treatments, loss to follow up) and Efficiency.
Conclusion
Digital healthcare in India, like most other countries, has received a much-needed shot in the arm and is maturing by the day. Organisations within the industry as well as enterprises enabling the industry to transition are thinking of novel ideas to further improve patient care, coordination between employees and facilities, and create smarter medical devices that make diagnosis faster and more accurate. The continuing transformation will ensure that more patients from Tier-II and Tier-III cities in India get the same high-quality consultation and attention as those in big cities, and a stronger workforce will be built, thanks to remote learning. Overall, we can be optimistic about the future of one of the largest industries of the nation and look forward to new and exciting developments in 2022 and beyond.
Views expressed by: Dr. R. Harsvardhan, HoD, Hospital Administration Dy. Medical Superintendent, Apex Trauma Centre Nodal Officer, State Organ & Tissue Transplant Organization, SGPGIMS, U.P. And Dr. Amarjeet Mitra, PG- Hospital Administration, SGPGIMS, Lucknow
References:
National Digital health Policy print
Digital health in India, Legal, Regulatory and Tax Overview April 2022
Directions in Biomedical Engineering 2016
Technical series of Primary health care
Digital health is a cultural transformation of traditional healthcare
Classification of Digital Health Interventions V1.0 -WHO
https://www.xcubelabs.com/blog/digital-transformation-of-healthcare-in-india/
https://www.digitalindia.gov.in/

Follow and connect with us on Facebook, Twitter, LinkedIn, Elets video