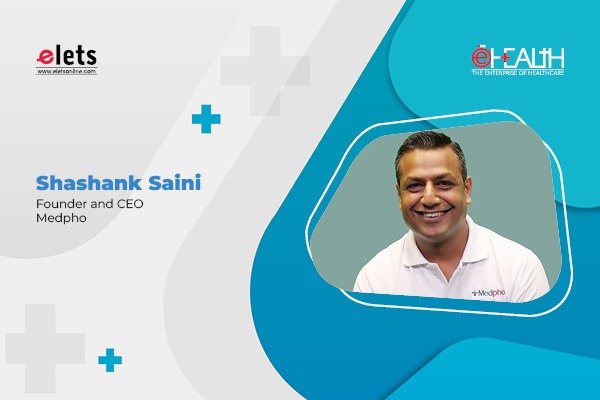 Telemedicine has had a significant impact over the years, but the pandemic necessitated it much more than before. In 2020, with the unexpected outbreak of Coronavirus, the need for change in healthcare services has brought a boom in telemedicine, and with it, the added benefits, such as teleconsultation, teleradiology, telepathology, and e-pharmacy, which has led to the acceptance of virtual care that was fast-tracked throughout the country and is currently observing a rise in it with each passing day.
As per a report on telemedicine market size in India published in February 2022, since 2010, the market of telemedicine industry size in the country has observed a moderate gain and is anticipated to grow at a compound annual growth rate (CAGR) of 31 per cent from 2020 to 2025.
Telemedicine is helping bridge the gap between people, doctors, and health systems. It allows everyone, particularly symptomatic patients, to stay at home and connect with doctors via virtual channels, thereby reducing the virus's further transmission. Hospitals also quickly adopted the elements of telemedicine to treat Coronavirus infected patients.
During Covid-19, telemedicine grew as the invention catalyst while delivering unprecedented medical services to people.
How telemedicine aided communities during COVID-19?
The scenario significantly changed when a shift to the virtual setup became almost necessary. People began observing self-care measures to remain far from being affected by Coronavirus, which also changed how people began to look after themselves, starting with using telehealth as a tool for regular check-ups from health professionals. Alternatives corresponding to the use of telemedicine demonstrated to be an effective channel, not just for patients with chronic diseases and classified as 'at-risk groups' but also for diagnosing people with acute ailments.
A noticeable rise in the use of telehealth services was observed across all age groups, significantly in the 35-44 years age group. According to data from a report on willingness to book telehealth visits during Covid-19 published in February 2022, during the Covid-19 pandemic in India, around 37 per cent of people in the age group of 35-44 years, were most willing to use telehealth services. This is almost 7 per cent higher in comparison to pre-covid times at 30 per cent.
Telemedicine in remote & rural areas
While the Covid-19 pandemic has pushed telemedicine to the forefront in urban India, there is still a lack of access to basic medical facilities in rural and remote corners which further highlights the need for specialized telemedicine consultation. For many people, taking leave to travel to nearby hospitals results in a loss of wages, needed for their day-to-day requirements. Also, getting medical attention requires spending additional expenses, which the rural population cannot afford to pay at times.
Thus, the cards also require empowering telemedicine players to grow mainly in Tier 2 and Tier 3 regions and remote areas. The big challenge is consumers from far and distant places aren't usually technology experienced. Hence, in order to build consumer awareness, the players in the telemedicine/telehealth category need to develop means to pan out such services in India.
Even though virtual meets with healthcare professionals may seem like a new concept altogether, we can expect a notable rise in patient awareness and convenience of accessing affordable and reliable healthcare, especially in tier 2 and tier 3 areas forayed significantly by the emerging health tech players in the telemedicine industry.
To conclude, until the pandemic, healthcare providers didn't see the requirement to gauge telemedicine operations, assuming that a mass number of patients prefer clinic or hospital visits. People were skeptical about its reliability and weren't confident if their conditions would be diagnosed rightly or if they would be able to undergo proper treatment or experience proficiency telephonically, compared to a physical meet.
There has been a significant rise in telemedicine and teleconsultation services in the past few years. Many new health techs started during this time provided accessible and affordable healthcare facilities. They are usually available through an app, website, or telephone helpline numbers and help the users find doctors, hospitals, healthcare programs offered by governments, insurance support, etc. As we see more services being provided remotely with the onset of digitization, we can say that telehealth is set to witness a further rise in usage.
Thoughts shared by Shashank Saini, Founder and CEO, Medpho

Follow and connect with us on Facebook, Twitter, LinkedIn, Elets video