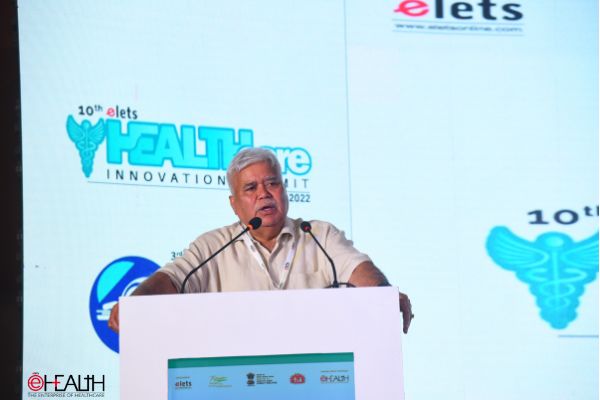 Dr. RS Sharma, Chief Executive Officer, Ayushman Bharat – Pradhan Mantri Jan Arogya Yojana (AB – PMJAY) & The National Health Authority (NHA) examines two programs of the government. Ayushman Bharat Pradhan Mantri Jan Arogya Yojana (AB-PMJAY), and Ayushman Bharat Digital Mission (ABDM). Speaking at the 10th Elets Healthcare Innovation Summit, he stated that AB-PMJAY and ABDM are the two programs that fit the overall umbrella of Ayushman Bharat. Edited excerpts:
The Prime Minister has launched various pillars of Ayushman Bharat. The first is the Ayushman Bharat Health and Wellness Center. It's basically primary healthcare that got implemented as a centrally sponsored scheme in all the states of the country. The second program was an investment to create health infrastructure, a program of 67,000 crores, announced in this year's budget that seeks to create the health infrastructure, which is hospitals, medical colleges, etc. The third pillar is the Ayushman Bharat Pradhan Mantri Jan Arogya Yojana (AB-PMJAY). This pillar seeks to provide healthcare to about 40 percent of India's population, which lies at the bottom of the pyramid i.e about 54 crores of individuals and 10.7 crores of families throughout the country. It essentially provides an assurance of up to Rs 5 lakhs for hospital expenditures.
They have around two thousand packages under which all diseases are covered. The patient just needs to register themselves and feed their details under the scheme and they get entitled to avail of the Ayushman Bharat scheme benefit and can proceed cashlessly.
"The schemes that are adopted under Ayushman Bharat Pradhan Mantri Jan Arogya Yojana are completely paperless and all the claims and reports of the patients are completely digital. During Covid, a lot of challenges were faced by almost everyone and people started adopting digital technologies. That was the time when we realised if we structure things well then the entire use of technology and delivery of health services can also be formalised. The idea behind this is to make teleconsultation delivery possible." stated Dr. RS Sharma.
So, this is the pipeline that has been created, and now this digital pipeline is serving many other schemes of the government, like the central government health scheme for retired officers, the central government scheme for paramilitary forces, the Beacon Central Armed police forces, and many others. He stated, "The other scheme which is an extreme emphasis scheme that has been launched by the Prime Minister in September 2021 is essentially a scheme that is entirely digital. The overarching game of that scheme is to apply digital technologies to the delivery of health services."
He shared, "The pandemic was a very tragic sort of period in the history of our country, but the one good thing that came out of it was the use of digital technologies. People started using them, especially in communication video consultations. Patients were taking prescriptions and consultations from doctors via the online medium."
"Every country can use online consultation but our country has a tremendous advantage. India over the last decade has created several digital public goods which are very convenient nowadays. Everybody uses UPI, Google Pay, or Paytm; so the kind of digital infrastructure our country has created is a great enabler for transactions to take place", communicated Dr. RS Sharma.
Digital Locker also works as a health depository. Just like the health proposal, a person can just put in their health-related documents and prescriptions and can share them. We have Aadhaar, UPI, digital locker, and digital consent artifact.
Additionally, he informed, "We also have the e-RUPI that the honourable Prime Minister launched in August last year, which is a direct benefit transfer with a purpose. It's a transfer to a person, so I can give money to somebody for my medicine. So, that's another instrument that India has developed. We are very unique in the world in terms of developing all such artifacts and these artifacts become like a building block for creating this entire architecture of Ayushman Bharat Digital Mission and that's what we have created. We have created the health professional registry, and Personal Health Record (PHR) app, and there are about 800 startups in the sandbox that we have. We have the philosophy of developing applications platforms on something which is interoperable and is based on open standards, on open APIs which is frugal."
He deliberated, "Aadhar was a one-shot that nobody tried developing, a digital identity system for 1.3 billion people. We have done about 71 billion authentications."
"India has leapfrogged into digital technologies and our prime minister's vision is transforming India into a digitally empowered society. The knowledge economy is taking shape and we are going ahead in many areas" he concluded.

Follow and connect with us on Facebook, Twitter, LinkedIn, Elets video