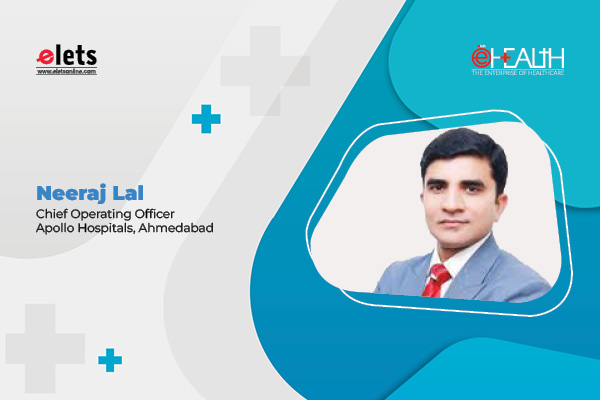 Neeraj Lal, Chief Operating Officer, Apollo Hospitals, Ahmedabad shares his organisation's vision 2022 for transforming the healthcare sector in the new financial year. Edited excerpts:
What is the vision of your company for the new financial year?
With the ease of the pandemic & the in-patient volumes rising back to pre-pandemic level, the focus again is shifting back to real outlook of the healthcare scenarionon-communicable diseases (NCDs), which must be addressed immediately with hybrid models. Hybrid healthcare models will help in an efficient and effective health service delivery in countries like India with vast geographies, which have healthcare accessibility challenges, especially in rural areas.
As we know that a significant population in India lives in rural areas & there is a huge gap of Healthcare availability & affordability at the rural settings, Apollo leads the way by its innovative approaches. 'Apollo Connect' is the new model to strengthen the nursing homes & smaller hospitals improve their clinical quality & capability with the support of Apollo, bring the Apollo's excellence within the reach of every patient even if they are unable to travel to Apollo facility & also strengthen the relationship between our partner hospitals & us.
We are also setting up new outreach center at Jodhpur, Rajasthan similar to the Apollo Outreach center functional at Udaipur to provide speciality consultation, medical store & lab investigation services. These clinics caters to the distant locations & increases the accessibility & outreach of Super specialty consultants with the use of Tele-health technologies.
Also, we are operating remote ICUs to provide critical care services to the nearby rural regions which helps to strengthen the healthcare facilities at rural areas with the help of Tele-ICU technologies. As we know, India faces a dearth of Intensive care beds and specialists with only 95,000 ICU beds and 4500 intensivist in the country, TeleICU makes remote care accessible & enables communication between off-site clinicians and bedside staff to provide Real Time Patient Care using teleconsultation and IoT linked devices for remediation and timely intervention.
Also, since we pioneer in the preventive health of the population, we focus on wellbeing with early detection of diseases in order to reduce upcoming health risk.
We at Apollo are focusing more on preventive health check-ups as in India. We provide Apollo ProHealth which brings together predictive risk analysis, cutting edge diagnostics with physician evaluation, and a personalized path to wellness. The program is created based on 22 million health checks empowered by Artificial Intelligence and Predictive Algorithms.
How do you see the healthcare industry evolve in the new financial year?
Healthcare has become one of the largest sectors of the Indian economy, in terms of both revenue and employment. It has been growing at a CAGR of 22% since 2016, employing 4.7 Million people directly. The sector has the potential to generate 2.7 million additional jobs in India between 2022-25 – over 5,00,000 new jobs per year.
Though we have always seen a low presence of doctors in semiurban, rural and remote areas, which has resulted in limited access to healthcare facilities for large numbers of people. But after the pandemic, due to the rapid technology adoption, Telemedicine and e-Health are considered to be potential solutions for addressing this lack of access, on account of the extensive smartphone penetration in India and improving mobile connectivity.
A timely 5-minute consultation enabled by telemedicine can save lives and avoid huge downstream costs. Tele-radiology is also an emerging area with several foreign hospitals now active in this space. Many hospitals have adopted the PPP route to render services through telemedicine, especially during the COVID-19 pandemic. A developed telemedicine market also has potential for future export of healthcare services. Affordable and quality healthcare can be enabled by Artificial Intelligence, wearables and other mobile technologies as well as Internet of Things. Digital health can especially improve outcomes for people suffering from multiple comorbid conditions because of the possibility of remote monitoring of health status and delivery of virtual care services through smartphones and artificial data solutions. This, in fact, could prove to be the next major booming industry in India.
Prior to COVID-19, the health-tech industry was primarily focused on developing wearable gadgets, diagnostics and medicine delivery solutions; facilitating early diagnosis of genetic conditions; treating lifestyle-linked problems like stress and anxiety through remote therapy as well as post-procedure pain alleviation.
Post the pandemic, new opportunities are likely to emerge in the health-tech space, including development of tools for facilitating emergency care, and improvements to medical infrastructure through technology based optimisation. For instance, the scope of wearable devices could be expanded to track health conditions. Patient-facing mobile health applications could also be developed, along with enabling greater integration of AI, robots, and blockchain technologies e.g., surgical robots, sensors, remote diagnostics, electronic records and monitoring systems.
It is envisaged that the fundamental approach to medicine could change drastically in the years to come with the entire human biology getting represented as data and patterns. Doctors will increasingly be assisted by machine intelligence and eventually, a large number of cases could possibly be handled largely by machines, with only more complicated cases requiring doctor consultations. Given that India has a shortage of qualified doctors, AI Doctor could be a long-term solution, especially in rural and remote areas. A leading NATHEALTH provider engaged with a State Government in a PPP project covering 182 Electronic Urban Primary Healthcare centres (E-UPHCs). With a footfall of 12,000 on a daily basis, the program has touched 5.2 Million lives over two years and has brought quality healthcare within the reach of all citizens, by significantly leveraging technology. This model can be replicated in other rural areas with private players. E-lCUs can also be set up in semi-urban and rural areas, and connected to a central monitoring hub.
What are the positive catalysts for ICT adoption in the government?
The Government of India recently approved the national roll-out of Central Sector Scheme, Ayushman Bharat Digital Mission (ABDM) with budget of Rs 1,600 crore for five years. The Union Budget 2022 also saw announcement of the National Digital Health Ecosystem. All these steps if implemented properly could be the game changer in the enhancement of the 'Connected Healthcare infrastructure' or ICT of the country. The increasing penetration of the internet in healthcare functions which is now used in smartphones, tablets, and wearable devices to promote the transfer, storage, and display of clinical data wirelessly is giving a much-needed boost to connected healthcare infrastructure market. Also, a growing shift towards predictive healthcare is pushing the demand for IoT-enabled wearable devices for monitoring patient health through homecare. The market is expected to experience strong growth in the years to follow owing to the rising popularity of telehealth. The growth of the market is further driven by the health crisis induced by COVID-19 has shown a sharp increase in remotely monitored technologies such as telehealth, telemedicine, etc.
What are the challenges or roadblocks which may hamper digital technology adoption in the government sector?
In a country like India, where a significant proportion of the population resides in rural areas, connected healthcare can assist in faster and easier delivery of care extending considerable benefits to people. However, to achieve that it is important to ensure high-quality broadband in all types of rural communities. Rural communities face a lack of digital connectivity in comparison with urban areas, especially in terms of broadband quality. Apart from that, it is crucial to strengthen the infrastructure in rural areas.
Even in the digital age, a strong infrastructure backbone is required to provide quality information and communication technology (ICT) services. For the smooth running of operations, upskilling the labour force and preparing skills for the future are also important. Investing in training in digital skills, a mix of cognitive skills, along with ICT and behavioural skills will make workers thrive in technology-rich work environments.
The Public-Private Partnership (PPP) model in India has seen success in different areas like energy, infrastructure, education, urban development, etc. It can prove to be the ultimate cure to India's healthcare challenges as well. Also, new-age innovative technology adopted by private players can make healthcare accessible to rural India; a relevant example is telehealth.
How is the plight of medical students going to impact medical education in India?
The unfolding Ukraine crisis has exposed, once again, the many dark ironies of India's medical education system. With most Indian families unable to afford an MBBS degree in India, thousands of aspiring medicos are forced to travel overseas to countries where governments still subsidise medical education. Just as the COVID-19 pandemic forced us to introspect and rejuvenate our health and healthcare systems, will the Ukraine crisis result in a long overdue deep revamp of India's medical education system?
The difference in the cost of medical education is steep: a six year course in Ukraine costs Rs 15-20 lakhs, whereas its Rs 50 lakh- Rs 1.5 crore in one of India's private medical colleges for a 4 and a half year course. Government medical colleges in India are the most affordable, but there is a huge demand-supply gap. Of the estimated 18000Indian students in Ukraine, the majority are expected to be medical students. If the Indian government ramped up seats in government medical colleges and offered more affordable medical education here, we could prevent this brain drain. Perhaps acknowledging that the government sector is not as agile as it needs to be and may not have an immediate solution, Prime Minister Modi himself appealed for more private sector involvement in this field.
Even as civilians flee Ukraine and medical students line up to return, doctors, nurses and paramedical staff from a dozen nations, including India, have reportedly registered to help out in this humanitarian crisis. Every crisis is an opportunity to change. Let us hope that we reach that tipping point in India's medical education sector soon. Otherwise, we'll be left facing the health battle without an army.


Follow and connect with us on Facebook, Twitter, LinkedIn, Elets video