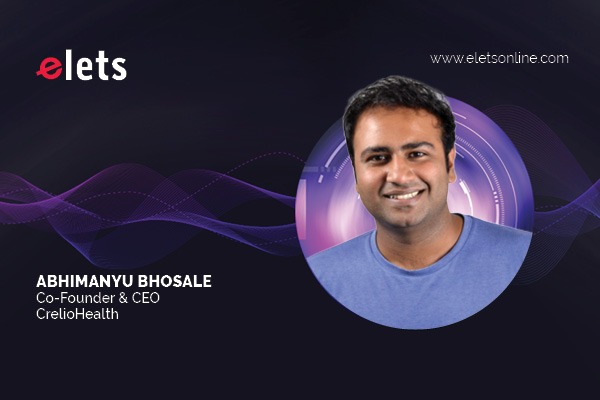 Abhimanyu Bhosale, Co-Founder & CEO, CrelioHealth shared his views on how technology is being used as a competitive advantage across multiple diagnostics labs to provide better value to their patients at the recently concluded Elets 3rd Diagnostics Leadership Summit. Edited Excerpts:
"Technology has been transforming diagnostic sector and it is not only changing the conventional way in which diagnostics is actually managed, but also on the patient experience and furthermore on cost optimisation side to allow better access at the work costs across India", stated Abhimanyu Bhosale, Co-Founder & CEO, CrelioHealth.

He shared how multiple instances of tech-enabled transformations were witnessed across India, right from mobile testing centers to multiple labs switching to technology enabled access points as primary ways of capturing patient bookings, appointments or payment and reporting; a large scale shifted on digital means. He added that a number of health tech companies entered the market and contributed either by enabling better access or reducing costs or in some cases aggregating patient volumes.
He further added that technology is being used as a competitive advantage across multiple diagnostics labs and other tech enablers to show better value to their patients. He mentioned how Dr Phadke talked about patient experience being largely digital today and that shift will be very essential as it sets the tone for the next stage or the next phase of the diagnostics labs in the country.
cloud and mobile based lab solutions that are becoming the new norm and how technology is really crucial for this entire transformation. He further mentioned how technology has been used in addressing the issue of access and productivity in healthcare and across multiple industries, right from logistics, banking and finance. He cited how the diagnostic sector was able to scale up testing using technology during covid and still cater to the demand was unprecedented & unheard of in any other industry.
He also mentioned the importance of accreditation and how enabling labs to get accreditation is one of the important steps. He stated that multiple initiatives are being taken for getting better channels for accreditation. He averred that it is essential for having consistency in quality across labs and they don't remain as like testing units but they also are actually quality accredited and maintain a high standard of delivery, overall. He also mentioned how improving the quality and reliability of testing goes largely hand in hand with technology because it creates a vital role for tech to become that system of record and make it more auditable and reliable for things to scale.
He further talked about solutions that go far beyond that as a norm and actually help improve compliance as well as auditability of laboratories. He stated that compliance today by far is one of the largest challenges that are faced. He mentioned Mr Venkateswaran who had talked about training programs and they are actually much underappreciated. He called for having better training programmes for enhanced tech adoption which basically improves quality compliance and enables them to leverage better tools at scale.
He also mentioned how the industry has grown multifold in itself in the last 5 years & also witnessed changing technology needs. He shared that technology is crucial and becomes a key milestone for each lab to actually have and excel at. And not to mention how individual labs can actually improve productivity becomes a key challenge for everyone to reduce costs and improve access.


Follow and connect with us on Facebook, Twitter, LinkedIn, Elets video