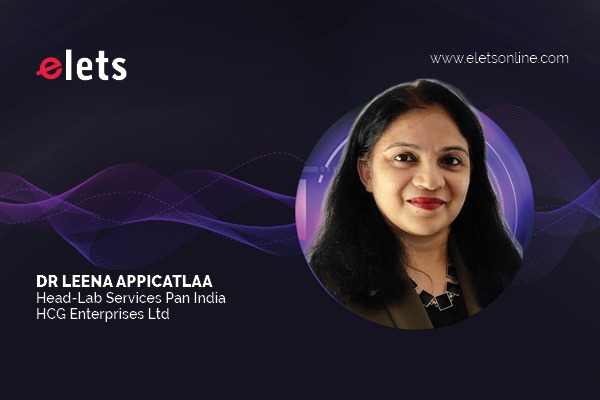 Dr Leena Appicatlaa, Head-Lab Services Pan India, HCG Enterprises Ltd shares her insights on the roadmap ahead for the diagnostic sector that evolving with the ongoing pandemic. Edited Excerpts:
What is the framework required for the creation of a futuristic Diagnostic Sector?
Diagnostics is the foundation for good clinical care. 30 years back, Clinical Lab diagnosis was still in an early stage, with, manual methods of estimation, no readymade kits and maybe a colorimeter to read the test results. Within 30 years, there have been rapid strides in this field, and we have reached the era of modern diagnostics and evidence-based medicine. Clinical diagnosis needs an appropriate and accurate lab report, for optimal patient care. Future of diagnostics should also look at the future of healthcare and modern medicine. The basic objective of a diagnostic test is to prevent, diagnose and/or monitor disease. Hence Lab diagnostics should be structured around a clinical framework. This would make the diagnostics approach more disease specific and add value to the patient care.
Further, we need to be clear as to what information we are providing to the user. And here comes the issue of the relevance of a test. If we are flooding the user with too much information, then the whole purpose of the test would be lost.
Looking into the legal and ethical aspects of healthcare is extremely important. As diagnostics advances in the field of genomics, AI, precision and personalized medicine, vast amounts of human data are generated. The diagnostics industry needs to look into measures for ensuring data integrity and patient confidentiality.
Futuristic diagnostics must always keep the patient at the center of all developments.
How has Digitization and IoT accelerated the pace of Innovation in Diagnostics?
Sensors transmit patient information to healthcare professionals and researchers and the data is analyzed using AI, to makea timely diagnosis. Cloud computing has enabled a lot of these technologies. The IoT network enables quick communication between hospitals and labs. Thus, AI and IoT converge to design a smart healthcare system. For the Diagnostic sector, this means remote monitoring, real time data availability and better disease management. Several companies focus on designing biosensors for clinical purposes and there are interesting papers published in this area. In healthcare, we have several examples like Glucose monitoring devices, Monitoring of Parkinson's disease, connected inhalers etc.
The scope of innovation is huge and all of us need to be prepared for the advent of technological revolution in diagnostics.
What is the Scope and Opportunities in Lab Automation Market for enhancing diagnostics operations management?
There is a tremendous scope in the lab automation market. The beauty of Laboratory medicine is the immense propensity of automation at every step of the workflow. The first Autoanalyzer was invented in 1957 by Leonard Skeggs and commercialized by Technicon corporation. The Robot chemist was invented by Hans Baruch and commercialized in 1959. Since then, the possibilities in automation in labs are endless.
Automation can be done at the all the phases of analysis and reduces errors, reduces reagent use, ensures accuracy of reports, and aids efficiency of lab operations. Nowadays we have robotics, AI, machinelearning, deeplearning,and computer vision which are all used for automating the Laboratory processes, for a seamless report delivery.
I was recently reading about solutions provided by IntelTechnologies for Lab automation. Researchers at TGen sequence patient genomes, perform genomics analytics on a High performing computing infrastructure powered by Intel processors. This HPC hardware helps genetics counsellors and physicians to identify timely treatment options. It can also apply machine learning to massive data for precision medicine and opens immense possibility. In India, especially, healthcare is coming into the forefront with increasing public awareness and more investments in this sector, thus increasing the opportunities in Lab automation.
What are your views on the need for Accreditation for ensuring quality testing and outcome?
Accreditation should be made mandatory for all clinical laboratories. There are tangible and intangible benefits of accreditation. For instance, the level of staff training, staff awareness of processes, Lab doctors' involvement, error detecting mechanisms, in the Laboratory operations is deeply engrained in accredited labs. All this translates into reliable results and robust processes. Accreditation must be taken in the right spirit. It is often perceived as costly and labor intensive with lot of documentation. Healthcare organizations feel that they are anyway doing a good job, so why do they need an accreditation. However, an accreditation is like a Road traffic signal or an Air traffic Controller! It is no longer a good to have, it is right on the top of the priority list as a must have. Labs which focus on incorporating quality into their daily workflow, must go in for accreditation, as a commitment to their customers.
What are the factors that will drive the change in the Diagnostics sector in the coming times?
The Covid 19 pandemic has thrown up several learnings and challenges for this sector and a lot of variability in the key focus areas is to be expected. I would say that the growth drivers for this sector would be preventive healthcare, home healthcare services, cancer genomics, molecular biology, and a rise of evidence-based medicine. Insurance penetration, rising income groups and a healthconscious population are going to be catalysts for this growth.
Technology is going to be a game changer and labs which deploy cutting edge technology, like digital pathology, with customer centricity, will be at the fore front. Labs must focus on in- depth clinical interactions, case discussions andaccreditations, to benchmark their services. Indian diagnostics market is very diverse, and each geographical region or zone has its own drivers. Ultimately, labs must choose the focus regions and plan the services accordingly.
What is your business expansion plans to align yourself to the changing sectoral requirements?
I am privileged to work with HCG, the country's leading cancer care network with hospitals in India and abroad. The objective of HCG is to improve patient outcomes and Harvard Business School has studied the HCG model which delivers outcomes comparable to the best in the world. The future of Oncology would be molecular diagnostics, genomics, AI, digital pathology and precision diagnostics and HCG would be focusing on these areas, along with technological advancements in diagnostics, in the coming years.


Follow and connect with us on Facebook, Twitter, LinkedIn, Elets video