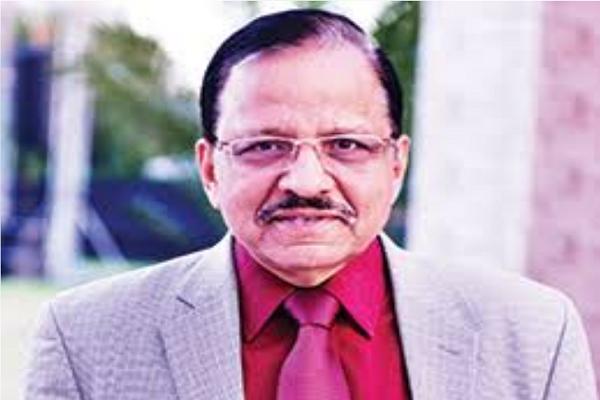 In Reimagining India's Hospital Infra series, we interview some of the sharpest minds in the Indian hospital segment to explore how swift adoption of cutting-edge design and new-age technologies can build smart, robust and responsive hospitals for 137 crores Indians. In this instalment, eHEALTH's Mrinmoy Bhattacharjee speaks with Maj Gen (Retd) Dr SC Pareek, Executive Director, Bhagwan Mahaveer Cancer Hospital & Research Centre (BMCHRC), on growth drivers, technology adoption, architectural updates, and much more:

In your observations, how the Covid-19 pandemic, 'Atmanirbhar Bharat' and the government's various healthcare policies are boosting the growth of India's hospital infrastructure segment?
The covid-19 pandemic has been an eye-opener for the healthcare system in India. With merely 1% of its GDP spent on health, India has tried to streamline its healthcare hierarchy, right from its sub-centres to big hospitals spread across the nation through various programmes such as dedicated Covid-19 hospitals, isolation centres, Aarogya Setu mobile app, National Digital Health Mission to address the country's health crisis. The various efforts in the manufacturing of medical equipment, disposables, drugs and the most recent vaccine efforts made by India has placed us as a global leader.
Atmanirbhar Bharat announced key health sector reforms such as increasing investment in public health and better preparedness for future pandemics. Making rural healthcare Atmanirbhar (self-reliant) should go beyond tackling exigencies. This would require not only building more health and wellness centres but also procuring medical equipment and filling up vacant specialists' positions at various levels of the rural healthcare system.
The Budget 2021 addressed training and job creation in healthcare through the setting up of the National Commission for Allied Healthcare Professionals and the National Nursing and Midwifery Commission. This initiative will go a long way in streamlining the skilling of the allied healthcare workers, who form the foundation of our health infrastructure.
What best practices are yet to be adopted widely to build a robust healthcare infrastructure for 137 crore Indians?
There should be the addition of value chain management and enhancement of MIS for better pinpointing where the patient is and all about him in real-time like Amazon does with its deliveries. More healthcare responsiveness is required to reduce out of the pocket expenditure. Making equitable healthcare and according to the power to pay and universal coverage of health by the government and other stakeholders is also needed.
Minimising the cost of goods procured is also required as there is a significant lack of data needed for product procurement planning. Unlike conventional mode, information about the product, prices and brands are always updated on a digital platform. The convenience of selection offered by digital product catalogues is unmatched. The Internet is ubiquitous, transparent and an agile digital platform to facilitate business processes.
How do you see the role of cutting-edge technologies, especially ICT in creating a smart, robust and responsive hospital?
For the last couple of years, emerging technologies have changed our lives drastically, especially with the advances in smart mobile and faster and cheaper Internet. As a result of research & development activities, we have various kinds of sensors like Digital Biosensing Surface, ECG (Electrocardiogram) to gather information, smarter equipment like tablets, any smartphone apps to process and present them; with these we have robust ways of communication to interconnect all these system to provide a completely new user experience.
Currently, various hospitals are using a computerized information system known as HIS (Hospital Information System). With advances in digital medical equipment and wireless sensors, it is possible to gather data timely and precisely. It is possible to create a centralised system connecting each device in a hospital that can further be connected with smartphones or tablets thus enabling more monitoring and controlling of operations even from remote locations. The process of automation can be enhanced with reduced redundancy with the help of a centralised interconnected system.
Hospitals are seeking architectural updates to improve safety, patient care and staff satisfaction, besides evolving an environment of friendliness. In your view, what are the imperatives of such updates?
Hospital architecture significantly impacts patient and caregiver safety, and significant work needs to be done during the designing of hospital buildings to address these issues. The main public entrance should have high visibility and easy access. An outpatient entrance, also visible but separate from inpatient and visitor traffic. Emergency medicine needs to be separated away from public traffic, but convenient to outside access. Proper space should be demarcated for the ambulance. Drop off and parking needs to be conveniently provided for all types of traffic.
The wall of the patient room should be sound-absorbing. The design of the room should consist of natural sunlight because we want to treat patients, not just house them. Hospitals are confusing places. So way-finding technology should be there, which can offer a way for patients. These can be designed using different colours for different directions. They can be installed on the floors or on the ceilings or on the walls. These should be fluorescent coloured so that in low light or in emergency situations, they can be visible. Proper signages should be at all the places in the hospital. Paediatric care walls should be designed with some cartoons or comics. The waiting area should be featured with TVs, leather seating and newspaper racks. Patient rooms and wards are to be designed in such a way that other facilities should be connected near to the rooms so the nursing staff and technicians have to move less and hence they can spend more time on patient care. Pressurized rooms and isolation rooms are essential to make sure that the patients do not catch new infections in the hospitals. A ventilation and filtration (HEPA filters) system should be placed to control and prevent the spread of infections.
The patient safety movement is gaining momentum in various countries. How should it be approached at the micro-level?
Workplaces, instruments, and equipment can be developed according to human factors design criteria, but as an end-user, nurses can maximise safety through the selection process, ongoing surveillance of equipment, and proactive risk-assessment methods.
The approach offered for nurses is consistent with the following four-pronged strategy developed by the World Health Organization Medical Devices and Equipment team: Firstly, Policy: Nurses providing direct patient care should be involved in setting and evaluating institutional, organisational, and public policy related to technologies. Secondly, Quality and Safety: Nurses providing direct patient care can ensure that the technologies they use to meet international quality and safety standards and technical specifications needed to perform in the clinical environment in which they are used. Thirdly, Access: Nurses providing direct patient care can ensure that institutional decision is made with their input and the input of other critical stakeholders. Fourthly, Use: Nurses providing direct patient care should be involved in their intuitional policies and processes related to maintenance, training, monitoring, and reporting adverse events related to technology.


Follow and connect with us on Facebook, Twitter, LinkedIn, Elets video