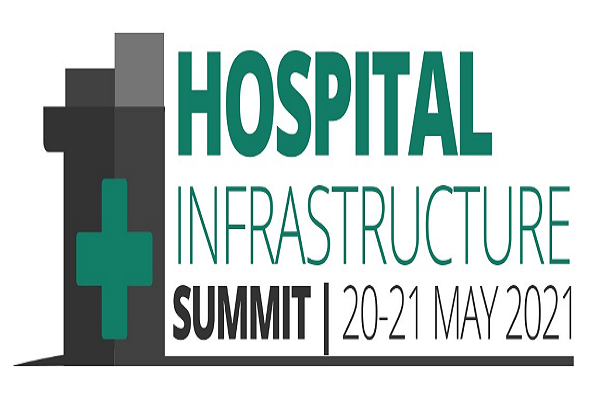 The two-day Elets Hospital Infrastructure Summit 2021 brought varied stakeholders in the healthcare sector on a virtual dais to reimagine the future of hospital infrastructure and visualise a roadmap for embracing thoughtful design and new-age technologies for superlative patient-care and staff productivity, reports Mrinmoy Bhattacharjee of Elets News Network (ENN).
Elets Hospital Infrastructure Summit 2021 kicked off on Thursday, virtually. Scheduled on May 20 and 21, it congregated policy-makers, industry leaders, and thought leaders of the healthcare sector for reimaging the hospital infrastructure segment. Organised by Elets Technomedia Pvt Ltd and co-organised by its flagship eHEALTH magazine, the two-day event centres on the theme, 'Building a Better, Safer & Welcoming Hospitals'.

The two-day summit is being held against the backdrop of the Covid-19 pandemic, which has brought the urgency for re-looking at the state of the Indian hospital infrastructure, besides hastening all-around investments for the healthcare segment propelled by the government's intensive focus and renewed vigour on the sector with the launch of Atmanirbhar Bharat (Self-reliant India) national campaign last year.
Welcoming the speakers, panellists, and audiences to the Live summit, Dr Ravi Gupta, Editor-in-Chief and CEO, Elets Techomedia Pvt Ltd remarked, "In the view of the Covid-19 pandemic, the hospital infrastructure segment will witness a paradigm shift in the nation's thought-process and policy formulation. The segment is now more poised to adopt best practices and robust and scalable technologies to attain Atmanirbhar or self-reliance in healthcare for serving 137 crore Indians."
At the inaugural session, Dr K Madan Gopal, Sr Consultant, NITI Aayog, said that the Covid-19 pandemic has provided an opportunity for the nation to reflect and review the state of the country's healthcare infrastructure as well as personal wellbeing. "The government is looking forward to boosting the ease of investment in the hospital infrastructure in tier-ll and III towns. Besides, the government's PLI scheme will be a shot in the arm for domestic manufacturing of critical pharma products," he added.
Dr Atul M Kochhar, CEO, National Accreditation Board for Hospitals & Healthcare Providers (NABH) observed that it is about time to explore and focus on developing and using low-cost, green and innovative solutions that can be scaled up to ensure self-reliance in providing healthcare to all Indians cutting across the socio-economic segments.
Remarked, Pavan Choudary, Chairman & DG, Medical Technology Association of India – MTaI India, "The Big Data and Blockchain technologies will play an instrumental role in heightening transparency of bed availability and rein in on counterfeit medicines. With regard to telemedical platforms, it will ensure patient dignity as the novel process has immunised people against indifferent medical professionals."
On Day-1 of Elets Hospital Infrastructure Summit, panel discussions included: Overview of the Indian Health Infrastructure: Understanding the Need of the Hour and Atmanirbhar in Healthcare; Planning for Change: Redefining Floors, Walls & Ceilings in Hospital Designs; Medtech's Role in Solve the Indian Healthcare Challenges; and Green Hospitals: Values-driven Design and Construction.
Highlights from the Panel Discussion on Overview of the Indian Health Infrastructure: Understanding the Need of the Hour and Atmanirbhar in Healthcare:
Subhash Vashisht, Sr Technical Advisor – Medical Electronics, AiMeD: India is importing 80% of medical devices, particularly high-end and electronic ones, leaving a huge scope of manufacturing these in the country for swift access to critical solutions at the time of health crisis.
Dr Shuchin Bajaj, Founder Director, Ujala Cygnus: It is time to bring transparency to the supply chains. We should know the cogs of cogs, suppliers of suppliers. This is important to have the command over supply chain to be able to manage health crisis.
Dr Nagesh K Rao, Group COO & Group Head for Improvement Sciences, Omni Hospitals: The second wave of the Covid-19 pandemic has intensified focus on managing human resources and supply chain. We will be able to deal with possible future epidemics if we keep our focus on these aspects.
Dr Param Hans Mishra, COO, IQ City Medical College: Medical colleges should ramp up human resource in medicine, pulmonology and nursing, besides setting up oxygen plants to be able to take on a probable third Covid wave in India.
Dhruva S Chakravarthi, CEO, Prashanth Hospital: Electronic Medical Record is the future of healthcare as the new-age process makes the life of physicians simpler. We will see greater use of the new process in the days to come for better outcomes
Highlights from the Panel Discussion on Planning for Change: Redefining Floors, Walls & Ceilings in Hospital Designs:
Shipra Damir, Head of Hospital Administration Dept, Sai Institute of Paramedical and Allied Sciences: While looking at the hospital interior space, cost-effective PVC flooring is ideal as the material is durable and easy to clean, thereby boosting hygiene in the space. Also, in pursuit of selecting materials for designing interiors, infection control should be of paramount interest.
Dr Saurabh Lall, Head of Hospital Operations, Max Healthcare: As cost-effective and easy-to-maintain materials are a must for hospitals, we are now seeing vinyl flooring being applied not only in OTs but also in OPDs. This approach will go a long way in heightening infection control in hospitals.
Prem Prakash Singh Sehgal, Regional Head – Delhi (NCR) for Project & Maintenance, Medeor Hospital: Hospitals should explore more in interior designing, including the role of colours in creating a soothing environment for patients and medical professionals. We are witnessing that a greater emphasis is laid on this aspect for ensuring the swifter recovery of patients as well as evolving relaxed ambiance for professionals.
Biloy Mohapatra, Head of Institutional & Architectural Sales for Boards & Panels at Everest Industries Ltd: Modern hospital architecture is focusing on building a physical environment that can help create a healing effect as well as increase safety for occupants. Going forward, this is expected to be the new approach for many hospitals.
Highlights from the Panel Discussion on Medtech's Role in Solve the Indian Healthcare Challenges:
Ravindra Karanjekar, CEO, Kiran Super Multispeciality Hospital: Telemedicine and teleradiology are now mega-trends propelled by the new normal due to the Covid-19 pandemic. These platforms and technology have the potential of redefining the healthcare service and infrastructure.
Viloo Williams, CIO & Head Digital Transformation, Sir HN Reliance Foundation Hospital: Investments will be pumped into areas beyond medical technology for creating a wow factor with regard to patient experience. Many hospitals whose vision is around patient-care is moving towards the direction by allocating resources.
Dr Chandrika Kambam, Director – Clinical Services, Health Care Global Enterprises Ltd: Low-cost and robust technologies can be developed to be able to ensure that metro city doctors and hospitals can connect with remote and rural area healthcare centres for managing secondary healthcare. This is required to take quality healthcare to all.
Niranjan Ramakrishnan, CEO, MyLabConnect, and VP – Digital, Leixir Dental Group: Data-driven technology will be at the heart of the future of healthcare. This will bring the much-needed pro-activeness in the system that goes into a reactive mode in a crisis situation
Highlights from the Panel Discussion on Green Hospitals: Values-driven Design and Construction:
Rupak Barua, Director & Group CEO, AMRI Hospitals Ltd: Sometimes lighting aspect is overlooked in hospitals. We are using modern lighting and tapping into daylighting for a sustainable hospital infrastructure.
Maj Gen S C Pareek, Executive Director, Bhagwaan Mahaveer Cancer Hospital & Research Centre: Green hospital concept has begun to gain momentum in India. We are implementing the concept via rainwater harvesting, solar panels, skylights and LED lights, among others. We are also ensuring natural light reaches patients' rooms.
Dr KM Cherian, CEO & Chairman, Frontier Lifeline Hospital: We need to work towards achieving sustainability and implement the green design in hospitals without waiting for someone else to do it on our behalf. We should be proactive in achieving every parameter of sustainability and adopt best practices.
Dr Mervin Leo, Cluster Chief Operating Officer, Aware Gleneagles Global Hospital & Gleneagles Global Hospital: We need to understand the new trends to be able to design and build hospitals with the help of sustainable technology, including renewable energy and energy-efficient systems. We should inculcate the values of using technologies for evolving a supportive healing environment for patients and others.
Sameer Mehta, Executive Vice Chairman at Dr Mehta's Hospital; Dr Binayak Prasad, COO, J J Institute of Medical Sciences; Dr Adit Desai, MD, KD Hospital; and Dr Biren Chauhan, Group COO, Sunshine Global Hospitals moderated the panel discussions.
What's more Elets Hospital Infrastructure Summit saw presentations by the corporate engaged in providing building materials for creating the modern hospital infrastructure. Sanjeev Verma, Head of Business Development, Orient Bell Ltd said: "Our Anti-static conductive tiles conduct any static electricity generated to the ground preventing potentially dangerous electric sparks. We offer a range of patented anti-static conductive tiles for specific concerns on static charge hazards. These tiles meet critical requirements of sensitive areas such as hospitals and help in compliance with safety norms."
Also, Biloy Mohapatra, Head – Institutional & Architectural Sales of Boards & Panels, Everest Industries Ltd, said: "We have competency in building hospitals on short notice by tapping into our innovative, economical, and de-mountable construction products and solutions. We can complete projects with speed, safety, and strength in hospital space."
Curtains came down on Day-1 of the summit with the Vote of Thanks by Kartik Sharma, Associate Editor, Elets Technomedia Pvt Ltd.
ALSO READ: Here is What Happened on the day-2 of Elets Hospital Infrastructure Summit.
The two-part post-show report will be followed by videos of the speakers and panels over the next few days.

Follow and connect with us on Facebook, Twitter, LinkedIn, Elets video