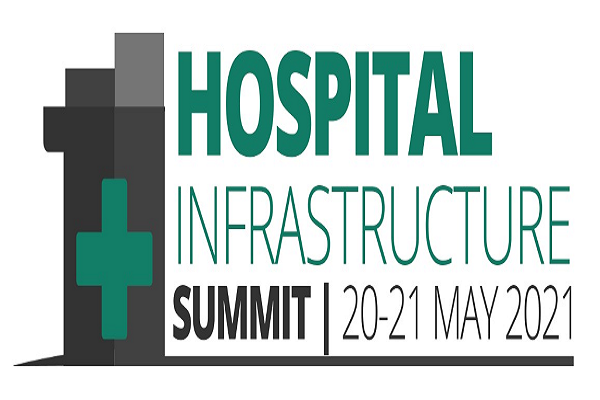 Over 45 speakers and 450-plus delegates logged into 8 powerful panel discussions during the 2-day Elets Hospital Infrastructure Summit 2021, which explored the adoption of cutting-edge design & novel technologies for creating a smart & responsive hospital space, reports Mrinmoy Bhattacharjee of Elets News Network (ENN).
Elets Hospital Infrastructure Summit 2021 that focused on 'Building a Better, Safer & Welcoming Hospitals' just concluded virtually. The two-day summit brought together the finest minds in the government and hospital industry to reimagine India's hospital infrastructure landscape.
Organised by Elets Technomedia Pvt Ltd and co-organised by its flagship eHEALTH magazine on May 20-21, the virtual summit held in the light of the Covid-19 pandemic that scrambled stakeholders to review the health of the country's hospital infrastructure, and the big bang policy launch of Atmanirbhar Bharat (Self-reliant India) by the Modi government last year and private sector investment pledges that followed.
"In the view of the Covid-19 pandemic, the hospital infrastructure segment will witness a paradigm shift in the nation's thought-process and policy formulation. The segment is now more poised to adopt best practices and robust and scalable technologies to attain Atmanirbhar or self-reliance in healthcare for serving 137 crore Indians," said Dr Ravi Gupta, Editor-in-Chief and CEO, Elets Techomedia Pvt Ltd, at the inaugural session on day-1 of Elets Hospital Infrastructure Summit 2021.
ALSO READ: Here is What Happened on the day-1 of Elets Hospital Infrastructure Summit
On day-2 of Elets Hospital Infrastructure Summit, panel discussions encapsulated Covid 2.0: Transformation in Hospital Infra the Way Forward; Smart Hospitals: Transforming Healthcare with Next-gen Technology; Improving Hospital Safety: Providing Protection to People & Buildings; and Designing an Innovative, Patient-centric Healthcare Infrastructure.
Highlights from the Panel Discussion on Covid 2.0: Transformation in hospital infra the way forward
Dr K Madan Gopal, Sr Consultant, NITI Aayog: India needs to rethink the way hospital infrastructure space is evolving. We also need to introspect on the issuance of safety certificates to hospitals as mishaps such as fire accidents in many hospitals are being reported from various parts of the country. India should also focus on building skilled healthcare manpower, which is noticeably in dearth in semi-rural and rural areas; it is time for us to focus on creating and managing a pool of human resource in the healthcare landscape.
Dr Venkat Ramana Sudigali, Director and CEO, Excell Multispeciality Hospital: A problem unique to India is that patients died due to lack of infrastructure during the Covid times. Proper allocation or management of resources is the key to address the healthcare of a country as big and diverse as India.
Gandharv Roy, COO, Medica Super Speciality Hospital: We are massively expanding our hospital infrastructure by augmenting the count of ICU and Oxygen beds. Besides, we are investing in boosting safety and supply chain aspects of hospital space for ensuring better job satisfaction, productivity and patient care.
Namit Soni, Director & CEO, Soni Hospitals: The Covid-19 pandemic has exposed the state of the rural healthcare infrastructure. India will have to gear up in medical equipment as well as manpower domains to be able to cater to 70% of India's population that lives in rural areas.
Alok Agarwal, CMO, Orient Bell Ltd: Our company believes in innovations. We keep on brainstorming how our innovations can be directed at responding to the health crisis. We have recently obtained patients for our anti-viral tiles that restrict the spread of viruses on the surface and kill more than 99% of the viruses in two hours.
Highlights from the Panel Discussion on Smart Hospitals: Transforming Healthcare with Next-gen Technology
Dr SM Sapatnekar, Medical Director, Godrej Memorial Hospital: The hospital segment urgently and badly needs streamlined and simple software. The significance of such systems is more than ever before in the Covid times. Hospitals also need dependable and reliable software providers who can be banked upon for long-term record maintenance and swift accessibility.
Kishor Gojiya, Head – IT, CIMS Hospital Pvt Ltd: Artificial Intelligence (AI) can never replace doctors, which are important in the human-touch medical profession. But, the new-age tech will play a major role in pathology and cardiology in the future.
Dr Subair Khan, Managing Director, Orthomed Multispeciality Hospital: Transparency is the cornerstone of the healthcare profession. We have witnessed how technology played a huge role in boosting the transparency of bed occupancy as well as the availability of critical medicines such as Remdesiver for needy patients during the Covid times in Tamil Nadu.
Raj Shekher Janapareddy, Director, Bloom Hospitals: Demonetisation accelerated the adoption of digital payment, which in turn, made people comfortable with the adoption of other digital platforms such as telemedicine. Despite cognitive power, AI has not been able to replace creativity involved in the healthcare profession. But, the new tech can do mundane work faster and cheaper.
Highlights from the Panel Discussion on Improving Hospital Safety: Providing Protection to People & Buildings
Dr Aloke Mullick, Group CEO, Omni Hospitals: The safety aspects of hospitals in India are often looked after by unskilled security personnel. India's hospitals should hire retired fire fighting personnel to train their in-house security personnel; hospitals should also hold weekly fire-safety drills.
Dr Dilip Rangarajan, Group Medical Director, NU Hospital: The safety and security of hospitals and their occupants are of great significance for us. Our hospital has a massive safety and security infrastructure focussed on constant patient monitoring for creating a robust environment of safety.
Col Dr Sunil Rao, CEO, Gujarat Cancer Society: There is a need to re-design our hospitals for making the space friendly to specially-abled people. This design element needs to be propagated and practised with much vigour.
Saumil Bhatt, Head – Operations & HR, BAPS Hospital: Our thought process should be aligned with realism that calls for placing the need of patients at the centre of hospital design. We have designed patient-friendly hospitals with open-to-sky corridors, both-side opening doors for patient cabins, well-spaced staircases, among others:
Highlights from the Panel Discussion on Designing an Innovative, Patient-centric Healthcare Infrastructure:
Shamit Manchanda, Chief Healthcare Architect, Manchanda Associates: Healthcare not only needs evidence-based medicine but also evidence-based design that offers visual relief, healing gardens, good signage, and good acoustics for swift recovery as well as wholesome marvellous experience by patients.
Ramprasad Akkisetti, Founder Managing Director, CCBA Designs Pvt Ltd Architects & Urban Planners: Hospitals in India should be designed keeping in mind not only doctors, nurses and other caregivers but also the inflow of family members and relatives who like to be present and visit patients during hospital treatment.
Dr Sandeep Chatrath, Regional CEO & Group Medical Director, Metro Group Of Hospitals: The Covid-19 has underscored the significance of sanitation, hand-wash facilities, patient-centric, and staff movement in hospitals. Going forward, these aspects will be much considered for incorporating in hospital planning.
Abdullah Saleem, Group CIO, Omni Hospitals: Budget for IT infrastructure in public and private sector hospitals are getting reduced. This step is adversely impacting patient care outcomes. Smart hospitals cannot be built without allocating an adequate budget for IT infrastructure. Abdullah Saleem, Group CIO, Omni Hospitals.
The panel discussions were moderated by Gaurav Loria, Group Chief Quality Officer & Head Operations (Vice President), Apollo Hospitals; Neeraj Lal, Group Sr VP, Medicover Hospitals (India); Dr Ashish Chauhan, Consultant, Apollo Institute of Medical Science & Research Center; and Prof Supten Sarbadhikari, Health Information Educationist.
Curtains came down on Elets Hospital Infrastructure Summit 2021 with the Vote of Thanks by Kartik Sharma, Associate Editor, Elets Technomedia Pvt Ltd.
Association of Indian Manufacturers of Medical Devices (AIMED) was a supporting partner and National Accreditation Board for Hospitals & Healthcare Providers (NABH) was a Knowledge Partner; Orient Bell Ltd was a Gold Partner and Everest Industries Ltd was Healthcare Solution Partner of Elets Hospital Infrastructure Summit 2021.
This post-show report will be followed by videos of the speakers and panels over the next few days.

Follow and connect with us on Facebook, Twitter, LinkedIn, Elets video