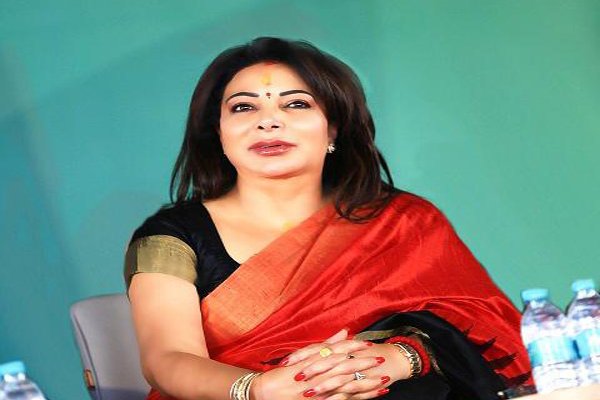 With the perfect blend of technology, robust infrastructure, coupled with skilled workforce, Nayati Healthcare is carving niche in healthcare delivery space. It believes that people should have equal access to quality care irrespective of his economic condition or the remote location he lives in, says Niira Radia, Chairperson, Nayati Healthcare, in conversation with Arpit Gupta and Mukul Kumar Mishra of Elets News Network (ENN).
Q With four Mobile Medical Units (MMUs) and a team of 36 paramedics and doctors, Nayati Healthcare came into existence in 2012. Tell us a little about its journey and mission.

Our journey started from the holy grounds of Badrinath in 2012 to provide medical aid to the residents and pilgrims. Working across these regions, we came across with the grim reality of healthcare in our country which is metro centric. Nayati believes that good healthcare should be sans boundaries and seamless across the country. Its mission is to make tertiary healthcare accessible, affordable and accountable for people living in tier II and tier III cities of India, which has been long neglected.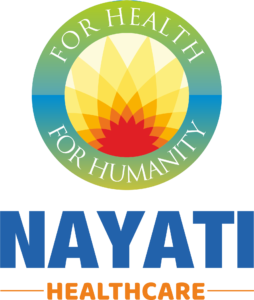 A sweeping study conducted from Jammu to Jamshedpur led us to set up our first hospital in Mathura, Uttar Pradesh. The study found that while North India is the most populated part of India, its infrastructure is among one of the most underserved. With wide healthcare disparity and huge disease burden, the need for care and cure is nowhere greater than in Uttar Pradesh. Nayati Medicity, Mathura, commissioned in 2016, is the most advanced and the only quaternary care multi super speciality hospital in the region with 377-bed, covering 22 specialities. It is the first hospital in a tier III city to receive NABH accreditation. It is the only NABH approved blood bank in Uttar Pradesh. The facility extends end-to-end cancer care including radiation and bone marrow transplant. In 2017, we expanded to Agra with Nayati Hospital, a 60-bed facility.
We forayed into Delhi NCR with the strategic acquisition of Primamed hospitals and Sundar Lal Jain Hospital in 2018. Primamed added two hospitals to our portfolio including the iconic Neuro Sciences Centre, 150-bed Vimhans Nayati in Nehru Nagar, Delhi and upcoming 600-bed facility, Nayati Super Speciality Hospital in Golf Course Road, Gurugram. The hospital in Gurugram will work as the strategic hub for talent mobilisation, knowledge sharing and also act as the center for our growing international patient cache.
Q What are the hallmarks which define Nayati's delivery of accessible and quality care to masses.
Nayati works in a hub and spoke model of taking treatment closer to the masses. We have strategically looked at locations which enable us to cater to the maximum number of population in the hinterlands. Our flagship, Nayati Medicity, Mathura is the only quaternary care hospital in the region catering to 18 districts covering a population of over 55 million people within a 200 kms radius. With Nayati Hospital, Agra and Nayati Hathras OPD service as the effective spokes, the last mile accessibility to some of the most remote locations is being provided by our fleet of 17 mobile medical units (MMU) and a team of 100 workers.
Q In the light of patient becoming more informed in the age of internet today, what initiatives have been undertaken by Nayati to live up to their expectations and to ease of clinical processes?
The most important aspect of hospital services today, is to provide transparent and real time information to the patients. We have put together a robust system through our patient portal, mobile app, website and social media channels to facilitate communication.
All these mediums carry extensive real time information about our hospitals, the areas of excellence we offer and the availability of doctors. Patients can make real time appointments, access their reports, make payments, share their feedbacks about our services.
We have dedicated teams looking out for the feedback shared by our patients which is then acted upon to make them feel valued.
We send out reminders, in the form of automated texts, emails and calls to our patients to make sure the patient is following the prescribed plan of care.
At Nayati, we believe communication is an integral component of patient care. Good doctor-patient communication has a huge impact on better health outcomes and higher patient and clinician satisfaction. We have adopted a distinct process of counselling patient/ patient relatives on the progress of the treatment, twice a day across all hospitals. These sessions not only address their queries, but also helps build trust and maintain a positive atmosphere.
Q As an enabler technology has facilitated delivery of care. AI, mHealth, Telemedicine will prove to be game changer in coming years. How do you read the statement in context of Nayati?
Telemedicine has traditionally been used by hospital groups to facilitate healthcare for international patients.
However, for us it is an effective tool to reach out to people at the grassroots level.
E-ICU
Nayati Medicity, Mathura is India's first hospital to adopt a cloud-based Digital Intensive Care units (eICU). The technology allows clinicians to monitor multiple critically ill patients round the clock, alerts ICU staff to any issues, and ensure early intervention to improve outcomes. It relies on reinforcement classification, a technique used in Artificial Intelligence to process millions of records in a fraction of a time by building a seamless connected system.
EMR
Nayati Medicity has end-to-end integrated application which makes it a paperless hospital. The hospital's registration, OPD, IPD, ER, Daycare, diagnostic are tightly integrated for patient to experience facilities on real- time basis. EMR helps in patient safety and better clinical outcomes. It also helps to improve communication and patient care, improve data tracking and workflow management.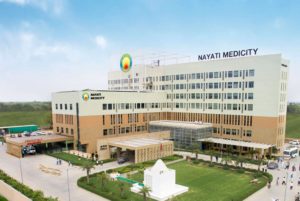 MHEALTH
Nayati focuses greatly on the mobility aspect. Apart from the generic mobile app for patients to book appointments, access reports, making payments and sharing feedback, we have mobile apps for doctors as well. Through this app, the doctors can perform following functions without sitting in front of a computer on a nursing station:
Put clinical notes
Put medicine and investigation orders
Put referral for other doctors to see their patients
Verify discharge summaries and make corrections
Put orders for nursing
Q Apart from Nayati Mathura and Agra, tell us more about its other hospitals across country and expansion plans.
We are focusing on extending healthcare facilities to Varanasi with a 675 beds facility – 500 beds are to be commissioned in FY 2022, Nagpur with a 400 beds facility – 250 beds to be commissioned in 2023, culminating our North India expansion with Amritsar in 2024. All locations have been chosen carefully, considering the access gap and the potential coverage area.
Q How do you summarise 2019 in terms of opportunity, challenges and growth. What are your plans for the next year?
2019 saw us consolidate the acquisitions made the year before and strengthen our position further as a group.
The most humbling part of 2019, is that through our extensive outreach programme, Nayati has been able to touch over 3 million lives across remote villages of Western Uttar Pradesh, Eastern Rajasthan and Uttarakhand. The year marks our entry into Eastern Uttar Pradesh with the launch of Shri Kashi Vishwanath Nayati Arogya Mandir, a free OPD-cum stabilisation centre in the premises of Shri Kashi Vishwanath Temple at Varanasi.
I firmly believe 2020 will be a defining year for us with the launch of Nayati Sundar Lal Jain Super Speciality Hospital in Ashok Vihar and Nayati Super Speciality Hospital, Gurugram. We look forward to create new standards in the healthcare dynamics of the country.

Follow and connect with us on Facebook, Twitter, LinkedIn, Elets video