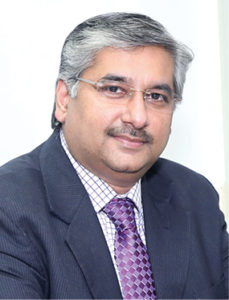 Elektas software solution for care management, treatment management and knowledge management help clinicians achieve the next degree of precision and personalization in patient care, says Manikandan Bala, Managing Director, Elekta India, in conversation with Elets News Network (ENN).
Q Give us an overview of Elekta, an organisation known for its innovative approach to cater professionals to their satisfaction.

Elekta is leading innovator of equipment and software used to improve, prolong and save the lives of people from cancer and brain disorders. Our advanced, effective solutions are created in collaboration with customers, and more than 6,000 hospitals worldwide rely on Elektas technology. Our treatment solutions and oncology informatics portfolios are designed to enhance the delivery of radiation therapy, radiosurgery and brachytherapy, and to drive cost efficiency in clinical workflows. At Elekta, our purpose is to help clinicians to improve patients health.
Innovation at Elekta has been leading the way for critical technological advancement in radiation therapy since last many decades. Elekta maintains its focus on evidence-based medicine, energised by the fact that we are supporting those whose mission is to save and prolong human life.
Q Tell us about Radiotherapy, Oncology Informatics and other treatment solutions provided by Elekta.
Radiotherapy: Elekta is the innovator and leading manufacturer of Radiotherapy (RT) and Stereotactic Radiosurgery (SRS) equipment used for non-invasive method of treating cancers and brain disorders. Elekta offers both external beam RT (Linear accelerators) and internal radiation (brachytherapy) equipment. Gamma Knife surgery is the gold standard for SRS with its delivery of a single, high dose of irradiation to a small and critically located intra-cranial volume through the intact skull. It is preferred for its extreme accuracy, efficiency and outstanding therapeutic response.
Oncology Informatics: Elekta innovations in oncology informatics " MOSAIQ have been at the forefront of serving clinician needs since 25 years. To simplify and improve day-to-day work in clinical environments, Elekta offers an oncology-specific software solution powering practice optimisation through continuous learning within four main areas: Single platform solution to enable multi-disciplinary treatment management, workflow management to ensure the patient treatment journey is seamless and highly efficient, quality control and decision support through intelligent automation, and actionable oncology analytics.
Q Nowadays, people want quality medical facilities in cost effective way. What sort of strategies you work upon to meet their demands?
Elektas software and oncology information systems are developed with a profound understanding of patients healthcare needs and the systems contribute to enhance efficiency significantly. MOSAIQ oncology informatics offers access to complete patient information, optimising analysis tools and patient data enabling clinicians to make informed decisions for better patient care across the cancer spectrum.
Also as clinics are becoming more collaborative and treatments becoming more personalised, information guidance becomes essential. We believe that clinicians will be able to deliver the most personalised and efficient care when they have:
Access to more timely and complete clinical information of patients
Better tools for sharing, analysing, and applying information
Easier ways to tap into the knowledge and experience of their peers
Elekta software brings together the people, the workflows, and the information clinics need to deliver quality care and run smooth operations. Our software help clinicians provide the best possible information-guided care for every patient treated for cancer or a neurological disorder.
Q In the age of Internet, Healthcare sector has been flooded with new technologies including IoT, Cloud Computing and Artificial Intelligence. How these innovative technologies are pushing healthcare sector to the extra mile?
This era of Internet has reduced the gap between patient and healthcare providers, enhanced communication speed and given easy access to knowledge and data to clinicians for taking informed decisions.
To improve efficiency and patient flows, Elekta has developed advanced oncology informatics systems that simplify a clinics planning, coordination and optimisation of treatment sessions.
Caring for patients with cancer and neurological disorders is becoming increasingly complex and increasingly dependent on technology. To provide the best care and stay competitive, healthcare centers need to know that their IT needs are taken care of.
Elekta Cloud Solutions lighten the burden of IT acquisition and management, freeing the staff to concentrate on patient care. This is done by providing a subscriptionbased, platform-as-a-service solution that delivers worry-free operations. With the software housed in the cloud, centres can optimise systems performance and scale up smoothly. Also it can recover quickly from outages and ensure the continuity of treatments.
At healthcare centers every patient generates a new set of data from many different sources: diagnostic, treatment information, images and patients data. Elekta Knowledge management pulls together the data and makes it meaningful. With our suite of cloud-based clinical and business intelligence applications, medical personnel can:
Collect, aggregate, and analyse information from multiple data systems
Use real-time dashboards for effective analysis and to improve the performance of practice
Ensure compliance and support research with standardised data collection and reporting
Leverage best practices from across the globe to personalise treatments and improve patient care
Q How big data and its analytical application makes collaboration between doctors and patients an easy task. How does it prove beneficial for medical personnel?
Over the years, how have you evolved as an organisation? When every clinic manages its data effectively and shares it with others, the knowledge base available to the healthcare community expands. Information-guided care can guide in new ways and better outcomes.
The clinical information available nowadays to be analysed and applied is more than ever before. The data, registries are rich resources of clinical information. Registries offer clear views of clinical practices, patient outcomes, safety, and comparative effectiveness. Analytics makes it possible to transform registry data into evidence-based medicine and decision making. Medical personnel can use Elektas registry resources to:
Ensure compliance. Standardise data collection and reporting
Simplify clinics registry processes. Streamline registry data management from case finding
Advance research. Power clinical decisions and studies with rich registry data and analytics
Improve patient care. Leverage learnings from clinics across the globe to personalise treatments and improve standard of care
Elekta provides analytical tools to help medical personnel make faster, more confident decisions about their patients.

Follow and connect with us on Facebook, Twitter, LinkedIn, Elets video