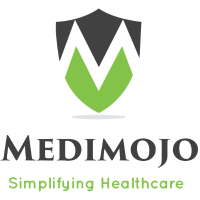 With the increasing incidence of illness and increasing costs associated with employee health policy, a paradigm shift is needed in the way employers look at the healthcare benefit for the employees, shares Vikas Ranjan, Co"Founder, Medimojo with Elets News Network (ENN)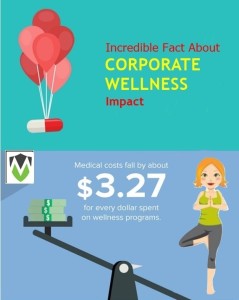 The Employee Health Policy currently being pursued by the corporates can be best described as more of a sick care practice. In the sick care practice, the intervention is restricted to providing support in terms of Group Medi-claim benefits, to ward of monetary costs in the event of hospitalisation.
However, due to increasing incidence of illness and increasing costs associated with that, a paradigm shift is needed in the way employers look at the healthcare benefit for the employees. Needless to say, the cost is not just the insurance cost, but other indirect costs like those of absenteeism, presenteeism  and reputation.
Wellness Challenge
According to a study conducted by PricewaterhouseCoopers (PwC), an estimated more than 41 million deaths occur worldwide due to chronic diseases. In India alone, more than 67 per cent deaths happen due to chronic illness and account for 3.78 million per year.
The following are some of the alarming estimates thrown up by the said study:
India will lose productive man days equivalent to 17.9 million years by 2030 just out of the cardiovascular diseases (CVDs) in the population of the age group 35+. This is one of the highest and is likely to cause a monetary loss of more than $ 500 billion by 2030.
6 million out of a diabetic population of 60 Mn+ are likely to develop nephropathy by 2020 leading to disability-adjusted life style years (DALY). This is a stage where maintenance cost of the disease in diabetics sky rockets due to renal failure. In the last 10 years (2005 to 2015), this has already led to an estimated loss of $200 billion.
The following is an estimate of non-communicable diseases (NCDs) prent in India which is likely to cost India a total of $ 5.7 trillion by 2030.
Health Insurance Cost
According to the Insurance Regulatory and Development Authority (IRDA) report, the total value of premium paid for the Group Medi-claim policies in FY 2015 was Rs 20,098 crore. However, more than 40 per cent of this or Rs 8,898 crore was accounted for by the non-government sector, which constitutes largely the private sector corporate entities. The growth rate for the premium paid has been at a compound annual growth rate (CAGR) of 25.9 per cent.
This coupled with the fact that the increase in number of people covered in non-government Group Medi-claim hasnt been any significant easily reflect a rising trend in per employee Group Medi-claim costs.
All of this needs a deep dive to understand the causes and correctly estimate the cost of healthcare looming large over corporates, society and nation as a whole.
High Risk Factors
Unlike the earlier phases of industrialisation and as recently as the 90s, a lot of work has become non-physical in nature. With machines and computers replacing much of the human work, the processes have now become increasingly mechanical and electronic in nature. This has changed the very nature of jobs being done today leading to sedentary, long hour of sitting jobs. The service industry, which accounts for more than 60 per cent of all non-agricultural workforce are most likely to be affected by this and the worst hit is likely to be software, information technology (IT) and Information technology enabled services (ITES) jobs.
The most common risk factors happen to be attributed to the following changes in the lifestyle that the current work styles have brought about:
Unhealthy diet and  excessive calorie intake
Physical inactivity & sedentary Lifestyle.
Excessive use of substances, such as tobacco and alcohol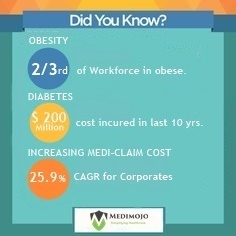 Today, more than 2/3rd of the working population is having body mass index (BMI) in excess of 26 indicative of obesity. As such, obesity accounts for more than 60 types of diseases.
As shown earlier, India is likely to have more than 60 million diabetic patients by 2020.
Solution: Re-Defining Employee Wellness
The beginning of the solution lies in the way the employee wellness is defined. The definition needs a whole new paradigm shift.
Re-Defining Wellness
Wellness needs to be redefined as an organised set of activities designed to help employees, and their families bring about or adapt voluntary behaviour changes that helps them reduce their health risk and enhance their ability to function more productively.
Experiments done so far have shown encouraging results and a definite return on investment (ROI) for the corporate.
According to a study by PwC, corporate wellness programme at Johnson & Johnson has shown significant results in terms of
Overall financial saving of $250 million from 2002-2008
ROI of $2.7 for every $ spent on wellness programmes
Reduction in Medi-claim costs
Improved performance & employee productivity
Reduction in absenteeism, presenteeism, retention and reputation
In another programme at the General Mills in the United States (US), 1,321 employees participated and 433 out of 500 overweight employees lost weight. The average weight loss per employee was 6.7 lbs, whereas the average BMI reduced from 27.9 to 27 in a period of 6 months.
The Digital Effect
Digital developments have made the implementation, ution and monitoring much easier and doable now than five years back. Wearables and mobile make measurement and monitoring much simpler. Employees can work together in teams creating a greater sense of ownership, camaraderie, motivation and support. Working in teams and riding on the Social – Mobile Network makes participation fun and adherence better, generating effective results.
Conclusion
There is no denying that this new path of employee wellness has definite merit for corporates to tread this path. Corporate Wellness will become a strategically designed investment in employees social, mental and physical well-being.
With the direct and indirect benefits happening to corporate, society and nation as a whole, the redesigned wellness programme will no longer remain a good to have tool, but a strategic imperative.
About the Author
Vikas Ranjan, Co-Founder, Medimojo is a healthusiast with passion for making a difference, a start-up enthusiast, and a believer in technology as a life enabler. He is the founder of Medimojo, a health data analytics platform and a patient-centric, portable participatory personal health record (PHR) platform, which generates analytics from user data to predict and prevent diseases. We aim at providing longer, healthier and disease-free life to users.

Follow and connect with us on Facebook, Twitter, LinkedIn, Elets video