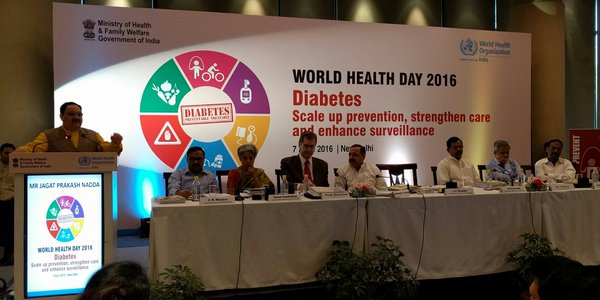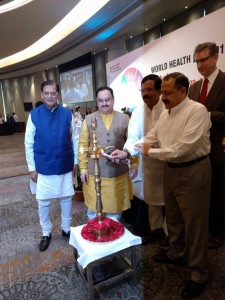 Union Minister of Health and Family Welfare J P Nadda has launched several new e-Health and m-Health initiatives to mark the World Health Day.
Nadda launched the Ministry of Health and Family Welfares new Swastha Bharat mobile application for A to Z information on diseases, symptoms, treatment, health alerts and tips. He also launched‹ ANMOL-ANM online tablet application for health workers, e-RaktKosh initiative and India Fights Dengue mobile application.

This year, the Governments main focus is on diabetes. Therefore, the theme of the World Health Day 2016 is Scale up prevention, strengthen care and enhance surveillance.
We need to focus on the youth and adolescents of the country in our efforts to prevent and combat lifestyles diseases such as diabetes, stated J P Nadda speaking on the occasion of World Health Day 2016. He added that prevention and awareness about non-communicable diseases which are largely linked with our way of living, dietary habits, lack of exercise etc., will go a long way in ensuring that the country remains healthy. India can reap the benefits of its demographic dividend only when the youth of the country grow up to be healthy citizens, he stated.
ANMOL is a tablet-based application that allows ANMs to enter and updated data for beneficiaries of their jurisdiction. This will ensure more prompt entry and updation of data as well as improve the data quality since the data will be entered at source by providers of health services themselves. The Minister stated that since the application is Aadhaar-enabled, it will help in authentication of the records of field workers and beneficiaries.
As part of this event the Health Minister also launched e-RaktKosh initiative. It is an integrated blood bank management information system that has been conceptualised and developed after multiple consultations with all stakeholders. This web-based mechanism interconnects all the blood banks of the State into a single network. The Integrated Blood Bank MIS refers the acquisition, validation, storage and circulation of various live data and information electronically regarding blood donation and transfusion service. Such system is able to assemble heterogeneous data into legible reports to support decision making from effective donor screening to optimal blood dissemination in the field.
Nadda said, This initiative will be of great use to persons and families in need of blood transfusion. The application will enable not only information of the nearest blood bank on a mobile but also of the availability of the particular blood group in a given radius.
Launching another mobile application India Fights Dengue, the Minister said that this application will find wide use. As the fight against vector borne diseases, especially dengue, can be won only with effective community participation, this app empowers the community members how to contribute towards prevention of dengue.
The Health Minister also released the Guidelines for Dialysis Centre in a PPP Mode. He stated that soon every district in the country will have the facility of a Dialysis Centre operated under the PPP mode to leverage the potential of the private sector. These expanded facilities will help the renal disorder patients and reduce the out-of-pocket expenditure incurred on dialysis.
At the event, Nadda also unveiled the findings of the ICMR India DIABetes (INDIAB) Study Phase I, along with WHO Global Report on Diabetes, WHO India Technical Report on Diabetes in India. These will have a wealth of information to guide and fine-tune health policy, said Nadda. He also informed that the Ministry, along with World Health Organisation (WHO), has taken the lead and developed a Multi-Sectoral Action Plan involving nearly 40 Ministries and Departments. He further added that we must continue efforts to make this Multi-Sectoral Action Plan a success.
The third phase of Mission Indradhanush has begun from today. It is a nationwide initiative to fully immunise all children and pregnant women against vaccine preventable diseases.
Under Mission Indradhanush, we increased immunisation coverage by almost 6-7 per cent last year, said Nadda.
Under the National Programme for Prevention and Control of Cancer, Diabetes, Cardiovascular Diseases and Stroke (NPCDCS), nearly 6 crore people have been screened for diabetes and hypertension. The minister said there is an urgent need to aggressively focus on adolescents and youth to educate them on perils of lifestyle diseases.
The Government will expand dialysis infrastructure under its National Dialysis Programme in order to provide free service to 2.2 lakh new end-stage renal disease patients/ year.
Shripad Yesso Naik, MoS (Health) stressed on the importance of awareness generation regarding non-communicable diseases. He stated that traditional systems of medicine within the AYUSH systems have the potential to prevent and treat many NCDs. He also stated that as part of the efforts to mainstream AYUSH in the countrys healthcare system, AYUSH Centers have been started in many AIIMS and AIIMS-like Institutions.
Addressing the gathering, Jitendra Singh, MoS (DONER and PMO) highlighted the breaking down of the rural-urban divide in terms of dietary habits, lifestyle and prence of diseases patterns. He stated the increasing prence of diabetes among the younger population is a matter of grave concern. These thoughts were echoed by Henk Bekedam, WHO representative to India who noted that the trends in India map with the global trends where fast growing urbanisation is followed with a shift from communicable to non-communicable diseases.

Follow and connect with us on Facebook, Twitter, LinkedIn, Elets video