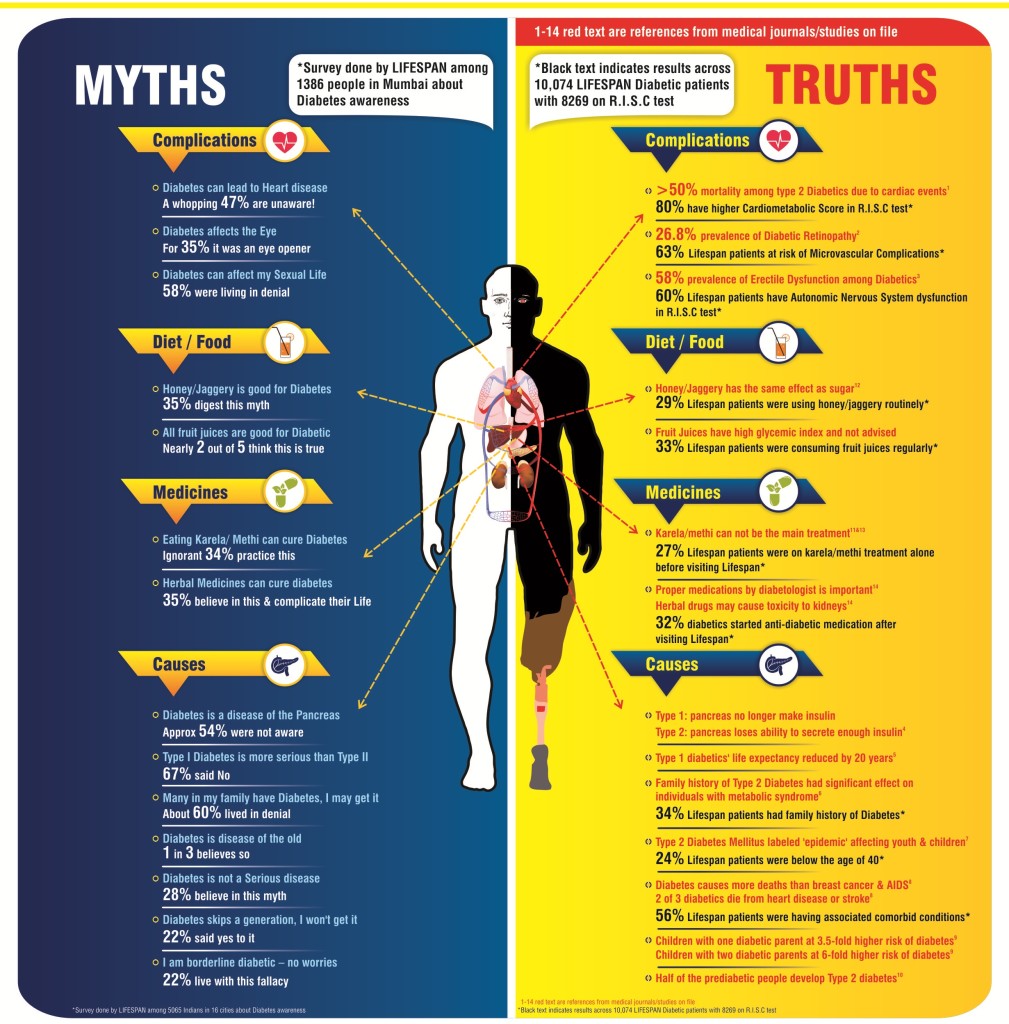 Half of Indians are unaware that diabetes is linked with heart diseases, reveals findings
A whopping 50% of diabetics in the country are at risk of developing heart diseases, 63% at risk of getting microvascular complications and many have an enhanced risk of developing eye problems, especially retinopathy, according to a study.
The study " Lifespan D-MYTH 2014 " conducted to map peoples perceptions along with behaviour-related outcomes of diabetes management, brings to light poor diabetes management amongst Indians, which it links to ignorance and to the prence of myths.
The Diabetes Myths & Truths Highlighter (Lifespan D-MYTH 2014) study, conducted by LIFESPAN, a leader in the management of diabetes and cardiometabolic disorders, made several disconcerting revelations regarding peoples perceptions about the disease, their practices and its effects in terms of mortality and morbidity. The study was conducted among 5,065 Indians in 16 cities on a one-to-one basis, and the data collected was compared with cumulative data from 10,074 patients, who visited Lifespan and took Lifespans R.I.S.C.TM test.
Establishing a direct correlation between ignorance, poor diabetes management and high morbidity and mortality, Lifespan introduced the unique US FDA-cleared R.I.S.C.TM Test in India which showed that 80% of diabetics in the country have higher cardiometabolic scores (used to predict heart disease risk) and a whopping 50% are ignorant about the fact that diabetes could lead to heart diseases.
The study conducted by Lifespan also revealed that while 63% diabetics in India are at risk of developing microvascular complications, which may in turn lead to eye problems, while 36% Indians are completely unaware that diabetes is even linked with eye problems. Further, the study showed that while 60% of diabetics in the country suffer from autonomic nervous system dysfunction, 38% Indians are clueless that diabetes can affect their sexual life.
The studys findings are unique in terms of the insights it provides on peoples perceptions about diabetes and its effects on morbidity and mortality. Considering the huge burden of diabetes on the country, the findings should help us lay out a roadmap to ensure its prevention and management, said Ashok Jain, Group MD and CEO, Lifespan Wellness Pvt Ltd, who has been living with diabetes for the last 19 years, and whose struggle with it inspired him to set up the clinic chain to help and support people like himself.
As for diet and medication, the studys findings again fell in the same pattern of ignorance and faulty practices. The study showed that 29% of diabetics use honey/jaggery with 41% found believing these are actually good for people suffering from diabetes. 33% regularly consume juices, which have high glycemic index (not good for diabetes), with nearly 1 out of 2 considering all fruit juices good for diabetes. While it is well established that bitter gourd (karela) and fenugreek (methi) cannot treat diabetes, 40% believe eating them can cure them of diabetes; 27% were found to be taking these alone to deal with diabetes before visiting Lifespan.  42% Indians believe that herbal treatment can cure diabetes, oblivious to the fact that usage of herbs may lead to toxicity to kidneys.
Considering the role of diet and medication in diabetes management, it is very important to counsel and educate people and rectify their faulty perceptions. The studys findings may give us a direction for devising and streamlining awareness initiatives for effective prevention and management of diabetes, Jain said.
Some key findings of the study:
           63% diabetics are at risk of developing microvascular complications
           60% diabetics suffer from autonomic nervous system dysfunction
           50% Indians have no idea that diabetes is a disease of the Pancreas
           While 56% were found to have co-morbid conditions like High Blood Pressure, Hypothyroidism, Diabetic Neuropathy, Heart Disease, Atherosclerosis etc, 30% believe in the myth that diabetes is not a serious medical condition
           34% diabetics had a family history of diabetes, 40% had no idea that it was linked with their diabetes and a significant 26% of Indians believed diabetes skips a generation
           24% diabetics are below the age of 40
           2 out of 3 diabetics die from heart diseases or stroke
           27% Indians do not take border-line diabetes seriously

Follow and connect with us on Facebook, Twitter, LinkedIn, Elets video