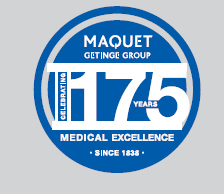 Company Details

Managing Director: Ashim Purohit
Year of Inception: 2004
Employee Strength: 119
Head Office Address: II Floor, Mehta Trade Centre, Sir M V Road, Andheri (E), Mumbai – 400099, Maharashtra
Telephone: 022-40692100
Email: info.india@maquet.com
Website: www.maquet.com
Sales and after-sales support: 022-40692100
Customer support helpline number: 1800222377, 09821627838
Company Profile
MAQUET, a trusted partner for hospitals and physicians for over 175 years, is the global leader in providing medical systems that meet the needs of the most medically challenging patients, while exceeding the expectations of the hospital teams that care for them. MAQUET designs, develops and distributes innovative therapy solutions and infrastructure capabilities for high-acuity areas within the hospital including the operating room (OR), hybrid OR/cath lab and intensive care unit (ICU) as well as intra and inter hospital patient transport.

Headquartered in Rastatt, Germany, MAQUET is the largest subsidiary of the publicly listed Getinge Group AB of Sweden. MAQUET generated about 1.5 billion Euros in 2012, representing more than half of the Getinge Groups annual revenue of 2.7 billion Euros. MAQUET has 6,300 employees in 45 international sales and service organizations, as well as a network of more than 300 sales representatives. Since the company was founded 175 years ago, the world has turned nearly 65,000 times and has changed substantially. Yet today MAQUET still has the same core values that it did six generations ago. MAQUET designs, develops and distributes innovative, effective and high-quality therapeutic and infrastructure solutions.
Products and Services
Operating Room
A large product portfolio enables multi-disciplinary OR infrastructure solutions for more efficient clinical workflows.
Critical Care Unit
User-friendly, reliable and portable CCU solutions help you achieve cost-effective and sustainable patient outcomes.
Hybrid OR
MAQUET partners with hospitals to provide interdisciplinary Hybrid OR that measurably improve patient care.
Patient Transport
Life-sustaining ICU-quality technology solutions make inter- and intra- hospital transport safe and efficient.
Hospital Solutions & projects
Concepts for optimized processes in OR and ICU environment.
For more information :
https://www.maquet.com/int/product/index
USP
Only company to provide one-stop solution for OR

Follow and connect with us on Facebook, Twitter, LinkedIn, Elets video