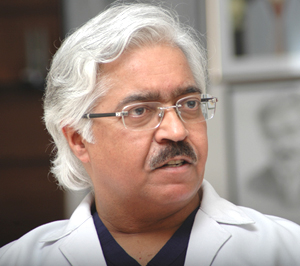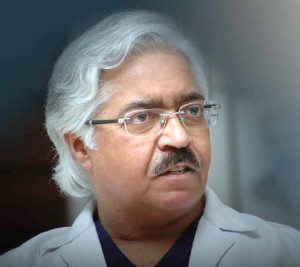 Dr Ashok Seth has contributed extensively to the growth, development and scientific progress in India and across the world especially in Interventional Cardiology. So far he has performed 50,000 angiograms and 20,000 angioplasties and for that his name has been included in the Limca Book of Records. He shares his experience of building Indian Cardiology with Sharmila Das, ENN
You have contributed a lot to the growth of Indian cardiology, how has been your journey so far?
My journey as interventional cardiology in India spans 25 years and a few more years abroad before I came to India and its been very fascinating. Right from the very early times when we were only a handful of people, starting angioplasties in this country we had the belief, the skills and the abilities and luckily we had infrastructure 25 years ago also. Then we revolutionised not just healthcare and cardiac care in this country, but we were able to revolutionise cardiac care practically for the region. I would say the journey has been very fascinating because we were the pioneers for the whole Asia-Pacific region. We put India on the world map. Indians have always been very skilled. It was just a fact and we were already very intelligent. It was only the infrastructure which was missing because it used to be very expensive and available in few Government Hospitals. The private healthcare, should we say the corporatized healthcare, has consolidated in last 10 years. Apollo hospitals being the first followed rapidly by others and that brought revolution in this country with an ability to follow exactly those procedures which were happening abroad, happening in the West but with better skills, better care we were able to revolutionise and its been a fascinating journey.
As we see, people were going abroad for angioplasties and surgeries at that time, and now 25 years later, I see people from abroad are actually coming for those surgeries and for angioplasties in this country. Cardiac care has been transformed hugely and I have been a witness to the advancements. Now, when I look at how we treat patients today to how we actually did Angioplasty or surgeries say 15 or 20 years ago, those techniques seem to be primitive in comparison to now. Also very fascinating is the fact that while Fortis Escorts Heart  Institute is the premier and the biggest free standing private heart care centre in Asia that has set the standard for Asia Pacific, now cath labs are being opened in cities like Ambala, Bareli, Muradabad, Hissar. All these cities are having cath labs so that patients can have procedures at the door steps and actually have those advancedprocedures which were happening in big cities. To have the procedures done 25 years ago people used to travel to London, New York and they are now being done at Muradabad, Agra, or Jabalpur. That I think is the biggest transition when high-end technology gets transferred to common man at his door steps. This has been a tremendous journey of literally 25 to 30 years in interventional cardiology and in this country where we have started from nothing and have progressed throughout the world.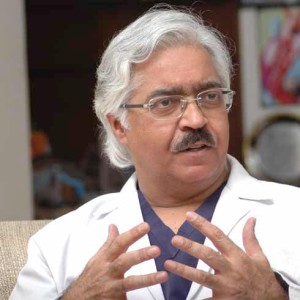 Yes, reports also say that we are getting lot of medical tourists who come to India to treat their heart problems. What are the specific areas where the Indian cardiology has made its mark?
There are two or three key areas. One of them is for heart disease like valve disease, coronary disease, heart attacks, angioplasties, medicated stents, bypass surgeries are far more advanced here. Actually we perform better than many centres in the West because we just not have good technologies but better skills available here. We have the latest devices and stents and we have tremendous nursing care. We actually are able to provide patient care completely. For example, beating heart surgery, which is rarely done abroad, is a very common procedure. Radial Angiographies and angioplasties or for that matter bio absorbable stents, the latest development of stents which dissolves are not available in many countries and we are leaders in that in the whole sphere of cardiology. We are not just providing expertise but providing advanced skills, technologies and patient care entirely. That is the first area of development.
Awards, Recognition & Memberships
Awarded the PADMA SHRI by the President of India in 2003

Received recognition in the Limca Book of Records for performing 50,000 angiograms and 20,000 angioplasties

Honoured by Banaras Hindu University with Doctorate of Science (Honoris Causa) for his contribution to the field of Cardiology
The second area is that we are costefficient. Cost-efficiency does not mean cheap, it means providing the best at a cost, which is right for the patient. All our care and services are cost-efficient to the patients and to get same level of services in West you would have to pay enormous amount of money. Thirdly is the fact that we are not just contributed to treating patients, we as leaders, have actually spent time for teaching and training whole of the region. For example, through the years not only have I trained over 350 interventional cardiologists in India alone, but actually, I have trained doctors from Malaysia, Singapore, China, Australia and Indonesia. 15 cardiologists in Bangladesh have been trained by me and that has helped Bangladesh to progress in Angioplasty over the last 15 years. We have doctors from Afghanistan and Iraq as well. We have   spectrum of training programmes through which doctors have come to us for training and gone back and therefore treated all patients there and knew what to give to the patients if advanced treatment is needed. I think, as a country we have not just attracted patients we have passed on expertise and education too.
---
Every medical college should lower their fee and put a mandate for compulsory medical service for two years in district and sub district hospitals
---
What is the role of technology in the growth of Indian cardiology? What are the advancements happened in our cath labs?
Technology is very important because even a single advancement of science is technology dependant. 25 years ago, in 1988, I did the first angiogram or angioplasty of Escorts Heart Institute. Now when I look back, I realise, when we were doing Angioplasty at that time was crude. Then we had that metallic stents, stainless steel ring-like tubes in 1994. We had cutting devices, drilling devices, laser and nothing was working till these stents came. Then technology progressed to give us medicated or drug eluting stents and we were the first in Asia-Pacific to use medicated stents. In the last five years I have been involved in the development of the bio resorbable stents which goes into the artery, keeps the artery open and then dissolves over two to three years to leave the artery normal. We were personally involved in the large study with all my colleagues in India and this device is approved in India and in many other countries. The fascinating aspect of this technology has transformed everything to a situation that now we are able to treat blockages with dissolvable stents where the blockage is cleared and there is nothing left in the arteries after a couple of years. We have had major advancements in technologies in safe treatment of heart attacks. We have advancements and treatments of valves that we have started from here. We were one of the first people to replace a valve in a patient without cardiac surgery and without even opening of the heart in 2004.
In 2000, if somebody would have asked me that how can a valve be changed without opening heart, I would have not considered it possible without surgery. I would have thought that its a fiction but now in an angioplasty like procedure done in our cath labs where we are able to change 85 year old patients valve, even when he is conscious. There have been numerous advancements on the surgery side too. In fact, the surgeons and cardiologists are combining together to perform many complicated procedures in the areas where surgery theatres and the cath labs get together to combine the procedures. So, we have moved rapidly ahead. We are going to be treating high and uncontrollable blood pressures by a simple angioplasty like technique that cures high blood pressure. Again it is technology dependant but it is also mind that works along with technology. Now the biggest challenge of ours is how to make sure these technologies are cost-effective. Technology comes at a cost. New technologies are more expensive as we have seen it in every sphere.
We are now even able to view arteries very clearly through little catheters. We are one of the first in Asia-Pacific to start doing OCT imaging of the heart arteries but the point is, these come at a cost. There should be a way so that we can transfer technology to smaller cities at a reasonable cost. Not everybody needs to get a Rolls Royce but if its not a Rolls Royce, it needs to be a very dependable and durable car. Advancements are very technology driven but, we Indians are Jugaadu and thats an asset for us. While in the West they only use technology presented to them and believe that technology is what saves patients. But we are able to modify that technology, downgrade it as per our need and apply it where and to which ever patient it is required and we have progressed well on those fronts.
Speaking about interventional cardiology, what are its benefits over other procedures?
Interventional cardiology deals with every treatment of heart which is nonoperative. We can close holes in the heart, which 15 years ago were done only through surgery. Today 90percent of them are closed by catheters, little umbrellas which are put across the holes. For example, even procedures of valves like Mitral Stenosis required surgery all the time. Over the last 15 years it was transferred completely to ballooning of the valve and now, 80  ercent of the patients are treated by ballooning of the valve. So there is a huge shift from surgical methods to the minimally invasive methods and angioplasty. Say for example, stents were balloon angioplasty, which is a crude method of just ballooning, then those metal stainless steel stains came which were non- medicated, still have 20 percent of the recurrence and only 20 percent of the patients would do fine. Later we had medicated stems which revolutionised everything in 2002. When you got to that level, the whole lot of patients who are into surgery are now having angioplasty. So in a sense, angioplasty takes care of 75 percent of the patients having heart problems and 25 percent are taken care of by bypass surgery. If it comes to a situation where, for many reasons if one or two arteries get blocked, even if two or three stents are to be put in, patients can afford it. Angioplasty is more expensive and therefore one has to apply both surgery and angioplasty judiciously to look at the patients need, what sort of blockages he has, what is his financial status, where does he live so that we can tailor the treatment as per his circumstances. We look at all these aspects.
---
In the last five years I was more involved in developing the dissolvable diluting stents so that it goes into the body, keeps the artery open and then dissolves over two to three years of blockage"
---
Healthcare is not reaching rural India, what are your suggestions to improve the scenario?
My suggestions about rural India are according to its needs. Rural India probably doesnt need angioplasties and bypass surgeries. Luckily, rural India is healthier when it comes to these diseases. What affects it most is the infections, hygiene, sanitation, proper diet, nutrition; water, malaria and all such infectious disease are what we need to conquer. Now that is based upon infrastructure, education, and empowerment based. Cleaning hands, having clean water are all hygiene related and I think this whole infrastructure is needed for that. If we elevate health, clear water and hygiene sanitation we take away 80 percent of the disease process that attacks Indian rural areas. Luckily, they have a healthier diet which comes out of agriculture, vegetables are fresh and they already exercise. Now when we look at the next step which is already more important is the intermediate level where people are in the lower middle class and middle class are being affected by disease processes, which actually needs therapy. At district levels we want to strengthen these. We need to strengthen care in district and sub-district levels whereby at least cardiac trained doctors that have an ability to do ECGs, diagnosis disorders are available, and they should be able to refer to a city hospital or regional hospital for further care. A system set up for that is possible. What saddens me is all that money allocated does not always go to downstream. It is truly a coordination and expense issue. Even there is a struggle of having large number of doctors to actually manage and while  healthcare programmes are launched, I know that there is no doctor to take care of it. There are machines but there are no doctors for it.
We need to increase the number of doctors, set up system whereby those doctors are put into those centres for a couple of years prior to do anything else so that is important. When we are talking about districts hospitals, we are not talking about putting doctors in extreme rural areas? Instead we need to put healthcare workers into these remote areas. Every medical college should lower their fee and put a mandate for compulsory medical service for two years in district and sub district hospitals. It can be done. We propagate private collages with heavy expenses, heavy infrastructure, and heavy fee so the doctor tries to earn back that heavy fee. Make education affordable, put a two year clause and then let the doctor do anything. I think we need to transform but, there has to be a will to transform, way to transform, it has to take all the stakeholders into discussions.

Follow and connect with us on Facebook, Twitter, LinkedIn, Elets video