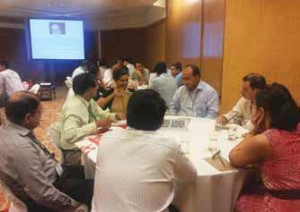 With the aim of helping budding entrepreneurs to separate hype from reality, reveal strategic blind spots and pre-empt market movements, TiE Delhi-NCR has organised a mentoring group sessions at the Indian Habitat Centre, New Delhi on May 25th, 2013. Breakthrough insights are seldom found in research reports or consulting manuals; they come from a rare combination of hands on experience, intuition and vision.
On 25th May, the Healthcare Insight has given an opportunity to connect with established entrepreneurs, investors and consultants in the healthcare space and gain insights through interactive, round table discussions.
The insight conference has five mentors namely: Vikas Kuthiala, Falck Group, Sameer Maheshwari, Healthkart, Harkesh Dabas, Clinton Health Access Initiative, Pradeep K Jaisingh_ CEO, International Oncology, Entrepreneur, Mentor and supporter & Sudhakar Mairpadi, Director-Quality & Regulatory, Philips.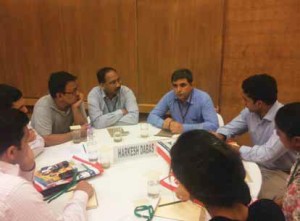 Sameer Maheshwari, Managing Director & Co-founder, HealthKart.com says, We have been associated with TiE for years now and keep attending their events. So I think the power of the event is that it is a small group event where you can come and interact with the complete ecosystem of entrepreneurship that includes entrepreneurs, investors etc. People can very informally share ideas here in this platform. Its a great event to get to know the trends and the industry and also share experiences.
Sudhakar Mairpadi, Director-Quality & Regulatory at Philips Electronics India Limited (Health Care sector) says, First of all, this type of conference gives complete clarity on what is the regulation available in the country to start a venture. The group of excellence here can connect with people and thereby can reduce the unnecessary time and money one needs to invest in getting things done. They will get clarity on to do and not to do things. I feel this is a very good initiative and we should take it further in making and bringing the industry people, bring the hospital people, service providers under one roof. Its a continuous process.

Follow and connect with us on Facebook, Twitter, LinkedIn, Elets video