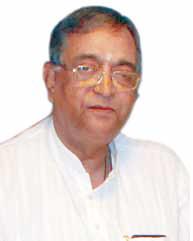 By KN Bhagat, Managing Trustee, OTTET
Good health is a state of complete wellbeing, which can be experienced when man becomes aware of that knowledge, which enable him to view himself as an integrated whole. Holistic healthcare has an important role to play in the maintenance of health, prevention and control of diseases and healing, even in most critical conditions.
Providing healthcare services to all is the constitutional obligation.
Community healthcare is seriously impaired not only in remote areas of the country, but also in urban due to absence of adequate number of doctors, health institutions & infrastructure.
To show a way out, and to present a model, OTTETs Telemedicine programmes have certain clear message.
Technological advances are being utilised by OTTET Telemedicine not only in patient care but also in physician education and training. OTTET Telemedicine Network is a network of tele consulting and tele-education.
The clinical component currently includes tele consulting for preliminary diagnosis, presurgical investigation and posts u r g i c a l follow-up, scheduling appointments for hospital visits, expert opinion, and patient counseling.
The educational component involves participation in Continuing Medical Education (CME), training of students (physicians in residency training), and exchange of state-of the- art practices and expertise between participating institutions.
This tele-health initiative would facilitate support for rural health initiatives by increasing access of rural population to ideal healthcare at their door steps.
OTTET with the support of government of Odisha has successfully been implementing telemedicine project throughout the state to bridge the gap of demand supply mismatch, Doctor – wise & facility wise. In order to give access to healthcare at the doorsteps to population living in far flung areas of 51,000 villages of Odisha using ICT platform, the Department of Health, Government of Odisha has taken initiative with OTTET, Bhubaneswar to implement the project in Public Private Partnership mode without any capital investment by the government.
Pioneer institutes like AIIMS, SGPGIMS and super specialty hospitals of national and international repute like Narayana Hrudayalaya Group of Hospitals, Apollo Group of Hospitals, Global Hospitals Group, Asian Institute of Gastroenterology, etc have been connected with this network and poor patients of inaccessible areas are able to be diagnosed by eminent physicians through tele consultation.
All Medical Colleges, DHHs, SDHs, AHs, CHCs, PHCs & Sub-Centers will be part of this Network. Besides nodes will be installed at each OPD and in selected village.
Well equipped diagnostic facilities and innovative, easy-to-use and highly reliable biomedical devices available are installed at each node.
Computer System equipped with multimedia components to undertake audio-video consultations.
To act as a support system in the existing healthcare delivery system.
To act as a cost-effective and efficient healthcare service system and ensuring accountability for every single patient.
Treatment history of patients saved electronically in Patient Health Record (PHR). Vital parameters are measured with full autonomy, record in the personal clinical file of the patient and these medical data can be consulted by OTTET Telemedicine Programme Operative, and upon patient authorisation, by OTTETs empanelled doctors, specialists & super specialists remotely.
It helps the patients to avail the following healthcare services: Teleconsultation for preliminary diagnosis, pre surgical Investigation, post surgical follow-ups, scheduling appointments for hospital visits, expert opinion, patient counseling.
This saves time & money of all patients with more benefits for the poor  villagers.

Follow and connect with us on Facebook, Twitter, LinkedIn, Elets video