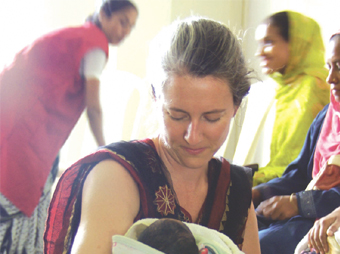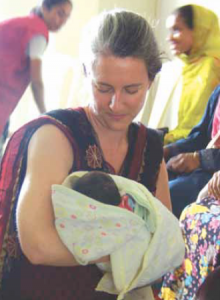 More than one billion women in low- and middle-income countries own mobile phones. Mobile Alliance for Maternal Action (MAMA) delivers health information that empowers mothers living in the poorest,  most remote communities. Kirsten Gagnaire, Global Director, MAMA Alliance, talks about MAMA and its programmes in Bangladesh, India and South Africa, in a conversation with Shally Makin
Brief us about the various programmes MAMA is currently working on.
We have implemented a national programme in Bangladesh called apanchang which in Bangla means trusted friends. We educate poor mothers about pregnancy and childbirth. The intention of the education is to provide the healthiest start for newborns which should be a safe and positive experience for all women. Mobile phones can help by putting the power of health right in the palms of mothers. Mobile health messages are easily accessible. They can inform, dispel myths, highlight warning signs and connect pregnant women and new moms with local health services. It focuses on getting the information disseminated to Bangladesh women in localised language. We have also implemented the programme in South Africa, as they have very high rate of HIV among pregnant women so the researchers have developed content and information for pregnant women around the prevention of mother to child transmission and HIV and other protocols in local language. The nature of Indian programmes will vary from what we have in Bangladesh and South Africa. We are looking for partnerships with other organisations and providers to help us run programmes to carry in such large and diverse place.

In India, we are carrying research to find out how the Indian women use mobile phones in India. We have found that typically poor women do not have their own mobile phones. Therefore, we are looking at ways where we can cross language barrier and help them own a mobile phone and educate them about the advantages about this device. A recent women survey of 2,500 women identified gender bias and technical literacy as the two main barriers in front of women using mobile phones in the developing world. We have to understand these cultural beliefs and find ways of helping to run this programme within the community. We have women self help groups to help us develop our programme in India. MAMA programmes include a separate service for husbands and this is something that serves the purpose of reinforcing messages that their wives are receiving. Messages are delivered in both voice and text for ease of use. Subscribers register mothers for the service by indicating their expected due-date, or the birthday of their recently-born child, and then receive weekly messages and reminders during the pregnancy and up to the first birthday of their child. Messages are culturally sensitive, relevant to the local context and in the local language.
We are partnering with organisations that has programmes that have already started, with BBC media action and BBC world services trust and mutually benefit each other. They are working on a program called maternal messaging service where we intend to  collaborate on. Presently in Delhi we dont have Mama specific services but a baby centre service in Delhi is on the agenda.
Please throw some light on Mobile Alliance for Maternal Action (MAMA)
The Mobile Alliance for Maternal Action (MAMA) engages an innovative global community to deliver vital health information to new and expectant mothers through mobile phones. MAMA is making a three-year, US$ 10 million investment to create and strengthen programmes in three countries " Bangladesh, India and South Africa " and to enhance global capability of new and existing mobile health information programmes for mothers in those countries and beyond. MAMA is a public-private partnership launched on Mothers Day, May 2011, by U.S. Secretary of State Hillary Clinton. Two main constituents of the programme are the United States Agency for International Development and Johnson & Johnson. The supporting partners for the enterprise include the likes of United Nations Foundation, mHealth Alliance and BabyCenter.
How do you think ICT has revolutionised the mobile arena?
We focus directly on the end user and patient education. From our perspective ICT is really helpful to gather information to people that is not previously available. You know we have done work across Africa and women are able to receive information who were not aware of certain information except what they heard in their villages from their mother and mother in laws. They just dont have access to accurate and timely information. This helped us develop where we can find pregnancy therein and they get messages time to time. I think the connectivity issues are more of a challenge. The content is developed on the baby centre, WHO and UNICEF standards and we have global advisory board of global health experts.
How are you approaching to various organisations to achieve your goal?
MAMA is trying to get a better sense of how we can work with mobile operators to understand the business proposition that they are offering and how we can negotiate with them to provide free services. We are working on how we can mobilise the charge for some people who can afford it. We intend to subsidise the cost for the poorest women. Organisations for telecom players globally, is engaged in trying to understand how we can get the policies, procedures and agreements in place. This is where the discussions need to happen at the industrial level.
What are your future plans?
We are working to understand the ground realities so that our strategy can evolve. Within the next few months we will the strategy figured out and then we will start the process of selecting our implementing partners.

Follow and connect with us on Facebook, Twitter, LinkedIn, Elets video