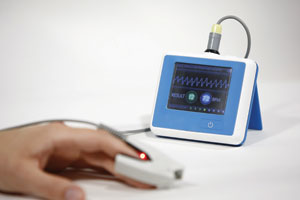 With large quantum of demand originating from the emerging economies, the  activity in the global patient monitoring market seems to be up for a tectonic shift

By Dhirendra Pratap Singh, Elets News Network (ENN)
Novel patient monitoring systems are being developed to meet the demands of an aging global popula-tion. A few of these latest technologies include wireless communication systems that sort the vast amount of data collected to enable modern systems take a succinct overview of the patients condition. The data becomes readable for portable and ambulatory monitors; web-based access to the patient re-cords is also facilitated. There are systems that can transfer data to an electronic medical record (EMR), and also enable full-service outsourcing to clinicians, who uate the data and send a report to the at-tending physician.
There is also a constant rise in demand for continuous pulse oximetry monitoring. Technologies such as sophisticated algorithms, reduced level of false alarms, ease-of-use and flexibility of the remote alarm management solutions, ability to adjust the alarm levels on a patient by patient basis and easy to follow patient vital sign display at the central nursing station, are just some of the aspects that can enable healthcare workers to provide better care.

With most of the demand originating from the emerging economies, the centre of the global patient monitoring market activity is up for a huge shift. India and China are forecast to grow faster than the average, driven by rise in the number of hospitals and large chronic disease populations.
In India, estimated patient monitoring market size is roughly around `.230 crores. In all, five crucial product segments have been identified in this market, which include "multi-parameter patient monitors, wireless and ambulatory patient monitors, remote patient monitoring, non-invasive blood pressure monitors and micro-electromechanical systems. The growth in the patient monitoring market is driven mainly by wireless and ambulatory monitoring and micro electromechanical systems.
Growth in the market for patient monitoring is also driven by increasing awareness among medical pro-fessionals. The rise in the number of patients suffering from chronic diseases is also fuelling the growth. The patient monitoring market is forecast to grow by 3.8 percent annually until 2015 to reach US $7.2 billion.
A significant feature of the market is that certain segments within patient monitoring are developing rapidly, as compared to others, and are expected to follow similar growth patterns in future, as well. However, there are other segments that have yet not reached that level of growth and development. This has created unequal development of different segments as some are progressing faster than the others. Reports identify, wireless and ambulatory monitoring and micro-electromechanical systems to be the key segments driving growth globally.
Demand for effective monitoring products and increased acceptance of technologies aimed at the homecare setting will be the key factors influencing and driving the penetration of products currently in pipeline. The market opportunity being significantly high, the products and technology landscape could see the emergence of a host of new companies with a stronger pipeline portfolio.
Follow and connect with us on Facebook, Twitter, LinkedIn, Elets video