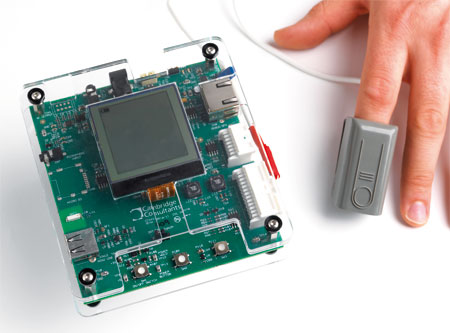 Indias healthcare sector is in a dynamic phase of growth but technology must work towards affordable healthcare
By Dhirendra Pratap Singh

Healthcare has emerged as one of the most progressive and largest service sectors in India with an expected GDP spend from 5.5 per cent in 2009 to 8 per cent by 2012. At present the sector is estimated to be around US$ 40 billion and will grow to US$ 78.6 billion by 2012. The Indian healthcare sector is expected to become a US$ 280 billion industry by 2020 with spending on health estimated to grow 14 at the rate of per cent annually.
The size of the Indian medical technology industry may increase from US $ 3 billion in 2010 to US$ 14 billion by 2020 on account of strong economic growth, higher public spending and private investments in healthcare, increased penetration of health insurance and emergence of new models of healthcare delivery.
Over the past decade, technology has transformed the healthcare sector. With the introduction of a number of cutting edge technologies in the areas of molecular diagnostics, molecular imaging, minimally invasive therapies, implantable medical devices etc., the sector has witnessed a metamorphosis. For example, the Rashtriya Swasthya Bima Yojana (RSBY) has transformed the lives of millions of people living below the poverty line by providing them cashless and paperless health insurance. This would not have been possible without the innovative use of technology that the scheme has made.
A proper regulatory mechanism will ensure incentives to manufacture high-tech devices, standardisation of equipments and fair pricing. It will also control inappropriate diffusion of technology. The only way to motivate indigenous manufacturing initiatives is through right infrastructure and conducive policies
In todays age when diabetes, heart disease, cancer and obesity-induced diseases are becoming increasingly common among all age groups, the need of high-tech applications is undeniable. Sophisticated devices and diagnostics not only assure patients security, accurate results and better health outcomes, but also save time and resources by shortening hospital stays as patients recover faster. On the contrary, such high-end machinery introduced by medical observers is a reason for rising health care costs as most of them are imported and the cost of procuring and maintaining them is extremely high. There is thus a critical need to strike a balance between quality and affordability of healthcare.
Currently, about 65 per cent of the medical equipments are imported. This has thus become a key area for forging partnerships across borders. Factors such as engineering excellence, cost-effective labour, increasing emphasis on intellectual property rights and most importantly, a fast growing domestic market make India an ideal manufacturing base.
Innovation
The pace of medical innovation is accelerating and technologies that were considered to be part of fiction till recently are already a reality today. The next decade and beyond will bring rapid changes in this space. Minimally invasive therapies designed to help patients heal faster, while at the same time they streamline surgical procedures and reduce hospitalisation expenses. We have medical devices which collect patient information, transmit them to doctors miles away and make necessary adjustments in the settings for better control of condition. Similarly, implantable devices combined with drug therapies that target chronic conditions at their point of origination and miniaturisation across many kinds of device technologies to provide advanced therapies are on the horizon.
In the past, taking scans and making films out of them was a huge task. Transferring these images from one place to another was also difficult and required a lot of time and effort. Today, with development of infrastructure and technology, capturing, storing and transferring images has become much easier.
The field of neuro science has seen significant progress in the last three decades. This has made diagnostics speedy, accurate and easy with the availability of technologies such as Multislice CT, MRI Scan, PET CT and SPECT. Improvements in therapeutic modalities include image guidance, neuro navigation and minimally-accessed surgery in brain. Today, Indian doctors are performing all types of neuro-surgical procedures and tests which were earlier available only in the West.. However, India is still heavily dependent on foreign manufacturers for the import of 85 to 90 percent of items of day to day use such as guide wires, micro catheter and coils.
Diagnostics
The fast growing diagnostic sector opens several avenues for partnership between Indian and International diagnostic companies. There is huge potential in the clinical research and trials market by combining the unique strengths of Indian and US companies, as these companies are the leader in pharmaceuticals, biologics research and development.
India has 17 percent of the worlds population but poorest healthcare infrastructure among growing economies. Spending on healthcare accounts for only about 5 percent of the GDP. Also, the diagnostic services in India are highly fragmented and unorganised. There is uneven penetration of services with greater concentration in South West India and scarcity in the North-East.
As the healthcare industry matures in terms of infrastructure and innovative technologies, the next goal of care delivery demands clinical excellence which can be achieved through through evidence-based medicine tools and benchmarks. Evidence-based medicine is already being promoted globally and has proved to be beneficial to all the stakeholders clinical teams, hospital managements as well as patients. Evidence-based medicine tools such as clinical protocols and clinical pathways provide explicit and well-defined standards of care for the clinical teams and support multi-disciplinary care planning. From a management perspective, these tools reduce healthcare costs, reduce patient documentation, optimise management of resources and help continuous clinical audit. They improve clinical care by delivering superior outcomes, improved clinical effectiveness and patient satisfaction.
ICT plays a crucial role in high quality healthcare. Electronic medical records and computerised prescriptions are the essential ingredients for change. Computerised Physician Order Entry systems and Computerised Decision Support Systems can resolve the medication and human error issues to a large extent, thereby enhancing patient safety.
FACT FILE
At present, the healthcare sector in India is estimated to be around US$ 40 billion
and will grow to US$ 78.6 billion by 2012.

The Indian medical technology industry may touch US$ 14 billion by 2020 on account of
strong economic growth, higher public spending and private investments in healthcare.

In the Union Budget 2011-12, the Government increased allocation for the Ministry of
Health and Family Welfare by 20 percent in the plan allocation for Ministry of Health
and Family Welfare.

Healthcare is the largest service industry after education in India.

With a world average of 3.96 hospital beds per 1000 population India stands just a
little over 0.7 hospital beds per 1000 population. India would require another 1.75
million beds by the end

of 2025.
Government Initiatives
The Department of Science and Technology has constituted a committee to develop a biomedical devices and technology vision through a national consultation mechanism. The Department has also tied up with Indian Council of Medical Research (ICMR) for this purpose. The Department has drafted a Bill to establish a Biomedical Devices Regulatory Authority. With the objective of addressing the manpower requirements of this sector, the Government is working towards developing enough pull factors that would attract youth to the sector, through an inter-agency programme. This is being done with the help of the All India Institute of Medical Sciences. In order to make health-care affordable and accessible to rural India, we need a congenial environment for indigenous manufacturers that encourages them to produce cost-effective high-quality equipment and lessen our dependence on imports.
The medical devices in India are still covered by the Indian Drug Cosmetics Act of 1940. A medical device is a totally different category and cannot be clubbed with pharmaceuticals because there is hardly any similarity between the two. For years now, the Indian government has been trying to formulate a Medical Device Act but there is little clarity on the time by which a new law might be in place.In the US, FDA approval is required for all diagnostic technologies. However, in India, there is still no system for approval of any authority for producing diagnostic kits. Also, lack of enough research and development in the country restricts technology innovations and most of the technologies used in diagnostic labs are imported from outside.
This is the era of cutting-edge technology. Even today, a routine protocol for screening all newborns for inborn errors of metabolism does not exist. Another step that can protect and promote the domestic industry against the onslaught of imported goods, and motivate domestic players is to give a price differential of say 15 to 20 percent on a blanket basis, as is done by countries such as Malaysia and Thailand. Such a step will encourage MNCs to establish manufacturing bases in India, and thus reduce our dependence on imports. A proper regulatory mechanism will encourage manufacture of high-tech devices. The only way to motivate indigenous manufacturing initiatives is through the right infrastructure and conducive policies.
Similarly, the confluence of advances in computing technology (high performance PCs), communications (broadband) and solutions (video conferencing) have made telemedicine a reality. A shift in policy treating education and healthcare as core infrastructure and a 1-2 per cent shift in budgetary allocation can make wonders happen in the healthcare sector.
Molecular imaging (MI) will assume an ever more important role in furthering our understanding of human disease and patient care in the future. Strategic planning for investment on MI modalities is a key to success. Future in radiology will see enhanced efforts towards greater use of molecular imaging to be able to detect lesions before they attain even pin-head size and which are yet only at cellular levels. By understanding the molecular basis of disease and developing methods to detect and treat changes in the body at the molecular level, physicians will be able to identify diseases in the earliest possible stages. This will by far remain the major focus of research and development in clinical medicine in the 21st century.

Follow and connect with us on Facebook, Twitter, LinkedIn, Elets video