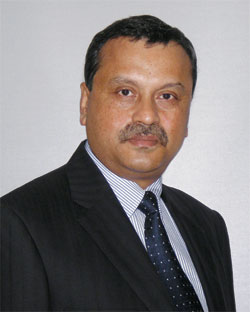 PRABIR CHATTERJEE
Managing Director
Company Name: CARESTEAM HEALTH INDIA PVT LTD

Corporate Headquarters
Carestream Health India Pvt. Ltd.| Sunteck Centre, 1st Floor, Subhash Road, Vile Parle (E), Mumbai " 400057

Contact Person
Nilesh Sanap, Marketing Manger, Tel: +91-22-67248816, Major Regional Offices: Mumbai, Delhi, Chennai and Kolkata, Web: www.carestream.in


COMPANY PROFILE
Carestream Health is a worldwide provider of dental and medical imaging systems and healthcare IT solutions; molecular imaging systems for life science research and drug discovery/ development; x-ray film and digital x-ray systems for non-destructive testing; and advanced materials for the precision films and electronics markets.
Carestream Health carries with it a proud history of innovation and more than 110 years of experience in medical imaging. With more than 1,000 patents in medical and dental imaging and information technology, the company remains at the forefront of numerous technological advancements in imaging.
Carestream Health has 17 manufacturing and R&D locations, including three technology innovation centers globally. The company has more than 7200 employees, serving tens of thousands of customers in more than 150 countries across the world. As a result of its innovative product portfolio and global reach, products from Carestream Health are found in approximately 90 percent of hospitals and dental practices around the world.
Carestream Health has a comprehensive portfolio of medical imaging systems and healthcare IT solutions and services. It is the only company that offers a complete range of radiology imaging products under one roof ranging from CR, DR, Medical Laser Imagers, Analog X-ray Systems, X-ray films, Laser films, Dental intraoral and extraoral digital x-ray equipment and imaging films. Carestream Health India Pvt. Ltd. has a direct presence in India with over 100 employees, 4 regional offices, 14 warehouses, and a network of about 155 channel partners across the country.
USP: A world leader in Medical Imaging innovation for more than a 100 years
PRODUCTS/SOLTIONS
Radiology Imaging Products
CARESTREAM DIRECTVIEW Vita CR System, DIRECTVIEW Classic CR System, CARESTREAM DRX 1 System " Retrofit DR System, CARESTREAM DRX Ascend System " Floor- Mounted DR System, CARESTREAM DRX-Evolution System -The fully automated DR Suite, CARESTREAM DRX-Revolution Mobile X-ray System, DRX-Mobile Retrofit, CARESTREAM DRYVIEW 5700 Laser Imager, CARESTREAM DRYVIEW 5850 Laser Imager, CARESTREAM DRYVIEW 6850 Laser Imager, DRYVIEW CHROMA IMAGING SYSTEM
Dental Imaging Products
RVG 5100, Kodak 2100, Kodak 8000C, Kodak 9000C 3D Digital Imaging System, Kodak 9500, CS 9300 3D Digital Imaging System
ACHIEVMENTS

Successful installation of 2500 CARESTREAM DRX 1 Systems worldwide

Completed over 1500 successful installations worldwide of its CARESTREAM DIRECTVIEW Vita CR System within a year of its launch

Installed South East Asias first fully automated DR Suite CARESTREAM DRX- Evolution suite at the radiology department at Ruby Hall Clinic, Pune, one of Indias leading medical centers

Follow and connect with us on Facebook, Twitter, LinkedIn, Elets video