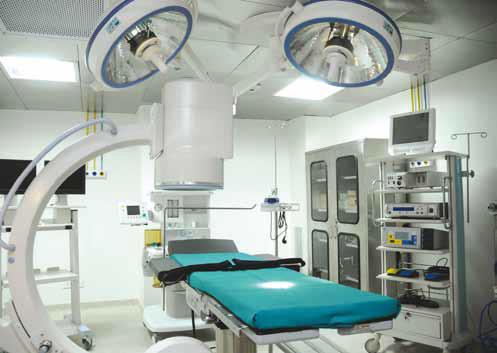 Nova Medical Center redefines day care surgeries with cutting edge technology and lower costs

By Divya Chawla

Day care surgicalcenters can be set-upat any place, at a tenthof the cost of a largehospital, thus providingaccess to everyone
Dr. Mahesh Reddy
Co-founder &
utive Director
Nova Medical Centers
Nova Medical Center is a chain of day care surgical centers that deliver treatment in an out-patient setting with the help of cutting edge medical technology. The Centers bring under one roof, internationally trained physicians and advanced medical technologies to give patients easy access to quality, affordable healthcare.
Speaking about the challenges affecting healthcare delivery today, Dr Mahesh Reddy, Co-founder and utive Director, Nova Medical Centers said, "Quality of healthcare delivery has grown leaps & bounds; still we face a lot of problems to cater to the sheer size of the population. But the biggest challenge the healthcare sector is facing is providing access to all."
Considering the lack of hospital beds in the country, the day care surgical Centers is an exemplary concept. An outpatient setting helps in increasing efficiency and containing costs, making this a healthcare delivery model without parallel. Elaborating on the role of day care surgeries, Dr Reddy added, "I am very optimistic here about the role of ambulatory care and short stay care surgery centers in facilitating healthcare access to all. At these centers' nearly 70 percent of all the surgeries can be conducted thus freeing up precious beds at the tertiary care hospitals for critical needs. For the patient, there is a saving of nearly 25 percent of the cost.
Services

Patients at Nova Medical Centers have access to a hoard of medical services including state-of-the-art operation theatres, specially equipped gastroenterology procedure room, meticulous pre-op and post-op procedures supervised by physicians and nurses, a sophisticated diagnostic laboratory with cutting-edge diagnostic equipment, out-patient department consultation rooms and a well stocked pharmacy.
Nova Medical Center offers upwards of 700 such procedures, covering various specialties. All Nova centres have 4-5 ultra-modern operating rooms. Each pre-operation and post-operation bed/room is equipped with gas lines, monitoring equipment and defibrillators. These are constantly monitored by duty doctors and trained staff.
Nova mainly focuses on minimally invasive procedures, which are hugely beneficial to patients because of smaller incisions, minimal damage to surrounding tissues, lesser inflammation and negligible blood loss.
With the growing awareness about benefits of day care surgery, its affordability and accessibility, more number of patients will avail these facilities across the country.

Follow and connect with us on Facebook, Twitter, LinkedIn, Elets video