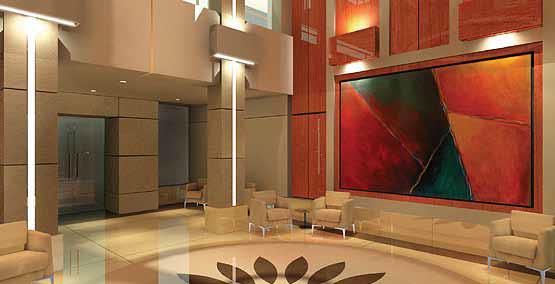 New Delhi's largest super specialty hospital with state-of-the-art facilities
By Dhirendra Pratap Singh
Located in the heart of South Delhi, Moolchand Medcity is being developed as Asia's largest single site multispecialty hospital campus with six specialty hospitals and more than 1,000 beds.
In the era of globalisation, a massive boom in private hospitals in India has changed the nation's health delivery landscape beyond recognition in the last decade. And Moolchand Medcity with the mantra of star facilities and bleeding-edge technology is writing a new chapter in India's healthcare services. Vision at Moolchand is to create a truly unique institution that delivers world-class healthcare with a conscience of trust.
The new Moolchand Clinic has been accredited by JCI the gold standard in healthcare. Moolchand is now in the league of the world's leading JCI accredited healthcare providers. It is India's first hospital to receive prestigious JCI and comprehensive NABH (hospital and blood bank) accreditation.
The hospital offers a comprehensive portfolio of services all under one roof. The patient can consult globally acclaimed physicians across more than 50 specialties teamed with key supporting facilities (radiology, pathology and 24-hour pharmacy) at Medcity campus. First Minimal Access Surgery in India has emerged out of Moolchand.
Facilities

Facilities at Moolchand include efficient patient concierges in the complete process of meeting the concerned doctor, Wi-Fi enabled waiting areas, essential back-up facilities (radiology, pathology and 24-hour pharmacy), cafeteria offering fresh and healthy food choices, second opinion service, confidentiality and affordable excellence.
At Moolchand Children's Hospital the services include general paediatrics, paediatric cardiology, paediatric gastroenterology, and paediatric nephrology. The heart hospital team has performed successful redo CABG surgeries. Moolchand is the first Indian hospital to introduce Streptokinase therapy for MI. The hospital's reliability on IT infrastructure has gone up. It is currently trying to progress to the next stage by experimenting with telemedicine and other means of collaboration.
The hospital's unit Mother's Nest helps to continue the tradition of delivering compassionate care in a safe and friendly environment. The hospital's NABH and ISO 9001:2000 accreditations assure the highest standards of patient care, safety, quality and innovation.
Here the hospital's cutting edge technologies include in-vitro fertilisation (IVF), assisted reproductive technique (ART), treatment of male and female infertility, child birth packages, antenatal classes, foetal diagnostics and therapy (invasive and non invasive), genetic and maternal-foetal medicine consultations Moolchand Orthopaedics Hospital offers a full continuum of diagnostic, therapeutic and surgical orthopaedic services for adults and children with bone, joint or connective tissue disorders. The Moolchand orthopaedics team, comprising of internationally trained and globally acclaimed super-specialists, has been a pioneer in orthopaedics care (e.g. first knee replacement in Delhi).
The hospital offers the complete range of hip replacement and knee replacement surgeries.
Technology

Moolchand is focussed on continually bringing the safest technology for the patients (such as 4D ultrasound, low dose x-ray systems). The hospital's integrated Clinic Management System helps in smooth and efficient functioning of clinic operations.
Recent advances in Interventional Radiology (IR) have enabled the radiologist to bring about direct destruction of the tumour. Moolchand Centre for Interventional Radiology offers state-of-the-art technology to perform a wide range of image guided procedures. Interventional techniques used are able to diagnose and treat many common as well as rare disorders. Interventional radiology offers an alternative to the surgical treatment of many conditions and can eliminate the need for hospitalisation, in some cases. For inoperable liver tumours, radio-frequency ablation (RFA) offers a non-surgical, localised treatment that kills the tumour cells with heat, while sparing the adjacent healthy tissue. Being a local treatment, it is a very safe procedure that does not harm healthy tissue.
The hospital provides facilities of minimally invasive surgery, which is a relatively new technology and slowly becoming popular.'  The surgery results in less pain, fewer side-effects, a brief recovery period, and a quicker return to daily activities in comparison to traditional surgery.
Moolchand offers a huge range of minimally invasive surgeries. Here team of experts/surgeons utilises a small telescope like device (laparoscope or arthroscope) attached to a small video camera/light source to see inside the body.
The various minimally invasive procedures are utilised mostly in a particular surgical field. For example, video-assisted thoracoscopy is utilised in the chest surgery. Ureteroscopy and Extracorporeal shock-wave lithotripsy are utilised in the urological/nephrological surgery. Gamma-knife radio surgery is utilised in the brain surgery whereas Endovascular surgery is utilised in the vascular surgery.
Major Services Offered



 Medical oncology
 Oncosurgery
 General paediatrics
 Paediatric cardiology
 Anaesthesia
 Centre for Cosmetic Surgery
 Centre for Infectious Diseases
 Interventional Radiology
 Centre for Liver and Digestive Diseases
 Dental medicine
 Dermatology
 Diabetology and endocrinology
 Ear, nose and throat
 Internal medicine
 Nephrology
 Ophthalmology
 Cardiac surgery
Stem cell therapy
Stem cell therapy consists of introduction of highly potential stem cells into the blood stream or the damaged tissues of the patient. The ability of stem cells to self-renew offers a large potential to repair/replace damaged tissues in the body. The hospital offers the umbilical cord stem cells with a patented technology treatment, which allows it to be safely transplanted between unrelated and unmatched people, without the risk of rejection or side effects.
At Moolchand state-of-the-art technology and critical care support have made it possible to successfully manage a complete range of surgical interventions in the case of spine tumours. Spine tumors are abnormal growths of tissue found inside the spinal column.'  It may impinge on nerves leading to pain, neurological problems and sometimes paralysis. Spine tumor treatment requires a coordinated multi-specialty approach.
Last year, Moolchand Medcity tied up with Indira Gandhi National Open University (IGNOU) in providing Diploma and Bachelor courses for paramedical professionals. With this Moolchand Medcity has now become a recognised learning centre of IGNOU and is now providing Diploma and Bachelor courses for paramedical professionals. The courses are Bachelor/B. Sc. in Medical Records and Health Information Technology (duration 3 years), Diploma in Medical Laboratory Technology (duration 2 years), Diploma in Radio Imaging Technology (duration 2 years).
Moolchand has received the the most prestigious quality award IMC Ramkrishna Bajaj National Quality Award 2009 for Outstanding Achievements in the Healthcare category. Modelled on the Malcolm Baldrige National Quality Award (USA), it is awarded to companies that demonstrate outstanding customer orientation and quality management systems. These awards are conferred on organisations that have adapted and promoted various quality initiatives on a sustained basis.

Follow and connect with us on Facebook, Twitter, LinkedIn, Elets video