6th Edition of MEDICALL organised at Kolkata
11-13 February 2011
By eHEALTH Bureau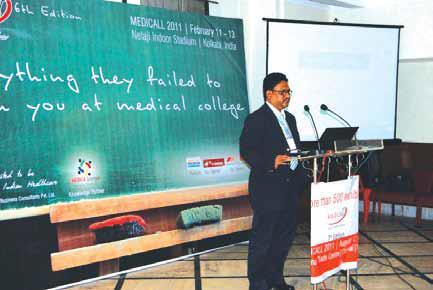 MEDICALL Medexpert Business Consultants Pvt. Ltd. organised the 6th Edition of its annual conference MEDICALL.  The show was inaugurated by Dr. Surjya Kanta Mishra  Ministry of Health and Family Welfare Govt. of West Bengal, INDIA on the 11th February 2011 at Netaji Indoor Stadium, Kolkata. The fair consisted of 3 days from 11th February to 13th February 2011 at Kolkata and it was a comprehensive trade fair for hospital needs with concurrent medical conferences and seminars on cost control in hospitals, organising a Central Sterile Supply Department in Hospitals and Hospital Construction.

As MEDICALL 2011  the 6th edition was planned for the first time in East India, the show attracted more than 1500 business visitors whose profile includes specialised doctors, members of medical fraternity, researchers, R & D Pharma professionals, Administration head and Medical Directors of Government and Private Hospitals and Nursing Homes, dealers and distributors, bio medical engineers, medical colleges. MEDICALL 2011 Kolkata had around 150 exhibitors from India, USA, Taiwan main sponsors were Premier Sponsor, Shuter-Co-Sponsor, BoC-India and Schiller. The medical equipment manufacturers met their objectives of meeting new clients and seeking agents in East India.
Seminar presentations were made by Tapan Das-Manager-CSSD – Apollo Hospital, Sanjoy Das-Perfusionist-R G Kar Medical College & Hospital, Dr. Sujoy Kar-Head Microbiology & QA-Apollo Hospital,  Manivannan-Parama Healthcare,  Venu Isukapalli-AVP Healthcare Material Management, Genpact,  Ananthapadmanaban-President-Kovai Medical Centre & Hospital, Ravikumar-Bio Vedas, Alok Roy-Chairman & M.D. Medica Synergie,  Ayanabh Debgupta-CEO-Projects & Consultancy Division  Medica Synergie, R N Basu-Advisor Projects & Consultancy Division Medical Synergie and  Anirban Das Principal Architect-Projects & Consultancy Division-Medica Synergie, Kolkata. There were positive strategies towards return on investment which drew enthusiasts and visitors to do business & network.
MEDICALL 2011 catered from the humble to the hospital consortiums & chain with a pro-active pledge to offer the best the customer could desire. Of course further establish & develop footprints in the market. In the MEDICALL 2011, both the medical equipment manufacturers as well as the business visitors could network and had an opportunity to facilitate informal referrals and exchanges. The 7th Edition MEDICALL 2011 will be held from 12th to 14th August 2011 at Chennai Trade Center, South India.


Follow and connect with us on Facebook, Twitter, LinkedIn, Elets video