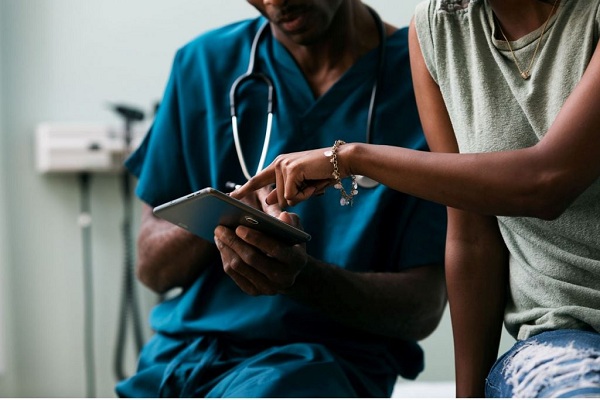 Couth Infotech partners with pinkWhale Healthcare to develop an integrated personalised online healthcare solution platform www.pinkwhalehealthcare.com DIVYA CHAWLAexplores.
The Indian healthcare sector is suffering from an acute shortage of healthcare professionals and facilities delivering quality healthcare services to the citizens. According to a survey carried out in 2008-09, India has only around 85,000 doctors, who practise modern medicine and 1.5 million nurses to serve its more than one billion population. The country falls short of 28,000 health centres including 20,855 sub-centres, 4,833 primary health centres and 2,525 community health centres. While the government hospitals are over-burdened and lack adequate number of professionals to serve the patients, the private sector is highly-priced and unregulated.

A potential solution to bridge this gap is online healthcare, which has emerged as a very important tool for offering healthcare services that can be accessed by patients across the globe. Online healthcare connects patients and doctors via Internet services. Specialised health portals have been developed that offer customised health services that are accessible to all. People log onto online healthcare portals for consultations, booking appointments, maintaining their health records, and getting second opinions, among various other services offered.
A recent initiative in this space is the launch of www.pinkwhalehealthcare.com, an integrated personalised health solutions platform. Developed by pinkWhale Healthcare in partnership with CouthIT, the portal offers a range of online healthcare services that can be accessed by anyone from anywhere at any time. "CouthIT was established in 1999 and is based in Hyderabad, India. We have two business units: Embedded Software Group (ESG) and the Application Software Group (ASG). ESG focuses on embedded middleware technology associated with speech, audio, and video applications and primarily works with OEM companies around the world. ASG has domain expertise in healthcare and data-mining with a specific focus on developing Internet applications that are scalable. ASG primarily works with small and medium companies based out of the US and more recently, we started working with domestic companies, as well. We have developed several online healthcare applications for our customers based in the US. These applications were designed for student health centres in universities, primary care centres, and small-scale community hospitals. Our customers benefited immensely by outsourcing their development activities to CouthIT", explained Dr. Krishna Nagarajan, Chief utive Officer, CouthIT.
DR.Krishna
Nagarajan
Chief utive Officer
CouthIT
"Recently, I heard an eminent speaker say that IT has failed to deliver in two key areas: healthcare and education. There is a great push now to make IT work in healthcare – both in developed and developing countries, especially in areas such as telemedicine. The developed countries have an ageing population, not enough medical professionals, and very high cost of healthcare. In developing countries, healthcare is not accessible to the entire population and they lack basic infrastructure. We have our foot in both these worlds. How we leverage information technology based healthcare, here in India, can serve as a role-model for the rest of the world. We have our challenges – gaining acceptance from medical fraternity, interoperability, broadband coverage across the country, and funding. But there is awareness and convergence across quarters in addressing these challenges in a systematic manner. With the widespread use of mobile phones, deployment of 3G and Wi-Max services, and leveraging India's IT expertise, we are bound to see some very innovative, creative, low-cost healthcare IT based solutions coming out of India."
Talking about pinkWhale Healthcare Pvt Ltd, Dr. Anita Shet, Chief utive Officer, pinkWhale Healthcare said, "pinkWhale Healthcare Services Pvt Ltd ('pinkWhale') headquartered in Bangalore, India, is an initiative in the eHealth space with a goal to make quality healthcare easily accessible anytime anywhere. It was incorporated in May 2009 and the healthcare portal went live on 23rd of May, 2010. pinkWhale (www.pinkwhalehealthcare.com) has created an online healthcare system that allows consumers to virtually connect with the doctors and specialists, to get immediate medical advice, using the latest technologies. pinkWhale is proud to be one of the few Internet service companies which is led by women entrepreneurs, who have a proven track record in the medical, technology, process, sales and marketing. pinkWhale has made and will continue to make strategic partnerships with various service providers of global repute to be able to provide premium home-based healthcare services."
Throwing light on the initiative, Dr. Krishna Nagarajan said, "the web portal, www.pinkwhalehealthcare.com, was launched by PinkWhale Healthcare on May 23, 2010. CouthIT is the development partner and our Application Software Group developed this portal for PinkWhale Healthcare. This portal provides innovative features such as interacting with doctors via phone, chat, and even video, facility to organise healthcare records in a systematic, interoperable system, scheduling home-based diagnostics tests, etc. To my best knowledge, this is the first application of its kind to be launched in India." Dr. Anita Shet added, "pinkWhale (www.pinkwhalehealthcare.com) is an online healthcare system that allows consumers to virtually connect with the doctors and specialists, to get immediate medical advice, using the latest technologies."
Services Offered by the Portal
The portal offers five major services:
Call a Doctor
Web Consult
Personal Health Records
Home-based Diagnostics
Expert Opinion
According to Anita Shet, "pinkWhale provides the consumers quick and secure access to medical experts and helps them maintain their own personal health records. The online medical advice can be obtained via a secure online chat, or over phone through the IVR services, consumers can also opt to discuss with any of the specialists for an expert/second opinion using the secure online application from anywhere.
The PHR system is one of pinkWhale's proprietary products which have been designed by a team of medical experts and technologists. Consumers can now upload and update all their medical records (scans, test reports, prescriptions, etc.) in one single place and access them from anywhere on the go. It is a very comprehensive, easy-to-use solution, which also has features like SMS alerts that help the user be informed regularly of their health status and appointments. pinkWhale enables value added services like home-based diagnostic services to the consumers at an affordable and discounted price. PinkWhale as part of its team has general physicians with clinical experience from the industry reputed hospitals. The specialists consultation panel comprises of highly acclaimed and recognised medical professionals of different specialisations who consult in accredited hospitals in India and abroad. pinkWhale believes that its service will compliment the present healthcare system and aims to revolutionise the way primary healthcare services are being delivered and managed."
Anita Shet
Chief utive Officer, pinkWhaleHealthcare

"Online Healthcare is in its infancy stages in India and looks to be promising future option to cater to the primary healthcare needs of urban and rural India. This form of healthcare delivery is not a replacement to the conventional method but will compliment it in a big way. India's advantage in this space is advancements in technology, growing phone and online user base, affordable resources, and global image and demand. With growing occupational health issues in urban population, growing 50+ population and healthcare supply issues in rural areas, eHealth can play a big role in the government's vision of access to quality healthcare for all. While this is going to be the next big revolution in healthcare delivery, there are challenges like regulatory changes required in India enabling this form of healthcare delivery to be as efficient as the conventional method."



Technology
Talking about the technology behind the portal, Dr. Krishna Nagarajan explained that, "PinkWhale web portal was developed using Joomla content management system (CMS), which enables you to develop feature-packed, comprehensive, online applications. PinkWhale's application leverages on LAMP technology that consists of Linux, Apache, MySQL, and PHP, which when combined, is an effective 'enterprise solution' that is very popular in the Internet world as it works on open source guidelines. We at CouthIT leveraged our technology experience in PHP, MySQL, and Apache to create cost-effective and robust applications that can scale well. We are just as comfortable with designing and creating custom applications/modules from scratch. CouthIT's domain experience in healthcare with successful deliveries for the US market played a crucial role while developing key modules such as Call a Doctor, Web Consultation, Managing Health Records, Home Based Diagnostics, and Expert Opinion providing a unique patient and provider perspective."
Dr. Shet said, "The innovation uses advanced Web-based technologies (Joomla & LAMP – Linux, Apache, MySQL, and PHP) and telephony to develop a unified eHealth management platform aimed at overcoming traditional barriers to healthcare access, including geography, mobility and time constraints. The other technologies used in our overall solution are Interactive Voice Response System (IVR), Instant Messaging (IM), Web collaboration tools, secure online payment and SMS alerts to ensure simple and easy access. pinkWhale having a team with strong technology background was able to conceptualise the overall solution and plan to use the right technologies to come up with the apt solution. CouthIT perfectly complimented pinkWhale with a strong technical ution team with world class project management capabilities."
Business Model
While several platforms for delivering online healthcare are now run by companies around the world, the business model for these differ depending on the type of services offered. Throwing light on the business model for pinkWhale, Dr. Shet said, "pinkWhale aims to address the market in 2 ways – Business to Business (B2B) and Business to Consumer (B2C). In the B2B model, the target would be groups of consumers such as employees of a company or apartments and gated communities. This market would be addressed by packages offering a combination of services (such as multiple calls and chats) along with bulk discounts. To address the retail market, there would be options of charges per call or per chat and packages offering a combination of services. Consumers would pay by credit or debit card through the phone or Internet and avail the services. The other avenues of generating revenue would be through fees for consultations with specialists on the pinkWhale panel and home collection of diagnostic samples for which booking would be done though the pinkWhale website and the services would be provided by a partner. The PHR would be available as a stand-alone option (as a separately priced product) or as part of the packaged services."

Follow and connect with us on Facebook, Twitter, LinkedIn, Elets video