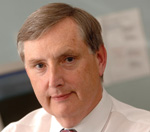 Dr. Paul Litchfield
Chief Medical Officer
British Telecom

The main role of Occupational Medicine is to provide health advice to organisations and stakeholders, to ensure high standards of health and safety at the workplace. The Chief Medical Officer at British Telecom, speaks about his work at the largest telecom company in the UK.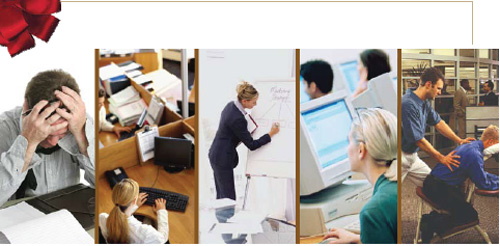 Q. Given your background in clinical medicine, could you give us a brief overview about your career? How did you move to the corporate sector?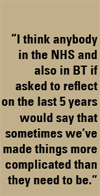 A. When I first qualified, like most young men, I didn't know what to do with my life. I ran away to sea and joined the Royal Navy. I was working at a shipyard, looking after mainly the civilian workforce that repaired ships. I saw then the real problems that the workers had in terms of injuries and diseases. There was a new case of asbestos disease every couple of weeks!
It ignited in me a passion to work in occupation medicine/workplace health. I then trained for it in my clinical speciality. When I hit 40, I decided that I'd had enough of the Royal Navy and the Armed Forces, and I first joined as Medical Director for the Occupational Health Service for the UK civil service, where I was looking after about half a million people in the UK from a wide variety of jobs – traditional civil servants and others like customs, prison offices.
Then NHS got privatised, and I found myself in the private sector, delivering services to a whole range of clients in the private and public sector. In 2001, the company I was working for won a contract for the outsourced work that British Telecom (BT) was doing in terms of occupational health. BT liked the product so much, that they bought the doctor! So I joined BT in 2001 as Chief Medical Officer.
Q. Do you come to India often? What brings you here now?
A. I'm here as part of the work we are doing with the World Economic Forum. I've been to India before, partly to see some of our own people in BT, partly to see some of our suppliers, particularly our BPO suppliers, Accenture because they do a lot of back-office work for health in BT. I was in Bangalore about a month ago on a trade mission on diabetes led by a minister from UK.
Q. Diabetes is a big issue here in India. You must be dealing with people from all across the globe.  What are the specific health and safety issues that come up according to region?
A. I look after health, safety and well being in BT. We outsource most of the service delivery, but we have a small group working on it in the company. My role is to advise the chief utives of the different divisions, and the Board, on health strategy. We have a three – pronged strategy around health. First is preventive health, next, if health problems do occur, intervening early so that the effects are minimised, and lastly, if people have become ill, rehabilitating them back into the workplace as quickly and effectively as possible. In terms of preventive care we look at the health risks for our employee population and then try and target interventions to counter those risks. In the UK, our biggest issue is mental health. When we look at other parts of the world though, other diseases and health problems become more important. One certainly has to be blind to come to India and not see that diabetes and cardiovascular disease are huge issues. The focus around the world this year in the company is diabetes.
In fact, we launched a campaign just last week to raise awareness about diabetes, attempting to get the message across that small changes in lifestyles can make a big difference to an individual's health. We have produced this online tool, where one can answer a few questions and it tells them their risk of developing diabetes. If they come back and tell us that they've got themselves checked, we'll put them in a competition and they can win something. It's part of encouraging people to look after themselves.
Q. I believe you have started a 'Work Fit' program. Could you tell us more about it?

A. When we were looking at what to do 5 years ago in terms of prevention, there was a lot of pressure to implement traditional health screening such as we had done in the 1980s and 1990s. In the UK it would have been largely nurse based, not something that has worked very well in the UK. When one does the uation and not enough people uate the programs they do (that's a big issue) – that type of program actually has a very limited effect.
What we tried to do was to construct something different, using BTs own products and services. We used IT and communication to get across the message instead of relying on health professionals. We worked with an NGO and our trade unions to construct a targeted program. What we did was send simple messages about nutrition and exercise. Our target was to try and engage about 4000 people. We actually engaged over 16,000 people. We were surprised by our own success.
Q. Are these programs optional?

A. Entirely optional. We could implement a compulsory program, but we would lose the support of groups like the Employee Representatives. But we've got about 25% of the population to engage with the program. In our uation we found that these people had lost weight and were exercising more, and had maintained it for at least over a year. We could demonstrate that we had changed attitudes and behaviours in the group who participated in the program. We also found that just as many people, who had not formally enrolled in the program, had also made changes to their lifestyle. That's what we call the collateral effect. That for me was a surprise.
Q. BT is one of the first large companies to ban smoking in its offices and vans. How tough was it to do that?
A. One of the biggest challenges today is to alter peoples' behaviour around smoking. You have to make sure though, that the timing is right for that sort of change. The whole societal attitude in the West has been swinging towards making it harder for smokers to practice their habit. So, we thought the timing was about right. We've already had limitations on smoking for 10-15 years. The time was right to close all the smoking rooms on BT premises and stop smoking on BT vehicles. To counter that harsh message, we also ran a programme for helping people to give up smoking. We got about 1200 people engaged in that program with considerable success – 25-30% have managed to remain off cigarettes for a year.
This is not just philanthropy. By improving the health of the workforce, one improves the health of the balance sheet, and this can be done by reducing absenteeism and healthcare costs. In the US, healthcare is a direct cost to employers. In Europe, since there is insurance or the state provides health cover, it's harder to make the economic case, however, there still are lots of other benefits, in terms of higher productivity when employees are healthy. Another example is that the resale value of a vehicle, which has never been smoked in, is significantly higher, at least in the UK. BT has the biggest vehicle fleet in Europe with over 50,000 vehicles. Even if you only save 100 per vehicle, that's a lot of money. It's to do with thinking about the benefits to the company, rather than just saying, like many, "You must do this because our people are dying". In business, you need to talk the language of business to get across your message.
Q. Do you use telemedicine in your daily work? If yes, how?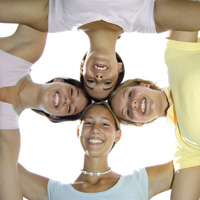 A. Telemedicine is something I first came across when I was working down in the Antarctic. When I first went there, the nearest medical facility was over 3000 miles away and I had with me someone who was acutely ill. But 25 years ago, all we had was a radio. In a later job, I again got involved with the British Antarctic Survey, and we set up a contract for proper support with an NHS unit in Plymouth. Telemedicine was just developing then and much of the unit was based on providing support to remote communities through telemedicine.
Today, its not something I use in my day to day practice, but as a company, its certainly something we are interested in because even in a place like UK which is very compact, access to the correct specialist expertise is often quite difficult.
Coming back to diabetes for example, looking at retinal changes in diabetics, but doing it remotely can benefit people. Digital imaging too is developing fast, partly because it is transportable and always available to the clinician to get opinions from a long distance in real time. I see it as a fabulous advance for healthcare and I see it developing even more in future.
In India, telemedicine gives you the real chance to bring high quality healthcare to rural communities where otherwise it would be quite difficult.
Q. Spanning your entire career, what do you think would be the top three technologies that you think have made a big difference to the medical community?
A. I think one naturally starts out by thinking about specific medical technologies, such as imaging. If I think back 30 years to when I first qualified, imaging was essentially just x-rays. When you look at what you can now do in terms of MRI and ultrasound, it has transformed diagnostics greatly. Again, in terms of treatment, if somebody had gall bladder disease 30 years ago, then they were looking at a major abdominal operation, which, if they were working, would keep them from work for 3 months. With endoscopic operations these days, such patients can be up and about in a few weeks time. The pure medical technologies have been fantastic. That said, I think some of the possibilities come from other areas of technological advancement. The big one is in terms of using communications to enhance healthcare. Part of that is getting the messages across by using a multimedia approach and using modern communications to deliver a higher quality of healthcare. This could mean, getting results analysed in a centre of excellence and feeding that to other areas, instead of having many sub-standard laboratories, all of them struggling to improve their standards. This brings down the cost of healthcare, while upping standards.
Q. Can you tell us something about your experience working with the NHS in UK and possible replication of such work in India?
A. India would be an immensely complex project. It was so even in a small country like the UK with a population of about 50 million. If one is thinking of rolling that out outside the UK, one must try to make things simpler and less complex. I think anybody in the NHS and also in BT if asked to reflect on the last 5 years would say that sometimes we've made things more complicated than they need to be. Having a clear understanding of the client and what they need and planning up front is well worth the investment. If you're introducing something like this in India, which no doubt in due time you will, these simple messages will save you a lot of time and money.
Historically, one of the mistakes often repeated, is that we develop something for one part of the world and replicate it in another place because it worked well in the first case. Initially when you start off you're naive, and think the barriers are things like language and culture but they're not. And so, what we've tried to do over the past couple of years is to make sure we fully engage with the local people to make sure what the business and health priorities are. We try to understand their perceived needs and the best channels of communication. What works for people in London or Manchester, doesn't necessarily work for people in Bangalore or Delhi. We all want to get things done quickly, but the danger is that if you just impose things on people, you don't make any progress at all.

Follow and connect with us on Facebook, Twitter, LinkedIn, Elets video