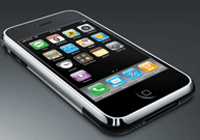 The iPhone revolution has had the entire planet in its grip since the mobile phone was released mid 2008. Since its release, a number of new applications have been developed custom made around this popular new communication device.
Apple too, has gone all out to encourage this trend by releasing a software development kit (SDK) for programmers to create native iPhone applications. The iPhone's reasonably powerful Samsung ARM processor, 8 GB or 16 GB of flash memory and intuitive, visual interface also seem particularly well suited to medical imaging. Those wary of beaming sensitive medical images all over the place via WiFi because of security concerns, find reason to allay their fears in the iPhone's new business-friendly security features.
The Apple team also announced a new partnership with Epocrates, the developer of a massive drug-interaction database for mobile devices. A new application from Epocrates gives doctors the ability to view drug information regardless of their location or the availability of a WiFi. In the first month of availability, more than 125,000 users, including 25,000 US doctors, downloaded the Epocrates Rx drug and formulary software. Though the software is primarily used by healthcare professionals, an increasing number of patients find value in the product as they become more involved in medical care.
eHealth specialist, InterComponentWare (ICW) too had announced plans to integrate the Apple iPhone and other smart phones with the Life Sensor personal health record to transmit vital emergency medical information to hospital staff.
Remote monitoring of heart patients through iPhone
RS TechMedic BV, a Dutch company with eight years of experience in medical device development, recently announced the release of their iPhone Telemedicine Application. With this iPhone Telemedicine Application physicians can monitor vital signs of ambulant and home-care patients at any time and from anywhere. This product offers a significant increase of patient comfort, fast recognition of heart problems and a reduction of hospital and healthcare cost.
Dyna-Vision� is a small and portable device, with the dimensions of a PDA. This reliable and sophisticated device monitors up-to 10 clinical parameters through non-invasive sensors attached to the skin. The measurements include 12-lead ECG, Heart Rate, Heart Rate Variability, RR-times, Respiration, Plethysmogram, Oxygen Saturation and some derived parameters. This device is equipped with an internal GPRS module which automatically transmits the recordings to the secured Dyna-Vision� server. Physicians can connect to this server with a computer to analyse the recordings or to monitor real-time vital signs of the patient.
However, it can only be used by licensed physicians after registration with RS TechMedic as a certified user. Using a mobile phone to monitor patients is relatively inexpensive and its easier for physicians to offer telemedicine solutions to their patients.
The patient can use Dyna-Vision� to send an alert to a physician, who can then instantly check the vital signs and advice accordingly, while travelling, working exercising.
R.A. Brest van Kempen, CEO of RS TechMedic BV says: "With our easy-to-use solution we now came to the point where patients can truly rely on a physician's assistance whenever needed. With Dyna-Vision�'s iPhone Telemedicine Application we took away the complex logistics of other products for heart monitoring where patient's have to visit telemedicine providers for hook-up and analysis. We were able to design a highly secured system with maximised data protection. We believe that our technology will assist physicians in providing the best possible care in ambulant monitoring and home-care situations."
T-mobile in the Netherlands has decided to partner with RS TechMedic to market this product. They see Dyna-Vision� as the first real-time telemedicine solution that will have a huge impact on immediate patient care and telemedicine in total. And by offering Dyna-Vision as a monthly subscription they take away the initial investment for physicians and hospitals thereby making the use of telemedicine more attractive.
Dyna-Vision� is now available for the European market. It is very suitable for patients suffering from heart failure, arrhythmia, pulmonary disease, apnoea and neurological problems.
More product information can be found at www.dyna-vision.com

Follow and connect with us on Facebook, Twitter, LinkedIn, Elets video