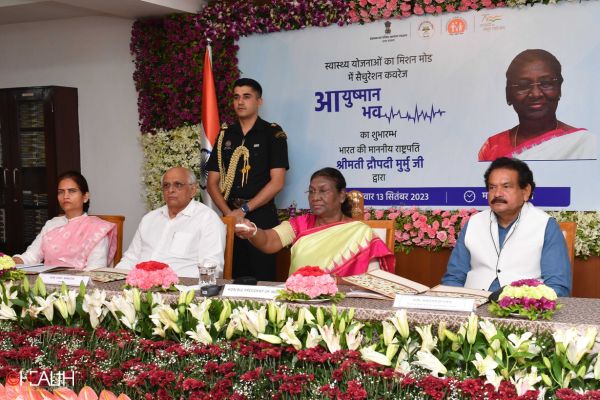 In a remarkable demonstration of commitment to healthcare accessibility and inclusivity, the Seva Pakhwada as part of the Ayushman Bhav Abhiyan has witnessed tremendous success across India since its launch on September 17. Official reports as of September 27 reveal that over 1,68,000 Ayushman melas have been organized, resulting in the registration of more than 75 lakh patients. President Droupadi Murmu inaugurated the 'Ayushman Bhav' campaign on September 13, which signifies a comprehensive and all-encompassing approach to healthcare accessibility for the entire nation.
The core objective of the Seva Pakhwada is to ensure that comprehensive healthcare coverage reaches every village and town in India, eliminating geographical barriers and leaving no one behind.
Under the Ayushman Bhav campaign, more than 54 lakh 'Abha IDs' have been generated, with over 60 lakh individuals receiving free medicines, and more than 47 lakh people benefiting from free diagnostic services. These 'Abha IDs' serve as unique identity cards assigned to beneficiaries of the Ayushman Bhav campaign.
The Seva Pakhwada plays a pivotal role in distributing Ayushman cards, generating ABHA IDs, and raising awareness about vital health schemes and disease conditions, including non-communicable diseases, tuberculosis (Nikshay Mitra), sickle cell disease, as well as blood and organ donation drives.
An Ayushman mela held at the Community Health Centre in Gurugram, Haryana, witnessed the distribution of Ayushman cards and unique Abha ID cards to beneficiaries. Approximately 2,800 individuals underwent screenings for non-communicable diseases and other ailments, while 1,163 people received free medicines during the mela.
The Ayushman Bhav campaign is set to continue until October 2, 2023, with 'Ayushman Melas' being organized across the nation. This initiative, led by the Ministry of Health and Family Welfare, Government of India, aims to provide comprehensive healthcare services that reach every village and town, building upon the success of the Ayushman Bharat program and representing a paradigm shift in healthcare services.
Follow and connect with us on