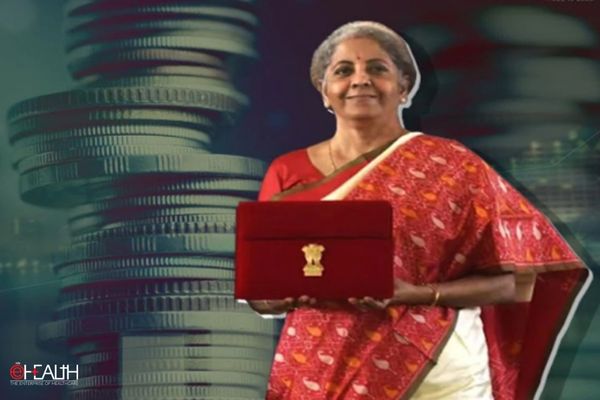 Union Budget 2023 – a much-awaited session as the nation anticipates the government's future ambitions. The budget is intended to serve as a roadmap for the nation's development in various sectors, including healthcare, education, infrastructure, and job creation, aimed at providing a better standard of living for all citizens. The allocation of funds to the healthcare sector, in particular, is expected to bring about significant improvements in access to quality healthcare for millions of people.
Union Finance Minister Nirmala Sitharaman presented the Union Budget for the year 2023-24 today. The Ministry of Health and Family Welfare's budgetary allotment from the Centre has increased this year to Rs 89,155 crore, an increase of Rs 2,954.35 crore or 3.43 percent over its FY23 allocation of Rs 86,200.65 crore.
Also read: Union Budget 2023 takes bold steps towards healthcare sector
The Department of Health and Family Welfare would receive Rs 86,175 crore from the overall ministry budget, compared to Rs 2,980 crore for the Department of Health Research.
In addition to the 157 medical colleges already in existence that have been established since 2014, the Finance Minister announced that 157 additional nursing colleges will be formed. She also mentioned that a mission to end sickle cell anaemia by the year 2047 would be initiated. This mission will involve raising awareness, screening every person in afflicted tribal areas between the ages of 0 and 40, and providing counselling. Regarding medical research, she stated that certain ICMR Labs would make facilities available to the public and private medical college teachers as well as R&D teams from the private sector to promote collaborative research and innovation.
Speaking more specifically on pharma innovation, the Finance Minister announced that centres of excellence will implement a new initiative to support pharmaceutical research and innovation. According to her, the government will also urge businesses to spend money on prioritised areas of research and development.
Industry Speaks:
Rahul Misra, Founder, Vesta Elder Care
"The budget for the fiscal year 2023 has created opportunities for the health sector. The honourable finance minister announced that 157 additional nursing colleges would be built in addition to the existing 157 medical colleges instituted since 2015. Hence, this is a tremendous step towards India's goal of providing quality medical care to all citizens. Furthermore, with the funds allocated for this fiscal year, the health sector can help further improve access to medical staff services by training more nurses and medical professionals. Additionally, intending to make India a "health superpower," the government took the step to make ICMR labs available for research by public and private medical facilities, which is commendable and an essential milestone in the healthcare sector.
The move will not only ensure health security for all Indians but also allow the health sector to step over the threshold of medical innovation and technological advancement. Moreover, to realise a new range of prospects, business models & potential employment, 100 labs for developing apps using 5G services will be set up in engineering institutions to facilitate the healthcare industry leading to improved diagnosis and treatments. The union budget also echoed a new programme encouraging pharmaceutical research, which centres of excellence will implement. The new programme will propel the Indian health sector to new heights and provide a much-needed boost."
Alka Saxena, CFO, HCAH
"In order to improve the quality of health services there is a need for properly trained and educated healthcare professionals. The setting up of new nursing colleges will help in building a pool of quality manpower capable of providing patient care in and out of medical establishments. The pharmaceutical industry and its allied partners can help in achieving the goal of eradicating sickle cell anaemia by 2047. The private sector can supplement the government efforts in reaching all corners of the country and help in screening people."
Namit Chugh, Investment Lead, W Health Ventures
"This year's budget highlights the government's continued push toward improving access to quality healthcare for all. We are particularly excited about the announcement to open 3 inter-disciplinary AI research and development centres to "Make AI in India and Make AI work for India." AI in Healthcare has already shown immense promise across the globe in improving care. We have seen use cases across diagnostics where AI tools are improving accuracy, speed and also enabling early diagnosis, mental health, where AI chatbots can be used as the first line of treatment, etc. Given the potential to create large healthcare data sets in India used to train AI and the pool of highly qualified tech talent, this move by the government makes us more ready than ever to make AI in Healthcare a trillion-dollar opportunity.
Healthcare continues to be a space where professionals like doctors, nurses, etc. have unequal influence over any individual's care journey. Additional investment in developing and upskilling healthcare personnel like nurses and technicians was one of our key expectations from the budget. We welcome the announcement to set up 157 new nursing colleges in the country, a move that will be pivotal not only to healthcare but also employment."
Sanjay Vinayak, Founder and CEO, Connect and Heal
"The Union budget 2023 provides much-needed thrust for the healthcare sector. Multi-disciplinary courses in high-end medical technology will help improve healthcare in more than one way – improving quality and access to care. We believe it will help expand the scope and adoption of preventive healthcare.
The setting up of centers of excellence towards 'Make AI for India' and 'Make AI work for India' is a commendable move that will help the healthcare ecosystem in a big way."
Hari Subramaniam, Founder & Director, LifeSigns
"The budget for 2023–24 is a significant step forward for the health-tech sector. With a focus on strengthening the research infrastructure and investment in digitalization through 5G, it sets a positive trajectory for companies like ours. The establishment of new nursing colleges and the allocation of resources for medical research and pharmaceutical innovation demonstrate a commitment to improving healthcare access and outcomes.
At LifeSigns, we're particularly encouraged by the dedicated multidisciplinary courses for medical devices and the support for medical research in select ICMR labs. These initiatives will foster a dynamic environment for collaboration and more access to new technology in healthcare, skilling the manpower, and encouraging companies like ours to contribute to the growth of the sector and the improvement of healthcare for all citizens."
Dr Harshit Jain, Founder and Global CEO, Doceree
"The Union Budget 2023-24 presented by our Hon'ble Finance Minister is committed towards providing significant stimulus to the healthcare and pharmaceutical industry with increased allocation of funds (as compared to previous year) and we duly welcome it. Government's financial and infrastructural impetus focused on improving skilling and education in the sector, especially in nursing care and multidisciplinary knowledge in medical devices, shall significantly improve the availability of skilled personnel in healthcare.
Introduction of a new programme to boost research and innovation in pharmaceuticals with support of centres of excellence, coupled with encouragement for public-private collaboration for research purposes, is a welcoming move and has a huge potential to improve healthcare with revolutionary innovations and solutions. It shall also encourage participation of health start-ups to provide on-ground support for implementation of such forward-looking programmes.
Introduction of new schemes under our Digital India goal to augment India's proficiency in new age technologies and solutions, shall also directly/indirectly benefit the healthcare and pharma industry in the years to come."
Amit Choudhary, CEO and Co-Founder, Dawaa Dost
"The Budget for 2023-24 has laid the foundation for the Make AI in India, Make AI work for India vision, which will help us leverage AI technology to solve healthcare challenges in the country. For example, through initiatives like digital medicine libraries that are AI-enabled, we can ensure that people have access to the right information about medicines and make better-informed decisions about their health. While India is already referred to as the "Pharmacy of the World", the initiative around research would help us foster innovation and elevate our position on the global pharma map. We at Dawaa Dost are excited about the opportunities this presents for the industry and will stay true to our mission of solving for affordability, awareness, accessibility, and adherence with medicines."
Nikkhil K Masurkar, CEO, Entod Pharmaceuticals
"New program to promote R&D in pharma to be taken up through the center of excellence is a welcome move by the government in this year's budget. We are delighted with the government's initiative for encouraging sunrise sectors like Medtech. The implementation of dedicated multidisciplinary courses for medical devices to be supported by the government in institutions to ensure skilled manpower for futuristic medical tech and high end manufacturing and research is another much-needed move by the government. We highly welcome the implementation of such measures. It is clear that the government is focussing on enhancing the healthcare infrastructure of the country through these efforts. The establishment of three centres of excellence for artificial intelligence to enable 'Make AI for India' and 'Make AI work for India' is another significant step by the government to enhance India's digital prowess. However, we are a bit disappointed by no announcement on any sort of GST changes and simplified regulations. Also, we were expecting that the government would allocate separate funds for R&D, formulation and APIs. So, I hope these factors will be taken into consideration in the coming years".
Dr. Simmardeep Singh Gill, MD & CEO, Sterling Hospitals
'With the aim to strengthen the economy of India, this year's Budget announced by Union Finance Minister, Nirmala Sitharaman, is focused on building a robust digital infrastructure across sectors while promoting green growth and job creation. Having laid a sturdy foundation for a strong healthcare ecosystem in the past couple of years, this year's budget has moved towards reinforcing the R&D and core medical education system. The announcement of 157 nursing colleges to be set up will help in imparting value education to students and strengthen the healthcare sector in the long run. One of the major focuses of the Government during this budget was to tackle the sickle anaemia disease. The Budget took a bold step and laid out a plan to eliminate sickle cell anaemia by 2047 which will be launched soon. Other than creating value awareness, this program will include a screening of 7 crore people in the affected tribal areas. This goes hand in hand with the Budget's focus on inclusive development. Additionally, the Budget has announced a new program for investing in R&D in pharmaceuticals. This will be a major step in analysing and curating necessary medicine with positive results. This will majorly boost the sector and be a huge boon for the years to come, laying a strong foundation for the industry.''
Shanay Shah, President, Shalby Hospitals
"The Union Budget for this year is focused on a holistic plan for accelerating economic expansion. After the pandemic, healthcare, education, and training all received substantial investment and priority. The healthcare sector will be further bolstered by measures presented in the Budget, with a particular emphasis on current issues. For instance, the declaration of the establishment of 157 new nursing colleges in conjunction with the 157 medical colleges established since 2014 will play a catalytic role in focusing on the importance of medical studies. Moreover, it was assured that Sickle Cell Anaemia (SCA) would be eradicated by 2047. This will require education, screening, and counseling for the 7 crore individuals aged 0–40 who live in the affected tribal communities. To promote the cooperative study and new ideas, a research facility will be made available. Medtech specialised work force on innovation and better quality. Both a new pharmaceutical research, and development scheme, and a national digital library for youngsters, and adolescents are on the horizon. Some of the laboratories of the Indian Council of Medical Research (ICMR) will open their doors to researchers from other institutions. In addition, a new initiative designed to promote scientific inquiry and creative development in the pharmaceutical industry will be launched. Not only will these programs improve access to affordable healthcare, but they will also do it in a seamless and effective manner."
Dr. Tathagato Rai Dastidar, Founder & CEO, SigTuple
"The newly announced focus on screening and eradicating sickle cell anaemia in the country is a step in the right direction. Anaemias and other haematological disorders are endemic in tribal populations of the country. Use of advanced digital technologies can help vastly increase the scale of screening than what is possible today."
Meena Ganesh, Co-Founder & Chairperson, Portea Medical
"In this Union Budget, the government has focused on some of the core needs of the health and wellness sector. The plan to establish 157 nursing colleges as collocated facilities alongside medical colleges will help cover the shortage of trained healthcare workforce and lead to greater healthcare coverage of the out-of-hospital medical services. The plans to provide access to ICMR labs and other R&D facilities as well as a collaborative approach to pharmaceuticals research and encouragement of private sector investments, multi-disciplinary training for R&D and manufacturing of high-quality medical devices, and various other such measures are going to augur well for the overall universal healthcare access and quality in India.
It is also encouraging to see that the budget outlines several measures towards improving the ease of doing business by reducing compliances and decriminalizing legal provisions. The centers of excellence in Artificial Intelligence to be set up for sectors like health will ensure that the country starts creating tech-based solutions in-house. This will further encourage innovation in the country and ensure that the health tech sector in India picks up pace.
Overall, the budget has made a progressive stride towards the healthcare and startup sectors as well as in terms of giving a boost to women and their economic empowerment. These are encouraging announcements, and we hope for timely and adequate execution of the same in the months ahead.
However, it is also important to note that while various aspects of healthcare and health tech have been touched upon, we look forward to some announcements in the area of accessibility and affordability of personalised care for the masses. A crisis situation like the pandemic toppled healthcare systems globally and some clarity on how the country will handle a similar situation in the times to come was needed."
Runam Mehta, CEO, HealthCube
"The decision to provide multi-disciplinary training for the development of medical devices and support for the manufacturing of high-quality devices is going to be a key enabler for the domestic medical devices industry. These courses will not only ensure the availability of skilled manpower for future medical technology but also offer opportunities for high-end manufacturing research. The decision of opening up facilities in select ICMR labs for research by private and medical colleges will enable better infrastructure access for both individuals and organizations who are looking at undertaking research and innovation in this area.
I appreciate the mission to eliminate sickle cell anemia by 2047 through awareness generation and universal screening of 7 crore people in affected tribal areas; an essential step taken in the right direction. This is where startups like HealthCube can bring about a major transformation by providing one-stop access to anemia screening even in remote areas. It is also encouraging to note that the government is focusing on specific initiatives for the economic empowerment of women.
We are also looking forward to seeing some announcements about increasing customs duty on the import of medical devices and PLI for domestic medical device manufacturing and development. To make India a hub for medical device manufacturing, it is also imperative for the government to support the sector through fiscal measures. Overall, the announcements show the intent of expanding medical device manufacturing in India, and we hope to see further progress in this area."
Dr Veena Aggarwal, Consultant women's health, Trustee, Heart Care Foundation of India
"The Union Budget 2023-2024 has a strong focus on healthcare and the environment which we welcome at Heart Care Foundation of India. One Health was a concept that our founding president Dr. KK Aggarwal strongly focused on and the provisions in the budget to help achieve net zero emissions by 2070 through the adoption of more energy-efficient ways of travel and fuel consumption will have a great impact on our overall physical well-being as well. We welcome the increased focus on healthcare research which will enable us to be better prepared to tackle all new and unknown illnesses that we may be threatened by in the future. Promoting nursing education through the setting up of 157 new nursing colleges will help make quality care accessible to a larger population. We hoped to see more focus on training centers on heart disease and CPR in the budget given the drastic increase in the number of heart attacks among the younger population in India. Metabolic diseases deserve specific attention as well given the pandemic proportions of these diseases due to the high-stress and unhealthy lives that the population at large is now leading. Mental health has come to the fore with COVID-19 in mammoth proportions and deserved to be given more priority in the budget as well."
Anand. K, CEO, SRL Diagnostics
"It is a relief to see the government's intent to screen and eliminate a condition like sickle cell anemia. We hope that just like the 'Anemia Mukt Bharat' initiative, this program also gets the required impetus from the central government.
Along with establishment of nursing colleges, a provision for para medical workers and ancillary workers should also be considered. The focus on collaboration with private sector on R&D and innovations is a great move and hope it marks a new beginning for healthcare and pharma innovations in India.
It would have been great if the union budget also focused on funding to strengthen India's health infrastructure system and R&D capacity."
Shyamakant Giri, Managing Director & President, India Business and Emerging Markets, Amneal Healthcare
"The Budget 2023-24 has showcased immense focus on the Indian pharma industry with announcement of the new R&D program. To support this, the exponential increase in allocation towards such schemes will be a driving force in strengthening India's global position not only as a manufacturing hub but also promoting India as a prime investment location for pharma R&D. The announcement of three artificial intelligence centers of excellence to enable 'Make AI for India' and 'Make AI work for India' will be a huge step forward in addressing future-ready infrastructure requirements, skilled labor, and overall industry innovation. Furthermore, the emphasis on medical device skilling is a move in the right direction for the expansion of the healthcare-pharma ecosystem."
Apurva Sule, Chief Business Officer, Heaps Health
"Focusing on technology and a knowledge-driven economy for FY 23–24 was one of the Union Budget's significant pronouncements. According to the budget, Centres of Excellence for Artificial Intelligence will be established to offer cutting-edge applications and scalable solutions to health-related issues. The main goal of these centres is to further understand and raise public awareness of these new-age technologies. These centres are expected to produce solutions that bring high-quality healthcare facilities to both urban and rural populations. The National Data Governance Policy's announcement is the right move to improve data security and privacy in healthcare. Last but not least, the emphasis on promoting pharmaceutical research and innovation by raising capital spending will boost private businesses and contribute to the creation of long-term treatments for serious diseases."
Abha Damani, Director, ICPA Health Products Ltd (ICPA)
"The Hon'ble FM announced a new programme for research in pharmaceuticals which will be formulated and the industry will be encouraged to invest in research. Post the pandemic, many of the world's manufacturing bases are still grappling with the devastation of healthcare systems and the announcement is a step in the right direction to establish India as the research hub of the world. This will encourage more and more pharma companies to invest in research and deliver better products. The Budget also accommodates dedicated multidisciplinary courses for the medical devices sector. This should help rural medical services to catch up with the rest of India. While these are positive announcements, the industry was also expecting tax benefits like reduced GST rate on research activities, special allocations, tax concessions, incentives and grants so that the overall industry gets a boost and establishes India's importance in the world."
Vikram Thaploo, CEO of Apollo Telehealth
"The government in its last Union budget had placed a lot of significance to health and well-being and that focus has reflected in this year's Union Budget as well. The establishment of 100 new labs for developing apps using 5G services to realise new range of opportunities in healthcare is a much-needed move by the government. Also, the setting up of 3 centres of excellence for artificial intelligence to enable 'Make AI for India' and 'Make AI work for India' will certainly boost India's digital prowess. Another much-anticipated move by the government is the plan to establish one hundred and fifty-seven new nursing colleges in co-location with the existing 157 medical colleges established since 2014. This will certainly help the healthcare industry to bridge the gap in care due to shortage of medical personnel.
Also, the FM minister announced that dedicated multidisciplinary courses for medical devices will be supported in existing institutions to ensure the availability of skilled manpower for futuristic medical technologies, high-end manufacturing, and research. All these essential moves by the government towards health infrastructure and focus on a holistic approach to health is seen as a testimony of India's commitment to building stronger health systems in the country."
Deepak Sharma, Co-Founder and Chief Executive Officer at MedLern
"To start, the setting up of 157 nursing colleges and attached with the existing 157 medical colleges in the budget is definitely a welcome development. The announcement of training of teachers through innovative pedagogy, curriculum transaction, continuous professional development dipstick survey and iCT implementation is particularly important since this is perhaps the first time that a budget has spoken of upskilling teachers and the raising of the quality of teaching in general. Under PM Kaushal Vikas Yojana, the coverage of new-age courses such as coding, AI, robotics, mechatronics, IOT, 3D printing, drones etc would definitely elevate the quality of human resources capacity in the country in sync with the demands of the latest and increasingly technology-driven economy. However, although the fine print is yet to come out, given the deficit in health education in the country and the recent experience during the pandemic, we would have wished for some explicit policy and tax incentives for online and specialist medical learning and training providers in the form of a range of financial and tax subsidies in the budget."
Joy Chakraborty, COO, P.D. Hinduja Hospital
"The increased focus on medical education through setting up of new nursing colleges and multidisciplinary courses for medical devices is a welcome move. This will help in improving our nurse-to-patient ratio and also add to the resource pool of skilled healthcare technicians. India is moving towards increased adoption of technology in healthcare and the creation of AI-based centre of excellence for healthcare will be fruitful in accelerating this trend. The focus on R&D in drugs and pharmaceuticals has potential to spur innovation, make India a global leader in this field. The mission to eliminate sickle anaemia laudable and much needed for the country. This program can play a critical role in the development and implementation of future programs focused on the prevention and management of non-communicable diseases that are expected to contribute more than 75% of India's burden by 2025. Focus on Green Growth and Urban Sanitization are good preventive measures to improve the overall health of the people. Since Tourism is given importance, hopefully the Medial Value Tourism will also get some boost in its business. However, the industry was expecting a lot more in terms of tax incentives and exemptions, health insurance coverage to reduce the overall cost of healthcare for the patients along with increased exemption for preventive health check-ups."
Dr Arjun Kalyanpur, Chief Radiologist and Founder CEO, Teleradiology Solutions
"A new programme to promote R&D in pharma is a very encouraging and welcome development. Indian pharma until now has been focused on the generics market and has tremendous potential for pharmaceutical R&D and governmental initiatives that support this are extremely welcome.
Artificial intelligence represents the future of healthcare. Investment in centres of excellence for AI development, therefore, stands to greatly benefit the Indian healthcare system. There is a huge untapped market for medical devices in our country which currently exports up to 80% of devices. The key missing element has been a lack of training programmes that have prevented this industry from training its true potential in India. The creation of specific courses focused on medical device development will unleash the opportunity for medical devices, technology, research, and development in our country and provide a blue ocean approach to the healthcare industry.
Given the government's focus on Digital health, the setting up of 100 labs for 5G-driven applications will drive innovation in this critical space, which can bridge the rural-urban divide and provide lasting solutions for our healthcare problems. This is another very exciting development that stands to benefit the telemedicine and teleradiology sectors which are dependent on bandwidth for growth and access."
K.R. Raghunath, Senior Spokesperson, Jindal Naturecure Institute, Bangalore
"We welcome the much-deserved attention on India's healthcare sector in the Union Budget 2023-24. We are encouraged by the Government's renewed focus on overall wellness and well-being of our citizens. Some of the laudable moves presented in this year's budget include the establishment of one hundred and fifty-seven new nursing colleges in co-location with the existing 157 medical colleges established since 2014, a mission to eliminate Sickle Cell Anaemia by 2047, and facilities in select ICMR Labs to be made available for research by public and private medical college faculty and private sector R&D teams for encouraging collaborative research and innovation. However, we are a bit disappointed that new schemes were not announced with regard to the work being done by the Ayush Ministry. The importance of preserving one's health and well-being through practices like yoga, meditation, sound healing, and other relaxation techniques has been highlighted by the pandemic and these should have received increased focus in the Union Budget 2023-24."
Satish Kannan, Co-founder & CEO, MediBuddy
"There is a direct correlation between high-quality healthcare and the progress of the nation at large. Therefore, it is a welcome step that this year too, there is a steady increase in fund allocation for the Ministry of Health and Family Welfare of 2.1% in this budget as compared to 1.4% pre-pandemic. The allocated fund is expected to be utilised for planning better facilities for preventive healthcare, research & development, technology & innovation, and training of medical professionals. An additional access to CSR Funds to enhance these initiatives would have balanced the current budget allocated. As a leading digital healthcare platform that promotes preventive health check-ups, the inclusion of universal screening for Sickle Cell Amenia eradication, especially in the tribal area, is a thoughtful consideration. Investment in three centres of Artificial Intelligence could prove beneficial for the healthcare industry too, especially for digital platforms like us, as it gives a deeper push to the mission of making healthcare accessible in Tier II & III cities. While the current budget covers the health sector and all the allied verticals, what is going to drive optimum results is the accurate implementation."
Senu Sam, Co-Founder and Chief Executive Officer of Mykare Health
"The infrastructure and healthcare spending in the budget appears to be fairly balanced. It is heartening to note that prominent business figures will collaborate to conduct interdisciplinary research, create cutting-edge applications, and find scalable solutions to issues in various fields including healthcare. The need for more emphasis on innovation, research, and development—which are essential to assisting India in achieving its objective and strengthening the nation's economic structure—has been rightly addressed in the budget. We are happy that the government has acknowledged and taken into account improving the healthcare system for the benefit of people, healthcare professionals, hospitals, and necessary infrastructure. The budget is growth-focused, which is what is needed right now."
Dr Jogin Desai, Co-Founder & CEO, Eyestem
"The mission mode programme to eradicate sickle cell anemia can be tremendously impactful. Such programmes are a marathon and not a sprint yet can create a fantastic template for programmes for other diseases like curable blindness in subsequent years. Also glad to see the focus on research and development in the pharma sector which is a much-needed push to ensure a local ecosystem of innovation is created in India to make us self-reliant. One of the centres of excellence we would certainly like to see is plug-and-play GMP manufacturing infrastructure for startups in the biotech space. Overall, very pleased to see a deliberate method to nudge the Indian private and public ecosystem towards innovation and partnership."
A Ganesan, Group Vice Chairman, Neuberg Diagnostics
"This is a milestone budget in the sense that this is the First Budget post the full exit of the Covid pandemic and this is the last full budget of this Government. Also, the world is going through high inflation and a slump in growth. While India has not been significantly impacted by the World economy yet, the FM had a difficult task of ensuring that Growth in 2023-24 remains strong and at the same time ensuring inflation is kept under check. To a great extent, she has presented a very balanced budget.
To be specific, significant thrust has been given to Agriculture, Infrastructure, Tribal, and NE state welfare which should ensure the creation of adequate employment opportunities and at the same time give relief to our Farmers from high inflation.
As regards Healthcare, the allocation of resources for the identification of Sickle cell anaemia amongst the 7 crore tribal population people, the setting up of 157 Nursing colleges to address the shortage of Nurses, ICMR to facilitate setting up research labs on the PPP model, Fiscal incentives to Pharma Industry to speed up R&D initiatives, Dedicated Multidisciplinary courses in the manufacture of High-end medical devices are few of the Healthcare Initiatives in the Budget.
Extending the benefit to start up companies incorporated upto 31/03/2024 and increasing the period of carry-forward losses to 10 years are some of the initiatives which should speed up innovation and the 'Make in India Programme'.
Vivad –se- Viswas2, which facilitates MSME and other Industries to settle contract disputes is a welcome step. Extending the Central Govt Credit Guarantee scheme to MSME units till 31/03/2014 and making available Rs 2 lac crore credit is another welcome step for the MSME units.
Some Income Tax benefits have also been extended to people having income up to Rs 15 lacs (Under the New regime). Increasing the cap for the Senior Citizen savings scheme from Rs 15 lacs to Rs 30 lacs should benefit the vast majority of retired employees. Similarly, increasing the cap on Monthly Income Scheme from Rs 9 lacs to Rs 15 lacs should also benefit the middle-income group."

Follow and connect with us on Facebook, Twitter, LinkedIn, Elets video