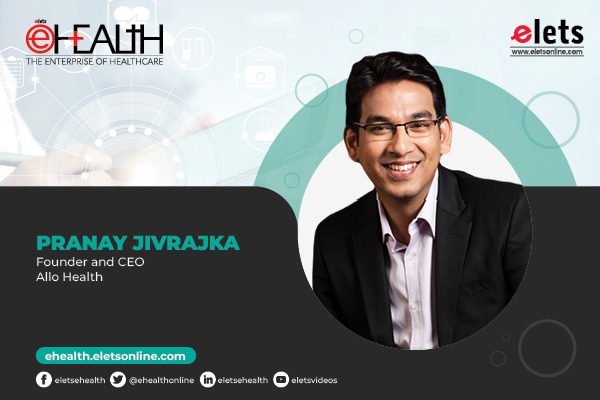 The field of healthcare is drastically changing. What used to be a traditional industry, with a few long established clinics and hospitals, has transformed into integrated healthcare hubs, thanks to innovative digital technology. Technology has so far been able to bridge the gap between patients and healthcare facilities, making the sector more patient-centric. Digital health startups have played a major role in revolutionising healthcare over the past few years. Today, healthcare players aim to offer comfort, convenience, and trust to patients by ensuring that they receive improved service.
Healthtech market scenario

Though COVID-19 catalysed the need for digital health tools, the demand for them had been gradually rising even before the pandemic. The global digital health market is expected to grow at a compound annual growth rate (CAGR) of nearly 25 per cent from 2019 to 2025 and may reach almost $660 billion by 2025. In India, health tech is a fast-growing industry vertical that currently accounts for only one per cent of the overall healthcare sector, growing at 39 per cent CAGR and is estimated to reach nearly $5 billion by 2023. This health tech market comprises e-pharmacy, e-diagnostics, teleconsultation, business-to-business (B2B) health tech, B2B medical supplies, and other healthcare solutions like personal health management and online home healthcare among others. Secondly, e-pharmacy and B2B health tech are the two largest segments in the country that account for almost 70 per cent of the overall health tech market. Meanwhile, e-diagnostics and teleconsultation are also the fastest-growing segments growing at 66 per cent and 73 per cent respectively
Health tech sector offers holistic care
Today, wearables and mobile apps, powered by technologies like artificial intelligence and augmented reality are easily accessible and help patients keep track of their day-to-day health. These apps assist users in creating workout patterns, tracking their nutritional regimes, and even helping with family planning solutions. They also enable patients and their caretakers to make informed decisions about the prevention, diagnosis, management, and treatment of diseases. Medical facilities are also using cutting-edge technologies, such as AI assistants for patient interaction. On the other hand, healthcare professionals (HCPs) benefit from digitally-optimised workflows, whereas administrative expenditure is minimised with the help of options such as web-based record keeping.
The emergence of medtech, and femtech firms is making care accessible and affordable for people. Mobile phones, laptops, and tablets have addressed the challenges of geographical accessibility and timeliness of care. Patients can connect digitally with their doctors due to the growing use of telemedicine and e-visits. Some digital devices and apps help in disease prevention by cautioning patients about any health variation, resulting in timely intervention by HCPs. Other apps offer the luxury of privacy while creating a safe and personal space for the users.
Challenges faced by health tech startups
The uneven patient-to-doctor ratio, overall costs, and need for convenience and privacy have paved the way for the rise in health tech start-ups, and the pandemic accelerated this demand. Healthtech startups are also rapidly becoming essential in terms of employment creation and income generation. The Department for Promotion of Industry and Internal Trade (DPIIT) has recognised over 75,000 start-ups, of which 9 per cent are dedicated to the healthcare and life science sectors. Keeping up with the requirements and potential of this sector, the government proposed a plan to launch a special incentive scheme to support 75 startups in the fields of telemedicine, digital health, and AI.
However, the startup ecosystem has its fair share of challenges. Since health tech is a new concept and an evolving business, there is a lack of mentorship for the next generation of entrepreneurs. It has become a space of trial and error as many entrepreneurs find it difficult to grasp systems and procedures to ensure seamless operations. Also, being a diversified country with varied healthcare needs, startups often struggle to reach the appropriate customer base. Moreover, with more startups entering the market, there is fierce competition. Though health tech is a means for easy access to healthcare services in the country, it is still a distant dream as only 43 per cent of the citizens have internet access.
What the future holds
The healthcare industry is being redefined with the help of technology which has helped overcome the limitations present in traditional setups. Digital health solutions are developed and employed to enable patients to save costs and time. They also offer accessibility and encourage users to become proactive about their health. India has the potential to become a dominant leader in the global health tech sector with adequate mentorship and proper funding. Collaboration among start-ups, government, and other stakeholders will give a push to digital healthcare solutions and allow them to scale up adequately. This, in turn, will stimulate them to come up with innovative and gamechanging products and services.
Views expressed by Pranay Jivrajka, Founder and CEO, Allo Health

Follow and connect with us on Facebook, Twitter, LinkedIn, Elets video