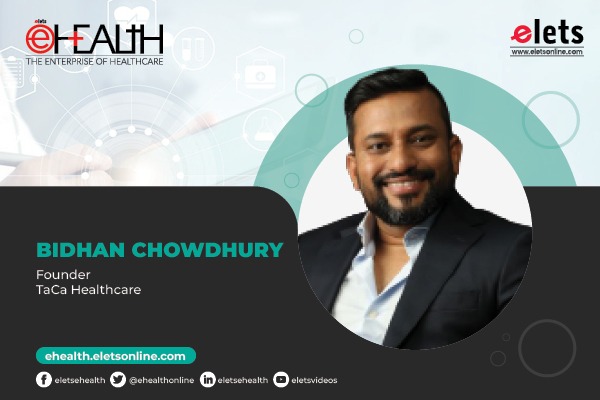 India needs a multi-pronged approach to make short-stay elective surgeries accessible to the masses. We need a robust surgical care ecosystem and infrastructure that can swiftly facilitate short-stay surgeries. Delving deep into the conversation Bidhan Chowdhury, Founder, TaCa Healthcare, had an in-depth conversation with Garima Pant of Elets News Network (ENN).
Edited excerpts:

India's vast middle class—over 40 crore individuals lack any sort of health protection and find it difficult to access quality healthcare at affordable cost. What can be done to address their needs?
Statistics say that one in every three Indians belongs to the middle class. The number is expected to double by 2047, placing two out of every three Indians in this category.
India's healthcare system faces the onerous challenge of responding to its needs. The government has launched various schemes and programs for helping the poor, such as Ayushman Bharat, which provides defined free health insurance coverage of Rs. 5 lakh per family per year. And the rich have the financial resources to access world-class healthcare both in India and abroad.
But the middle class is not poor enough to be covered by government schemes and not rich enough to afford the healthcare of their choice. So, there is a need to find smart solutions tailored to its needs.
TaCa Healthcare is doing just that. We are building one of the world's largest asset-light healthcare chains to make high-quality surgical care affordable to the expanding middle class. The idea is to create an ecosystem that democratises world-class surgical care. We are successfully delivering a hassle-free experience to patients requiring all kinds of short-stay surgeries such as gallbladder stone removal, hernia repair, appendix removal, fissure, and fistula, to name a few.
What do you think the government can do?
The government is making efforts to improve healthcare delivery in the country. Butprivate healthcare providers also can do a lot to support the government, and we, through TaCa, are contributing our bit. As I said, the middle-class needs high-quality yet affordable healthcare. This is not easy, but we can harness the power of technology to create a healthcare system that is smart, transparent, and follows standardised protocols. Besides, in healthcare, the clinical acumen and surgical skills of a doctor play an important role in providing care with precision. The amalgamation of the two—skills and technology—can not only improve the quality of healthcare but can also reduce its cost significantly.
Also Read | The Adoption of Cloud is a Game-Changer in Healthcare
Though the number of short-stay surgeries is increasing in the country, a large population continues to neglect them. What could be the reason?
Not just in India, surgical care gaps exist worldwide and need immediate attention. According to a World Bank report, 14.3 crore additional surgical procedures are needed each year to save lives and prevent disability. Eleven per cent of the global burden of disease requires surgical care. The Lancet Commission on Global Surgery (LCoGS) estimated that 5000 surgeries are required to meet the surgical burden of disease for 100,000 people in low- and middle-income countries.
India needs a multi-pronged approach to make short-stay elective surgeries accessible to the masses. Surgeries are presumed costly by patients both in terms of the costs incurred as well as the loss of wages caused by the time they spend away from work because of a hospital stay. We need a robust surgical care ecosystem and infrastructure that can swiftly facilitate short-stay surgeries. So, the high cost of elective surgeries, and lack of quality healthcare near their homes are two of the most important reasons that push a large chunk of middle and lower-income populations to ignore or delay elective surgeries such as proctology, urology, laparoscopy, ophthalmology, and more.
What can be done to remedy this situation?
TaCa Healthcare is aggressively upgrading the surgical infrastructure in tier-two and tier-three cities. We have plans to establish a state-of-the-art TaCa Center for Surgery, which are asset-light, across the country to allow people to avail themselves of high-quality, low-cost surgical care. We intend to create a robust secondary healthcare ecosystem by transforming thousands of medical facilities into multispecialty surgical centres in tier-one, tier-two, and tier-three cities across the country.
The entire elective surgical care start-up ecosystem in India has adopted an aggregator model and has visiting consultants, but TaCa healthcare has surgeons on the payroll. This allows patients to stay connected with the same doctor from their diagnosis to their post-surgical care consultation. We are a tech-driven company that aims to reduce surgical costs by 25–30 per cent for people.
Please elaborate on your claim of being a patient-centric, surgeon-driven company.
Yes, indeed, we proudly claim to be a patient-centric, surgeon-driven company. And it is because nothing is more important to us than the experience the patients have with us. Today, patients are more aware than ever before, and our services are designed to cater to their individual needs and preferences. We do not believe in generalised care.
We are creating a new model of healthcare delivery, where values take precedence over volumes. Our surgeons are involved in decision-making at all levels of the organisation. We ensure patients can stay connected with a surgeon right from the diagnosis to the post-surgical care consultation. This is helping us transform the surgeon-patient relationship.
What are your growth and expansion plans for the next three years?
We will continue to focus on tier-two and tier-three cities, where private health infrastructure remains woefully underutilised. We will continue to partner with newer hospitals in these cities, helping them upgrade their infra if necessary, and building cost-effective healthcare solutions that work to the advantage of both our partner hospitals and our patients.
Also Read | 3Ts that can transform healthcare delivery system in India
We are currently operating in seven states: Telangana, Maharashtra, Madhya Pradesh, Karnataka, UP, Delhi, and Haryana. We will soon have the largest network of partner hospitals in tier two and tier three cities in the country.

Follow and connect with us on Facebook, Twitter, LinkedIn, Elets video