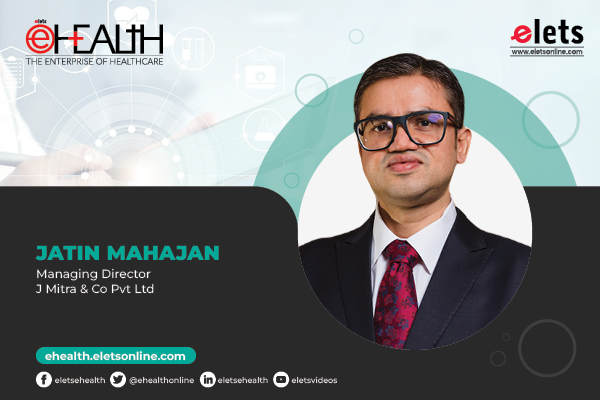 From an agricultural country and developing economy a couple of decades back, India is now the fifth largest economy. There has been overall development across sectors and industries. India's healthcare and MedTech performances has also been purely phenomenal.
India's performance on the medical devices–diagnostics front has also been exemplary and the highest among all the sectors within the healthcare space. India is the global center for frugal medical device engineering. India's medical devices industry is estimated at $11 billion, growing well over 15 per cent CAGR for the past couple of years. India ranks fourth in the medical devices market in Asia, following Japan, China, and South Korea. When we look at this ranking from a global perspective, India stands within the top 20.

Indian MedTech's contribution had emerged from the shadows. It took center stage during the corona pandemic when we became self sufficient in producing diagnostic kits and medical devices – Rapid Antigen Test kits, RT-PCR kits, ventilators, IR thermometers, PPE kits & N-95 masks. The diagnosis process accounts for over 70 per cent of all therapeutic decisions and contributes to preventive healthcare. Thus, diagnostics are already playing a significant role in furthering India's agenda of 'Healthcare-for-all.' However, most hi-tech innovative products and technology originate from a well-developed ecosystem, and US + Europe + Japan accounts for about 85 per cent of the roughly $220 billion revenues. Therefore, an innovative revolution must be developed in India to promote indigenous industry and reduce our dependence on imports.
Future gazing
As India moves towards the 100- year post-Independence landmark, what does the diagnostic industry have in store for the country?
If current performance is any indication, India is fully poised to embrace global leadership in manufacturing and innovation in the next 25 years, riding high on an estimated growth of around 28 per cent for the next five to ten years. India currently accounts for roughly 1.5 per cent of the global market share, and it has the potential to easily capture 12-15 per cent market share in the next 25 years. A combination of factors will drive India's MedTech growth–
Government & Policy Aspects
Innovation and Entrepreneurial Spirit
Futuristic Medical Technology Developments
Government & Policy
The Indian government has realised the potential and the opportunity that the Indian Medical Device sector has to offer in the global arena and has gone on an overdrive to ensure that all issues and bottlenecks are sorted out. Initiatives that will boost the growth of the MedTech industry in India include –
Production Linked Incentive (PLI) Scheme – For medical devices that has already been in place to boost entrepreneurship and incremental growth.
Medical Device Parks – Four such parks are being set up across the country.
India Medical Devices Policy – This is in the final stages of finalisation and will be rolled out soon and will create a more level playing field. The government is working to ensure a stable long-term policy ecosystem and reduce the statutory compliance burden while providing the highest quality standards.
Indian MedTech Expo 2022 – The first-ever MedTech Expo in India, organised by the Department of Pharmaceuticals. The theme of the Expo is – The Future of Device, Diagnostics, and Digital. Around 450 Indian MedTech companies are expected to participate, and will bring together stakeholders Entrepreneurs, MSMEs, startups, Incubators, investors and venture capitalists, R&D facilities and research institutions, public and private hospitals, industry at large, academia, State governments, MedTech parks, and key government officials. The Expo will catalyse a strong linkage between Government-Industry-Academia, showcase India's capabilities to the entire world and create a brand identity for Indian MedTech.
Future-ready India @ 2047 Blueprint – The Government is working on a blueprint that includes pharmaceuticals and medical devices. The critical thrust is to decrease the cost of drugs by 50 per cent, and all future initiatives by the government and corporates will align with this vision and ambition.
Focus on Make in India – There is a massive government focus on the Make in India initiative. The government will spend $1.3 billion to modernise and upgrade the state-owned Semiconductor Complex Limited in Chandigarh. The government is also in advance talks with Taiwanese multinational chip manufacturers like TSMC and Foxconn to develop state-of-theart semiconductor facilities in India. Taiwan is the no. 1 semiconductor manufacturing country with 92 per cent market share by volume and a 60 per cent market share by revenue. This move will not only provide a boost to the indigenous innovative MedTech engineering but also strengthen India's Intellectual Property rights.
The Government has been working to ensure a stable long-term policy environment and reduce the compliance burden on the industry. Priority action areas include:
Creation of a complementing policy and regulatory environment
Significant increase in the fostering and nurturing of an ecosystem that provides funding and investment, especially to innovative healthcare startups
Making healthcare infrastructure more robust
Stronger relationships and collaboration between the Industry – Academia
Skill enhancement of the last mile healthcare workers to be able to harness the power of digital healthcare delivery systems properly
Innovation & Entreprenurial
India is the global center for frugal medical device engineering. In the diagnostics space, disruptive innovations have made tremendous inroads, making healthcare practices cheaper, faster, more effective, and customer-centric. As a result, diagnostics will move closer and closer to patients, even in resource-scarce environments and the hinterlands. Many of these technological advancements are widespread and will become a common factor in the coming years and lead India into its next quarter century.
The Feluda Tests based on CRISPR technology developed by the Council of Scientific & Industrial Research's-Institute of Genomics and Integrative Biology is one unique innovation that will catalyse a sea-change in healthcare.
India's IT foundation is exceptionally beneficial for the Medtech industry, and MedTech companies are aggressively innovating. Telehealth and telemedicine are proliferating. Digital prescriptions, digital therapeutics, remote-patient monitoring, and digital health records are transforming India's traditional file-driven HMS into a digital one with countless benefits.
Using AI, automation, and cloud computing has radically changed the game.
Future MedTech trends will be faster and better disease identification, personalisation, and analytics. In addition, MedTech companies are embracing newer, superior, impactful technologies like Artificial Intelligence (AI), Internet of Things (IoT), point-of-care (POC), liquid biopsy, and molecular diagnostics.
All these catalysts and technologies will drive better detection and continue the spur in the healthcare segment for the next two decades, even as newer technologies are identified and implemented.
The Indian innovation and entrepreneurial spirit are increasingly tapping all these aspects to drive catalytic changes in the healthcare and diagnostic space.
Futuristic Diagnostic Technologies
Several futuristic and emerging trends in diagnostics will boost the sector – new tests and technology driven newer implementations will transform healthcare dramatically.
CLIA (Chemiluminescence Immunoassay) – Immunoassays form an important segment in diagnostics which majorly deals with analysing antigen-antibody reactions. The spectrum of tests that can be analysed using this technology is comprehensive, and analysers under this technology form the backbone of clinical chemistry testing. This technology is already actively used by diagnostic service providers and will continue to be a critical segment.
Predictive & Personal Genetic tests could have significant health outcomes by forecasting future disease risks. In addition, these tests can spot mutations that increase the human risk of developing genetic disorders before any symptoms appear. Next-generation sequencing and predictive oncology based on this technology will be utilised much more as costs and economies of scale catch up.
Neurotechnology holds unfathomable potential. Neurotechnology includes all mechanisms developed to understand the brain, visualise its processes and even control, repair or improve its functions. Neurotechnology is used in brain imaging and neuro-devices, an emerging technology that monitors or regulates brain activity using an implant. If successful, it will benefit brain diseases like Alzheimer's and Parkinson's.
Virtual Reality is increasingly used to treat and manage various psychological illnesses and conditions, from stress and anxiety to dementia and autism. It also helps in diagnosis, as the patient's virtual panoramic view is possible, giving doctors a better understanding of their disease or condition. VR's focus areas for medical advancements include preventive healthcare, rehabilitation, assistive living, cancer therapy, and surgery.
POC testing and emerging at-home diagnostic solutions Innovative new technology allows for rapid testing near patients – including their homes – which can help facilitate better disease diagnosis, monitoring, and management. It can also reduce the time to results, as travel time for samples and results is reduced or eliminated.
Real-time Diagnostics based on wearable biosensors like watches, glasses, contact lenses, clothing, bandages, and rings are now giving way to specifically-built implantable and ingestible devices. These can collect myriad physical health information, such as blood pressure, heart rate, respiratory rate, skin temperature, and body motion. As a result, real-time diagnostics provide a more robust data set for clinical decision-making.
Artificial Intelligence in medical imaging can help healthcare practitioners diagnose diseases based on medical images.
These are just some of the emerging trends and technologies. India is expected to be the home of 25 high-end futuristic healthcare technologies and emerge as a champion in cancer diagnostics, critical components, medical imaging, ultrasonic scans, molecular imaging, and PCR technologies.
We can see India playing a decisive role in diagnostics in the coming years, emerging out of the shadows and dominating the healthcare space.
Views expressed by Jatin Mahajan, Managing Director at J Mitra & Co Pvt Ltd

Follow and connect with us on Facebook, Twitter, LinkedIn, Elets video