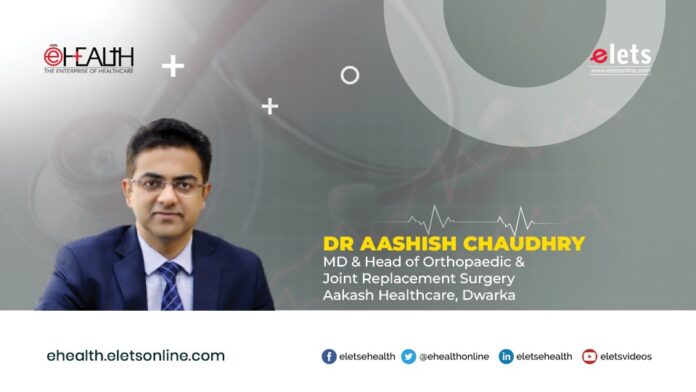 Three-dimensional (3D) printing technology, commonly known as Additive Manufacturing (AM) or Rapid Prototyping (RP), is a unique method for creating 3D objects utilising Computer-Aided Design (CAD). It was built forty years ago by a Japanese doctor and was initially used in manufacturing and industry. With the advancement of manufacturing technology and materials science in recent decades, 3D printing has also been employed in various medical sectors like dentistry, maxillofacial surgery, and neurosurgery. 3D printing in orthopaedics is also becoming popular day by day, primarily for preoperative planning, surgical guidance, individualised implants, and customised prostheses. At a compound annual growth rate (CAGR) of 9.6per cent, the global 3D orthopaedics/prosthetics market is predicted to increase from $2.71 billion in 2021 to $2.97 billion in 2022. This demonstrates the potential of 3D printing in the medical field.
The unprecedented growth
The market for 3D orthopaedics and prosthetics is growing due to an increase in the number of trauma cases and accidents. Many people lose their limbs in such cases and require prosthetics (artificial limbs). Major research institutes and organisations are concentrating on developing new technical solutions for 3D orthopaedics/prosthetics to give prosthetic users more control and precision.
Planning through 3D printing
Testing and planning are two significant advantages of 3D printing. It's critical to test therapies or implants on precise replicas. 3D printing speeds up the creation of novel products by enhancing collaboration between engineers and medical specialists. Orthopaedic surgeons can now use 3D printed models to help plan their surgeries and even use them for guidance during operations. Some doctors would even perform the surgery on the 3D printed replica beforehand, so they are better prepared for the real thing.
Implants and devices made with 3D printing have a lot of potentials. Imagine being able to build a specialised device or a customised replacement joint on the spot for a surgeon who needs it. In the future, 3D-printed structural replacement implants for the knees or hips tailored for each patient would be a huge medical breakthrough. It would be ground-breaking, given the hundreds of thousands of knee replacement procedures performed each year.
Medical education can benefit from three-dimensional printed models. Resident surgeons can hone their technical skills by working with realistic 3D patient models depicting common diseases in the operating theatre. Patient education has been supplemented using 3D-printed anatomic models, which may improve patient understanding and compliance during surgery.
In orthopaedic surgery the mirror imaging technique (in which representations of the contralateral uninjured side are created and used in preoperative planning) has started utilising three-dimensional printed anatomic models. Surgeons can simulate their reduction approach using the fractured 3D model, and plate selection can be optimised using the undamaged 3D model. This procedure has been used to treat clavicle, calcaneal, pilon, and ankle fractures with excellent outcomes.
3D pictures of bones can be created using computed tomography (CT) and magnetic resonance imaging (MRI) and then reconstructed using a 3D printer. The printed model can then be utilised for training, gaining a better knowledge of the patient's problems, and surgical guidance. The printed bones can be compared to other anatomical models and the patient's other bones in cases of degeneration, allowing for better advice in manufacturing implanted pieces.
Ankle Reconstructions
Surgery can be substantially aided by printing 3D models of malformed feet and ankles. First, the lower extremity malformation of the patient is understood in a way that 2D photographs alone cannot. Orthopaedic surgeons can better describe what will happen during surgery to the patient. Second, the surgeon can show how the alterations will affect the foot's structure. Furthermore, using the 3D copy as a guide, standard surgical procedures can be adjusted as needed.
Prosthetics and Orthotics
Most braces and orthotics (special shoes or heel inserts for the patient) are only available in a few sizes and are designed to accommodate a significant percentage of the population. Although fully personalised prosthetics are successful, manufacturing is complex and adds to the overall cost and time required to produce these prosthetics.
3D printing, on the other hand, has revolutionised the design and fabrication of ankle-foot orthoses (AFOs). AFOs are traditionally produced from plaster casts of a patient's lower extremities, a time-consuming and expensive process that results in fit, comfort, and overall design and appearance issues. Three-dimensional printing has simplified the manufacturing process while allowing for a design incorporating each individual's unique biomechanical characteristics. These 3D-printed AFOs have been demonstrated to be effective for people with plantar fasciitis (inflammation of a thick band of tissue that connects the heel bone to the toes).
With the development of the desktop 3D printer, three-dimensional printing has made its way into patients' homes. Amputees can now print their prosthetics. Thanks to a simple manufacturing method. For a significant number of patients, this method of prosthesis manufacture could be a cost-effective and accessible option.
The way forward
Three-dimensional printing is a fascinating technology that has found its way into almost every primary business. This fast-evolving discipline has given researchers access to virtually endless 3D structures made from various materials, including metals, polymers, and even live cells. Extreme flexibility in customising shapes, enhanced intricacy/complexity of created products, removal of assembly procedures, and waste and inventory reduction are some advantages that give 3D printing an upper hand.
In general, the downsides of 3D printing are the same as those of any new technology. They include expense and a lack of data, both of which are critical in the financially stressed and litigious medical industry regarding custom medical implants. Patient-specific 3D-printed implants, on the other hand, offer a novel way to treat a range of diseases in orthopaedic surgery.
In the future, the usage of 3D printing will expand not just in the orthopaedics segment but also in other departments of medicine. As a result, patients will be the ones who get benefitted the most from it. The necessity of the hour is to make technology more affordable and accessible so that it can be made available to the ordinary person.
Views expressed by Dr Aashish Chaudhry, MD & Head of Orthopaedic & Joint Replacement Surgery, Aakash Healthcare, Dwarka


Follow and connect with us on Facebook, Twitter, LinkedIn, Elets video