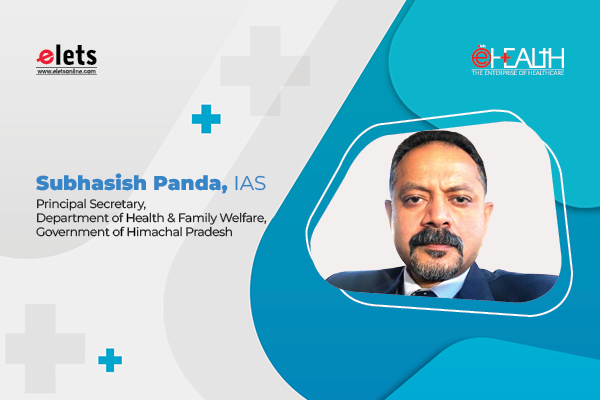 The Himachal Pradesh government has undertaken various steps to ensure 'Health for All'. Subhasish Panda, IAS, Principal Secretary, Department of Health & Family Welfare, Government of Himachal Pradesh interacted with Nisha Samant of Elets News Network (ENN) to elucidate about Himachal Pradesh government's healthcare system, Hub and Spoke model, Mukya Mantri Mobile Clinic and how it is improving the healthcare infrastructure of the state.
The Himachal Pradesh government recently gave a nod to Mukhya Mantri Bal Suposhan Yojana (MMBSY), which aims to curtail childhood malnutrition and improve health parameters of National Family Health Survey-5 (NFHS-5). How successfully has the state been able to implement the scheme so far.
The State on June 3, 2022 notified the MMBSY and undertook 7-pillar-based activities. As per the first pillar of Early Detection and Treatment of Diarrhoea and Pneumonia, intensified campaigns have been planned. Intensified Diarrhoea Control Fortnight (IDCF) is already underway from June 15 to 30, 2022. IDCF consists of a set of activities to be implemented in an intensified manner for prevention and control of deaths due to dehydration from diarrhoea across all States and Union Territories. The scheme roll-out with a special focus on Supplementary Nutrition Programme is being planned in a month's time.
Emerging technologies such as Artificial Intelligence (AI), Cloud, Machine Learning (ML) etc, are reshaping government healthcare systems, especially after COVID. How has the healthcare system in Himachal transformed in recent years? What kind of technologies are you adopting?
AI/IT has played an important role during the COVID pandemic and even after that. Some of the IT enabled activities are-
COVID vaccination through COWIN app
Use of Himachal Covid Care app to facilitate home-isolated COVID patients
Use of e-Office
Reviews and meetings through video conferences
Online capturing of HMIS, IDSP, NIKSHAY, HWC and other health programme-related data using web-based applications
Payments to beneficiaries and stakeholders using PFMS
Transition from client-server architecture to web-based applications having centralised database
Process of implementing web-based Hospital Information System (HIS) with the provision of integration with Ayushman Bharat Digital Mission (ABDM) has started
Use of SMS gateways for sending messages
COVID helpline and mental health helplines started
Follow-up of TB patients through a toll-free helpline number
Apart from these, the State is also making efforts to introduce new IT supported equipment for diagnostics as well treatment and care. We are looking at App-based solutions for better monitoring and follow-up – especially in programmatic approaches to chronic illnesses.
What are the steps being taken by the Health Department to upskill and build capacities of employees to adapt to the technology-driven work environment?
E-office has been implemented in the National Health Mission, Himachal Pradesh, and all the staff has been trained in operating the digital method. This in turn, has reduced paperwork and the time required to manage files. Along with this, regular video conferencing is also being done to disseminate information on the online methods of reporting in national programmes.
Most of our grassroots health care workers are now trained to input and update data online. Handheld tablets and PCs have been provided at individual and Institutional level. Thus progress made in healthcare programmes as well as monitoring of individual patients can be done on almost real time basis.
In your opinion, how is the government of Himachal Pradesh contributing towards India's transformation in healthcare?
Himachal Pradesh Government has always been pro-active in successfully and thoroughly implementing schemes and programmes of GoI. HP was the first state in the country to successfully vaccinate its entire eligible population with the first dose and then again the second dose of Covid vaccine.
The State is implementing the National TB Elimination Program (NTEP) programme as per guidelines of the Government of India. In addition to this, it has taken various measures such as Mukhya Mantri Kshay Nivaran Yojana (MMKRNY), Sunday Active Case Finding (ACF), nutritional support to Drug-Resistant TB (DRTB) patients.
All these measures have been appreciated across the country. The Hub and Spoke model for diagnostics has been started in the state with free-of-cost services.
Under Non-Communicable diseases (NCDs), Mukhyamantri Nirog Yojana has been launched in the state, where the population of 18 years and above is being screened for NCDs. Approval for Mukya Mantri Mobile Clinic has also been given, where doorstep services will be provided in all the constituencies through a mobile van.
Along with this, Model Primary Health Centres (PHCs) are being established in the state. Through the Sahara scheme, chronically ill patients belonging to the economically weaker sections of the society are being provided financial assistance of Rs 3000 per month.
The State has been working in convergence with the GoI by complementing or supplementing its schemes. The Mukhyamantri Himachal Health Care Scheme (HIMCARE) is an example. It too provides cashless treatment up to Rs.5 lakh per year per family. It covers the left out population not covered by the Ayushman Bharat scheme.
The State has established 6 medical colleges in a time-bound manner. All the health and wellness centres have been made functional and are proving to be effective in providing service delivery and teleconsultations under eSanjeevani in the rural areas of Himachal.

Follow and connect with us on Facebook, Twitter, LinkedIn, Elets video