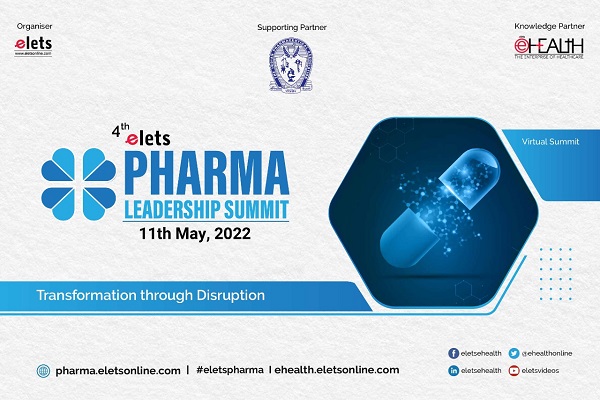 "If we use automation and other emerging technologies judiciously, it will result in the overall growth of the industry. A simple example could be, how the pharma industry managed to stay afloat during the COVID pandemic by leveraging technology & digitization," shared J. Jayaseelan, Vice President, Industrial Pharmacy Division, Indian Pharmaceutical Association. He was sharing his views at the inaugural session of the 4th Pharma Leadership Summit organised by Elets Technomedia along with eHealth Magazine. He was joined by Dr H. G. Koshia, Commissioner- Food and Drug Control Administration, Government of Gujarat; Dr Subhash C Mandal, Vice President & Chairman, Regulatory Affairs Division, Indian Pharmaceutical Association and Dr Shrenik Shah, Director & Chairman, Montage Laboratories Pvt. Ltd, Indian Drugs Manufacturers Association, Gujarat State Board.
The day-long summit had a series of panel discussions exploring various facets of the central theme, 'Transformation through Disruption.' The day-long networking-cum-knowledge gathering delivered a medium for exchanging views and measures for transforming the Pharmaceutical industry. Sharing his views, Dr H. G. Koshia, Commissioner – Food and Drug Control Administration, Government of Gujarat stated, "India is leading in the biological field. The Gujarat government has an industry department that has been pushing the pharma industry towards growth through its various schemes and policies." Dr Subhash C Mandal, Vice President & Chairman, Regulatory Affairs Division, Indian Pharmaceutical Association elaborated on the theme further and shared that every industry was disrupted during Covid including the pharma industry. He further added that automation in the manufacturing of medicines resulted in tremendous advancement.

The day-long event hosted a series of insightful discussions on topics including: Technological disruptions in Pharma – Leveraging Data for actionable insights; AI-enabled Automation strengthening Pharma Supply Chain & Packaging; Intelligent automation – Making Pharma Future Ready and Transformations Driving Futuristic Patient-Centric Care among others.
Pavithran Ayyala, Chief Information & Digital Officer, Neuland Laboratories Limited while sharing his thoughts on 'Championing change within the organization towards a digital future – CIO Perspective' said, "The CIOs today are tied with the vision for digital strategies and business outcomes. The focus of the profile has been shifted to applying technology for improving revenue generation. We're generating volumes of data from the past few years. AI can help us to manage this data while the analytics help us to leverage the data." Taking the discussions further, Yogesh Deshpande, Head-Operations IT, Alembic Pharmaceuticals Limited said, "Data is the cornerstone on which companies today are coming up with strategies. In the pharma sector, we have seen that a humongous amount of data is generated. Having efficient data will improve efficiency and optimise operations. Also, it could help in automation of compliances and analyzing process inefficiencies."
Vivek Mahendra, Chief Information Officer, StratMed called for the creation of an interphase between the technology and business to break the silos of data generation like the creation of data lakes. Sharing his insights, Ashok Gupta, Technical Director, Blue Cross Laboratories Ltd said, "The most interesting part of digital transformation is intelligent automation. However, we need to have our infrastructure future-ready to reap the benefits of digitisation."
Highlighting the importance of data Gopinath Madhu, Senior Client Partner, Digital & Technology, Pfizer said, "The COVID Pandemic has taught the pharmaceutical industry how to leverage data and technology." Dr Mukund KS, Assistant Vice President & Head IT, ERIS Lifesciences stated that Post-COVID the healthcare industry is no longer limited to the physical doctor-patient interaction but has now scaled up to virtual platforms as well. "Today, virtual consultations, smart wearables, mobile-based healthcare apps, etc. have become a norm," he added.
Advocating the need for relying and exploring data closer home, Dr Anil Pareek, President, Medical Affairs & Clinical Research, Ipca Laboratories Ltd stated that, "Population of our country is huge but we still rely on data of drug performance on foreign populations. Therefore, we need to have datasets of our population and so there is a huge scope of technology tools, especially in terms of data collection & analysis, in the healthcare and pharma industry." Dr Susil Kumar Meher, Head, Health IT, AIIMS, New Delhi said, "I feel technology adoption is not an issue but how to use the right technology at the right place is the big question. The availability of communication platforms as-a-service and how we are using it is another concern."
The summit witnessed enthused participation from delegates who asked pointed questions to the panelists, eliciting insightful response from the galaxy of speakers.
For more event highlights, please visit: https://insights.eletsonline.com/tag/4th-pharma-leadership-summit/


Follow and connect with us on Facebook, Twitter, LinkedIn, Elets video