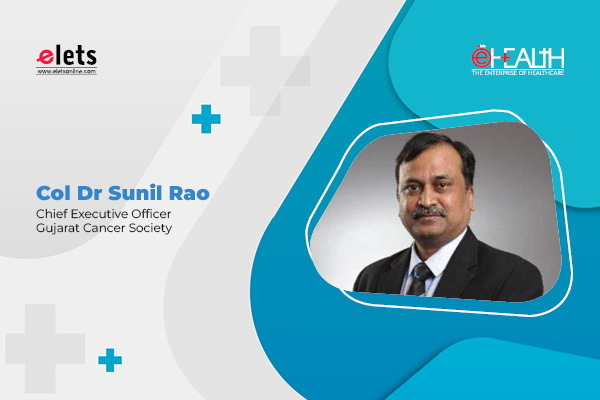 Col Dr Sunil Rao, Chief Executive Officer, Gujarat Cancer Society shares his insights on the various digital initiatives that altered the healthcare ecosystem during the pandemic. Edited excerpts:
Has India's health care system embarked on a purely digital journey?

Most of the doctors and nurses in India prefer to record their findings on paper and manual records. Very few corporate hospitals and private nursing homes amounting to 4 to 5% hospitals are estimated to be using EMR/digital records. I work in a charitable trust hospital and previously was working in a corporate hospital and I see a lot of reluctance in senior doctors towards digitization. Young generation and middle age doctors and nurses are learning and cooperating to get into digitization. Hence, there is a long way to go for complete digital health.
How do you see the role of technology in pre and post Covid healthcare?
Use of teleconsultation platforms was the biggest change which all of us have witnessed during covid. Most of my colleagues including senior doctors resisted the use of this mode initially in 2020 however as covid continued they adapted very well to these technology based platforms and started allotting time. Home based care used a lot of technology based devices/IOT which used to transfer information to our network and was useful in monitoring our patients and facilitated their timely transfer to hospital in covid days from home care.
What are the various technologies and tools you see making a difference in the healthcare segment in the coming times?
I think remote monitoring, home based care based on IOT devices/smart devices, AI based interpretation of diagnostic images and results for peripheral areas. Cloud based intensive care, teleconsultation, telepathology, tele ICU have great future and will surely pick up. I also see changes in medical education happening based on these new technology based solutions in the future.
How can technology be used to strengthen the health infrastructure in a country like ours?
There is a huge scope of improvement in medical services through technology as peripheral / r u r a l / t r i b a l / m o u n t a i n o u s areas of our country do not have access to healthcare of all types. These areas do have Internet and mobile reach hence amenable to technology solutions such as remote monitoring, remote diagnostics and assessment and guidance on evacuation/transfer to secondary/tertiary healthcare centers. Ayushman Bharat Digital Mission (ABDM) will be a boon in times to come for the healthcare infrastructure from an access point of view.
What are the policy initiatives you foresee in the Health IT space that will create a healthcare system of the future?
ABDM and its united health care interface will prove to be the biggest policy initiative in the healthcare from technology and IT side. Standardisation and digitisation of health care records of the entire country right from GP to quaternary care centre will be another big policy initiative for improvement. Legalising tele consultation is another big policy initiative in recent times which helped all of us during covid journey.


Follow and connect with us on Facebook, Twitter, LinkedIn, Elets video