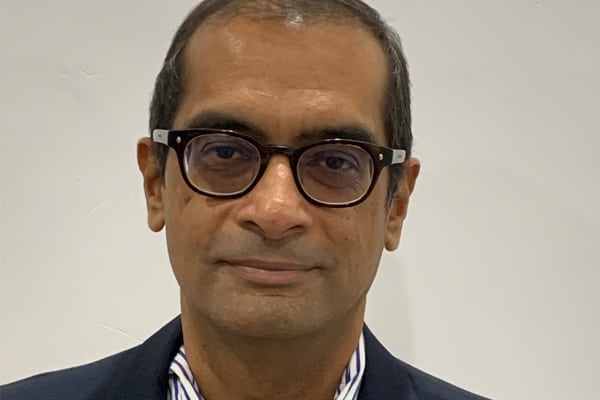 The India Health Fund (IHF) is the only impact investment organisation in the country which focuses on financing & supporting the application of the latest developments in science and technology to develop breakthrough solutions to improve patient outcomes in the fight against infectious diseases.
In a free-wheeling conversation with e-HEALTH's Editor-in-Chief Ravi Gupta and Associate Editor Kartik Sharma, IHF's Chief Executive Officer Madhav Joshi discusses the wide-ranging tangible healthcare outcomes that the organisation achieved. Edited excerpts:
How do you see your role as a facilitator of bringing novel tech solutions to solve public healthcare problems in India?
India Health Fund (IHF) was conceived in 2017, in partnership with Tata Trusts and the Global Fund, to accelerate our nation's progress towards the elimination of infectious diseases.
This was done by addressing the gaps in funding for product development, in mentorship and in market access that are often faced by small and mid-size entities with powerful ideas that have the potential to significantly improve outcomes in the diagnosis, treatment and prevention of infectious diseases. IHF also works to develop effective business models, implementation partnerships and financing mechanisms which help to significantly scale up solutions and, thereby, enable impact at scale.
Since inception, we have established partnerships with stakeholders and organisations that work towards elimination of infectious diseases. These partnerships have enabled us to identify areas for focus and helped develop a portfolio of high-potential innovations that could significantly improve the cascade of care in tuberculosis (TB), malaria, and now COVID-19. Given the need to ensure the rapid deployment of all solutions to ensure affordable access at scale, IHF is also developing implementation partnerships to facilitate cost-effective deployments. Some of these solutions have already entered the public and private healthcare systems, with support from IHF.
What is the present portfolio of IHF?
Between 2017-2019, IHF worked with partners to identify and develop new solutions which could have a significant impact in improving outcomes in the diagnosis, treatment and prevention of TB and Malaria. Working with these partners ensured that these challenges were addressed in a well- rounded manner after taking diverse perspectives into account. IHF is presently supporting six solutions which are at various stages of development and deployment.
Our portfolio offers novel tech solutions that focus and intervene on stages of disease starting with screening, then diagnosis and finally adherence and surveillance.
At the screening stage, we have qure.ai, which is an artificial intelligence based tool to improve the screening of TB. In the diagnosis stage, we have Hemex Health, TruNat, Valetude Primus Healthcare and Cisgen.
Hemex is a rapid and accurate diagnostic platform for malaria screening and diagnosis. TruNat is a molecular diagnostic tool to bring real time diagnosis of TB at the point of care. This platform is also adapted for the diagnosis of Covid 19.
VPH is another solution supported by us that is a safe sample collection and patented immune- magnetic cell capture technology to enable faster diagnosis of TB at the community level and last innovation supported by us in the diagnosis stage is Cisgen which is an affordable point of care animal TB diagnostic kit for TB control.
At the adherence and surveillance stage, we have TMEAD, which is an Internet of things based technology to improve patient adherence to medication.
With these innovations, how are you responding to the challenges posed by the Covid-19?
We had an active portfolio around this time last year, especially around the mushrooming outbreak of COVID-19. This allowed us the opportunity to explore how our existing assessments and technological prowess could be adapted for the 'then novel' COVID-19.
The two early examples that can be cited here include IHF-backed Artificial Intelligence-based solutions, originally designed to scan a chest X-ray with a Smartphone; and an Algorithm trained to diagnose TB in 30 seconds. This technology was quickly adapted to identify COVID-induced lung damage. These technologies have been deployed in more than 25 countries since as early as April last year. We partnered with Brihaanmumbai Municipal Corporation (BMC)-run Covid Care Centres to facilitate this deployment in Mumbai, thus reducing the time for screening and diagnosis of patients, while also helping streamline patient management.
The IHF has also been involved in the validation of RT-PCR-based diagnostics tool for TB developed by an Indian company, which was quick to adapt the platform for COVID-19 testing. This platform was approved by the Indian Council of Medical Research (ICMR) in April last year, ergo significantly lowered testing costs compared to others at that time.
In your observation, how can TB be eradicated in India?
India's battle with TB dates back to the early 1900s. With several technological breakthroughs over the past century, our nation has done a fantastic job in advancing towards the elimination of TB. Particularly in the recent years, our efforts have addressed a gamut of challenges – be it screening, diagnosis, treatments or patient follow-ups, awareness building and community inclusion. As a result of this, we have witnessed several positive outcomes, such as declining mortality from TB as well as improvements in recovery rates.
To ensure we meet our goal of eliminating TB by 2025, we need to strengthen our focus on initiating active screening and diagnosis for TB and the screening process needs to be pursued on a wider scale than ever before.
Taking cue, the IHF is working closely with BMC and our partner, the Foundation of Innovative New Diagnostics, to commence the nation's first bi-directional screening initiative for COVID-19 and TB in Mumbai. Any patient who walks into a COVID-19 OPD at a designated hospital run by the BMC will be screened for both these diseases simultaneously, following which they will be directed to an appropriate COVID-19 Care Centre or National TB programme.
Another challenge in TB patient recovery is adherence to treatment which requires a longer period of medication and constant patient engagement. Also a large influx of healthcare professionals is required on ground. IHF is also doing its bit in this area by supporting the development of a device that is preloaded with prescriptions of medications and sends timely reminders, directly to the patient's phone. The device also sends out automatic updates to healthcare workers notifying them of patients' compliance with timely medicine consumption. This device is less intrusive and enables better patient engagement, in addition to helping healthcare workers focus more on patients who require more attention and support.
What challenges do you foresee in meeting the Sustainable Development Goals?
The most impending roadblock in achieving these goals is the detrimental impact of COVID-19 on our healthcare system. While mitigating the impact of COVID-19 on other healthcare areas will be the biggest issue that will have to be tackled by the global community, here's a granular take on the challenges as identified by the IHF:
Firstly, COVID-19 has laid bare several infrastructural shortcomings as well as inconsistencies in the approach towards healthcare. It has also boosted a growing realisation that health security begins with stronger screening and diagnosis at the primary healthcare level. This has increased the need for screening and diagnosing multiple diseases for a single patient at primary care.
Secondly, there has to be collaborative action by all stakeholders involved – be it the government, an entity, or an organisation. The collaboration must aim to mobilise, develop, and deploy resources effectively.
Thirdly, as resources will never be infinite, tech and innovation will be more relevant to bridge many of the gaps in resources.


Follow and connect with us on Facebook, Twitter, LinkedIn, Elets video