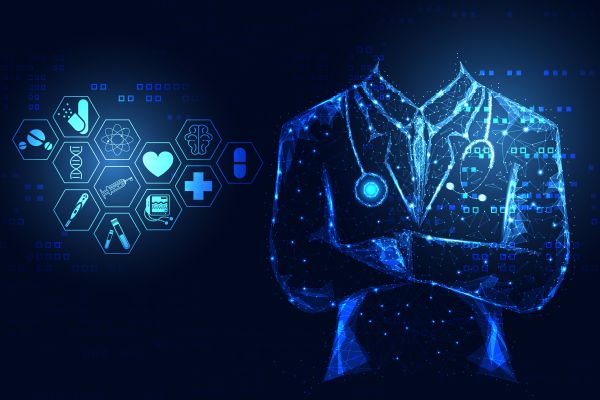 Pharma and other healthcare companies are logging into Digitalisation as they are understanding the game-changing potential of the novel process to achieve business continuity and offer real-time enhanced stakeholder experience, writes Mrinmoy Bhattacharjee, Assistant Editor, Elets Technomedia Pvt Ltd.
Many businesses in the pharma and healthcare landscape are increasingly realising that Digitalisation can improve medicine development and patient-care amidst increasing competition and price pressure. What's more, they are swiftly embracing the new process in their response to the Covid-19 pandemic and its profound socio-economic, health and financial fallout.
The term 'Digitalisation', as the global research and advisory firm Gartner Inc describes in its Information Technology glossary "is the use of digital technologies to change a business model and provide new revenue and valueproducing opportunities; it is the process of moving to a digital business.
And that process has gone Live in many companies as they have started adopting the new-age technologies such as Artificial Intelligence (AI), Machine Learning (ML), Data Analytics (DA), among others.
'Enable Faster Information Sharing, Critical for Supply Chain'
Nikkhil K Masurkar, Executive Director at Entod International says that Digitalisation has gained momentum over the past decade, but Covid-19 has accelerated the process. "During the pandemic, a paramount need was felt to implement digital accessing systems and documentation across the manufacturing chain for ensuring safety." The need for Digitalisation, he views, will not be limited to the manufacturing chain, but will also be adopted in the commercial supply chain as it is a "critical need of the time". The adoption, he adds, will lead the industry towards more efficiency, and enable faster information sharing and advanced marketing.
'Manufacturers Can Expect Cost Savings up to 20%…'
Vaggu Raghvendra Goud, General Manager at the global life sciences leader Cytiva's South Asia o p e r a t i o n s says, "The industry's digital transformation has never been more evident than in the wake of the Covid-19 pandemic with manufacturers expected to produce medicines faster and better."
Citing the company's recently released 'Global Biopharma Resilience Index', he informs, "We interviewed pharma executives across 20 countries worldwide, and many agreed that the pandemic is a catalyst for the industry to be bolder with adopting digital technology for scaling operations, improving quality and efficiencies, and saving costs."
Alluding to a study by the global business consultancy firm, Bain & Company, he underscores that manufacturers can expect cost savings of up to 20% and at the same time driving productivity up by 15-20%.
'A Potent Problem-solver in Intermediate Stages of an Evolving Value Chain'
The role of Digitalisation as an enabler of the larger healthcare ecosystem can never be overestimated enough, emphasises Dr Gurpreet Sandhu, President, Council for Healthcare and Pharma (CHP). "In a country where the majority of the population remains outside the ambit of quality healthcare services due to sheer physical accessibility issues, Digitalisation can be a potent problem-solver helping us to leapfrog many intermediate stages of a continuously evolving healthcare value chain, particularly in terms of technology."
Although he points out, there may be 'Teething Troubles' in terms of creating the foundational infrastructure and regulations. "No one can dispute the long term benefits to one and all, including patients, practitioners, and pharmacists." As scaling up ensue and more and more stakeholders take to Digitalisation, Dr Sandhu observes that costs would come down "massively" further enabling all-round uptake of digital health. "In this context, the government's digital health mission is a fairly comprehensive programme and must be embraced by one and all. We are very positive on Digitalisation, which is likely to completely reshape the healthcare landscape in the country in a matter of few years catalysing access to quality healthcare for more and more people in the country."
A Shot in the Arm for Primary Healthcare
Satish Kannan, Co-founder & CEO at digital healthcare platform MediBuddy says, "Digital transformation in healthcare is the positive impact of technology in the sector. The Indian healthcare sector is battling a major crisis, including inadequate infrastructure and human resource. By strengthening primary healthcare, timely and accurate guidance can be provided to patients. Telemedicine can aid in providing and strengthening primary healthcare."
Underscoring the direct correlation between owning a smartphone with the Internet connectivity and access to healthcare, he says: "In a country of 1.38 billion, we have over 500 million smartphone users. It is true that everybody does not have access to a smartphone. However, in a family, at least one person who is usually a bread earner has access to the Internet or smartphone. Access to the network connectivity can be utilised by the entire family for various purposes such as healthcare, besides gaming, shopping, and banking."
Vital for Achieving Many Strategic Goals
Amit Sharma, Group CEO at the IT and healthcare solutions company e E x p e d i s e H e a l t h c a r e says that in a realm of rapid te c h n o l o g i c a l shift, the attributes of the physical world are being digitalised. "Increased reliance on Digitalisation and data in the pharma industry can make players achieve leadership in multiple ways like improved R&D, patient engagement, point-of-care diagnostics, suggestive medicines, and care, etc. The companies must understand the present level of digital acceleration to meet their strategic goals." He asserts, "Our top management understands the importance of transformations that the entire industry's digital revolution can bring. We respond in three key ways: knowing Digitalisation, establishing the formal milieu for Digitalisation, and leading transformation.
'Crucial to maintaining Pace in R&D, Fast track Clinical Trials'
In any transformational phase, it is important to stay ahead in the adoption of new technology observes Entod International's Masurkar. "Digitalisation is increasingly becoming crucial to maintain pace in R&D, establish dynamic predictive systems, more efficient distribution channels, and ensure timely virtual data access for partners as well as industry collaborators."
Also, Clinical trials are one of the areas, which benefits significantly from digital adoption. The Covid-19 has demonstrated how crucial it is for fast-tracking the process of trials, he stresses. "From recruiting subjects to fast-tracking the data sharing process, Digitalisation will help the Biopharma industry speed up clinical trial processes. It also allows companies to get rid of the constraints of time and space while conducting clinical trials."
For pharma industry, he says, Digitalisation also helps keep pace with the increasing adoption of telemedicine. Digitalisation is also closely linked with greater optimisation, better resource usage, cost reduction and innovation. "Organisations that embrace these new digital possibilities are bound to leap ahead in the leadership race," he quips
Judicious and Timely Execution of the Process is the Key
Digitalisation does and would 'Give Wings' to those embracing it as opposed to digital sceptics, avers CHP's Dr Sandhu. He elaborates, "Just like most industries, Digitalisation can be a great asset or a weapon for pharma players too if they use it wisely and more importantly, timely. From processes involved in the sourcing of raw material to production to sales, distribution and marketing, to human resources management, to the handling of finances, Digitalisation can truly help them grow their businesses, add value to the economy, generate employment and in general contribute to nation-building."
Enables Diagnosing, Treating 70% of Health Issues Remotely
Since the very beginning, the aim has always been to make healthcare accessible to all Indians, observes MediBuddy's Kannan. Initially, he says, the idea was to build hospitals across the nation. However, it could not be possible. "The fact that we have a shortage of specialist doctors in the country, with more than 90% of specialists practising in metropolitan cities, makes quality healthcare inaccessible to millions of Indians. Tackling this issue on a massive scale would have been impossible if not for technology."
He adds, "In 2015 when we began working on the concept and we realised that almost 70% of health issues can be handled by the remote doctor intervention and diagnosed and treated online. Hence, we leveraged the opportunity and created a platform, where individuals have 24×7 access to high-quality healthcare at their fingertips."
'Brings Doctors and Pharma Experts Together in One Platform'
Digital marketing and digital outreach have become "highly" important in these times, says Masurkar. A number of such digital outreach practices established in the post-Covid era are likely to stay even after the pandemic has subsided because they result in better convenience and time effectiveness, he adds. "Entod's marketing teams have created different digital outreach channels to maintain constant touch with doctors and healthcare providers. We have turned significant attention to virtual pharma sessions and webinars that bring doctors and pharma experts together on the same platforms frequently."
He informs, "Our team has also developed few websites and applications, and one such website is entopedia.com. It is a one-stop medicine Wikipedia developed by us. Our technology driven medicines encyclopedia site Entopedia is used to search over 200 of our marketed ophthalmic, general segment, ENT, dermatological products in India. We have the largest ophthalmic range compared to any pharmaceutical company in the world. One can search by generic name or brand name and get familiar with our entire International standard of the product range."
'Effective Avenue for Delivering Information to Medical Sales Representatives'
With the Covid-19 pandemic uprooting the lives of individuals and "sternly" restraining nonessential personal interactions, opting for a combination of channels are more beneficial for quickly disseminating the necessary information to all relevant medical sales representatives, says Sharma. "Digital platforms play a central role during these crises. Current issues of medical journals, E-newsletters, professional social networks, medical podcasts or webinars, professional websites have evolved in terms of available channels. Any of these channels could be an effective avenue for delivering information," elaborates eExpedise Healthcare's Group CEO
Adoption
In the biotechnology industry, there are bio-processing 4.0, an end-to-end connected bio process where systems and equipment are integrated digitally forming the Industrial Internet of Things (IIoT) to run, control and even improve the process via feedback loops and AI or ML. It relies on integrated data, analytics, and automation for the vast amount of data generated. Cytiva's Goud informs: "We aim to realise Industry 4.0 by implementing new technology so systems can operate and communicate to provide data, and want effective change management within and outside an organisation for creating an environment that encourages and embrace change to be able to share data and knowledge internally and externally with our suppliers and end-users."
For implementing new technology, he explains, integrating new technology with existing systems is one of the key challenges in the digital transformation process. "In supporting our customers, we have developed a solution that allows for seamless transition and integration of hardware and software. We had executed this most recently with Fujifilm Diosynth Biotechnologies, who needed a unified platform that allowed its systems in two locations to 'Talk to Each Other' as the company shifted its production site from the UK to the US."
Elaborating about effective change management within and outside an organisation, Goud says that supplier data can help users make smart choices from the beginning by having a better understanding of the risks associated with variability. "This was reflected in our collaboration with Biogen, who needed to combine process data from the manufacturer with detailed raw material data from a supplier, to create a holistic view of process performance. Suppliers can provide knowledge about materials performance in the targeted applications and make risk assessments to evaluate possible control strategies."
Entod's Masurkar asserts that the company has adopted new-age digital tools, including AI, ML and DA to automate various manufacturing and aspects and make distribution channels more efficient. "The AIbased tools and predictive analysis are enablers towards better R&D and innovation and we are adopting these tools enable our researchers and innovators to yield faster, more precise results."
Hitesh Windlass, Managing Director of domestic pharmaceutical contract drug development and manufacturing major Windlas Biotech Pvt Ltd, says that the 4.0 tools are "surely" an area of focus, but there is a lot to be done yet; most i m p o r t a n t l y , on the regulatory front. "The regulatory approval and guidelines for new products that leverage these 4.0 tools are non-existent. There are no methodologies to prove the clinical relevance of new and radically different diagnostic techniques. While companies are individually pursuing a lot of initiatives, until the industry and regulators come together to help frame the guidelines that can allow these innovations to come to market, these initiatives will remain on the periphery of commercial success."
Windlass also informs the company has adopted DA tools to better understand the production efficiencies for its key products and put in systematic improvement programmes. "We are also moving all our quality management systems from paper-based to electronic databases. In manufacturing, these changes are expected to improve our quality compliances as well as cost efficiencies. We believe that the journey has just begun, and Digitalisation will be the main competitive determinant."
Dr Sandhu of CHP says that the adoption of Industry 4.0 tools is an "inevitability" and sooner or later, everyone would have to jump on the bandwagon. "Depending on one's own business requirements coupled with market needs, one would choose any or a mix of several Industry 4.0 solutions. Being a health advocacy organisation, we just wish that these new age tools and technologies are adopted by the largest number of stakeholders in the shortest period of time benefitting everybody. And importantly, it should not be a one off but a lasting and permanent practice."
The pharma and other players in the healthcare domain are arguably on the cusp of the biggest transformational phase since the advent of automation in the 1980s. Many of them are acknowledging Digitalisation as one of the strategic business priorities to be able to attain sustainable growth and have begun their Digitalisation journey and those who have not run the risk of falling behind in the race.


Follow and connect with us on Facebook, Twitter, LinkedIn, Elets video