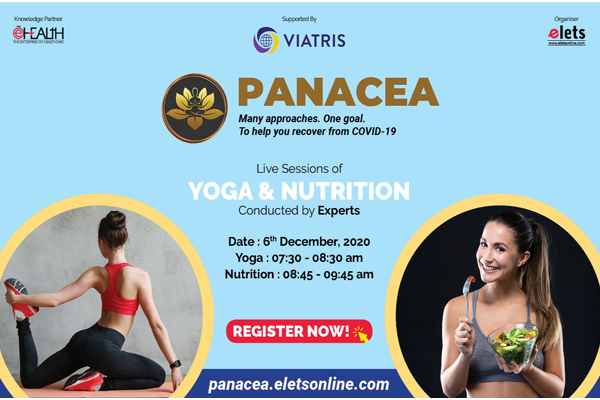 The world is in this pandemic for a long haul. The on-going struggle against COVID-19 strategies is comprehensive to cover immediate and long-term needs. Controlling and suppressing the spread, strengthen and maintaining health services and supporting each other to stay safe, healthy and well is the dire need of the hour. PANACEA –A dedicated campaign that will bring sessions by specialists in Yoga, Nutrition, Psychiatrists along with expert sessions by Medical Practitioners, for a healthy lifestyle.
Panacea is a first-of-its-kind programme which allows people to attend the lectures and modules and sessions, in helping to boost immunity, mental strength and good diet, accordingly bringing back their lives on the track with joy and happiness. First-of-its-kind series of free virtual sessions on Yoga, Depression, Anxiety, Stress Management, Nutrition, and Mental Health to help overcome the post-Covid19 anxiety, fear, and mental trauma and strength. There are special sessions by renowned Pulmonologists, Neurologists Cardiologist, and Endocrinologist. Conceptualised by eHealth magazine published by Elets Techno media Pvt Ltd, sessions under Panacea is a series of virtual sessions on Yoga, Depression, Anxiety, Stress Management, Nutrition, Mental Health and Medical Consultancy sessions, in times of Covid-19. Panacea is sponsored by Viatris and supported by Narayana Health, Ayush Society, Uttar Pradesh.
At Panacea, helpful coping strategies are included in getting sufficient rest, exercise, eating well, coping up with mental trauma due to the pandemic, avoiding harmful substances and staying in close contact with family and friends.
Panacea stands together to tackle what is the greatest public health, mind and soul challenge of a generation. This campaign with virtual sessions covering major ongoing problems is the strategy to control and suppress spread, strengthen and maintain health services, and support each other to stay safe and healthy. It will help our country to save lives and minimize impact. The mission is clear and the challenge is great. All are together, forward in the fight against COVID-19.
Follow and connect with us on