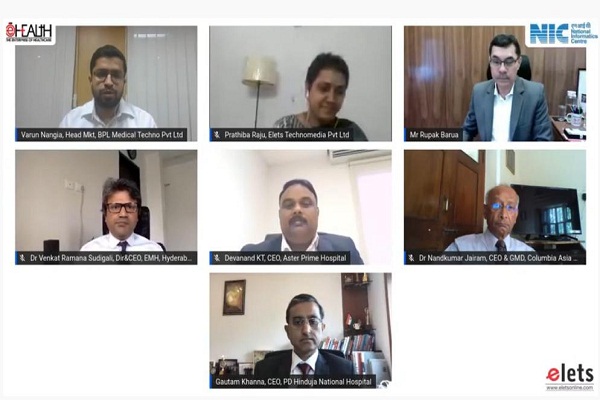 Eminent experts pondered on various aspects of healthtech investment while participating during a panel discussion on 'Healthtech Investment: The do's and don'ts at the 2nd edition of Healthcare Transformation Summit held recently.
Initiating the discussion as moderator, Varun Nangia, Head Marketing, BPL Medical Technologies Pvt Ltd, said: "Today technology has entangled so deeply that life without technology looks very incomplete. It brings enormous amount of benefits to us. We have seen during covid-19, how covid-19 was managed by various developed countries across the globe using huge amount of data available to them. Technology is also being used in developing vaccine. Technology has great use in mental health domain too."

"Some great business models have emerged over some last decades with huge acceleration in some domains such as Fintech and Healthtech. Healthcare is a complex and difficult industry which requires more amount of due diligence before any tech intervention is done, especially due to regulatory hurdles, complex supervision, and medico legal aspects involved."
Also read: Healthtech startup Tricog raises $10.5 million in Series B funding
Dr Nandkumar Jairam, Chairman, CEO & GMD, Columbia Asia Hospital, spoke on how technology was leveraged by the hospital over the years. He said: "We invested into technology in the very beginning of our foray into healthcare. Our hospital emerged 17 years ago, and at time also we had Electronic Health Records (EHR).We also invested in ERP system. Over the years, quality of technology has improved and become much more efficient. Our own system—care21, a HISS, was very slow and inefficient earlier. Today the same product with lots of changes has become fast, more efficient, and flexible. Security to data, speed of operation, efficiency of inter departmental care for consultations, are among many benefits of the product. Additional area of this technology has emerged—tele consultancy which was proved very useful during covid-19 times."
Gautam Khanna, CEO, P D Hinduja Hospital pinpointed benefits of technology in bolstering care system. "Medical devices like MRI, CT scan, all have become much more accurate and reliable. It gives lots of assurance and peace of mind to the clinicians. We can diagnose even finer text. There is lot of inter connection possibility with these devices. Many of them are connected like IOT.MRI and CT machine are actually connected to service centers in company. Somebody present there can monitor, diagnose and fix the problem. Something which could have taken two days to fix, just happened in few hours. That's the real advantage of the technology," he said.
"With government guidelines, video consultations have taken off. In last 4-5 months, we have done more than 20,000 video consults. Patients who can't travel to seek medical advice, can avail facility from the comfort of the home. We can upload reports, scan on the video platform," he further said.
Another panelist Rupak Barua, Director & Group CEO, AMRI Hospitals Ltd, talked about telehealth and how it is being used byproviders.
"Telehealth has been leveraged by many aggregators during COVID-19 times. It was only solution to reach mass during lockdown. We also have used telehealth and teleradiology to enhance care. We can incorporate innovative technology in telehealth. It can reduce overall health spending and improves outcome. Major areas where technology has proved useful are safety and turnaround time which has become fast and quick. Technology has improved turnaround time," he said.
Devanand K T, Chief Executive Officer, Aster Prime Hospital, Hyderabad, said: "Healthcare is undergoing a transformation. Patients are becoming more intelligent. They have high expectations. Healthcare is slowing moving from provider centric to customer centric model. Till now, we were focusing on care till now. Now patients want better services in hassle free manner. Technology would play a major role in coming days. We have already done more than thousand robotic procedures. People look for lesser number of days in hospital, low infection rate, minimal scar, less complications. Robotic surgery has proved beneficial for both providers and recipients. We have also introduced robotics pharmacy. It helps us in inventory and temperature control."
"I am a classic example of a doctor who uses technology on daily basis. Teleradiology was well established before covid-19. PACS came in a big way in early millennium. With PACS being established, it was a great step towards embracing technology. Images can be transformed to any parts of the world. Technology is helping patients in timely diagnosis and treatment in appropriate way. Post COVID-19, there has been acceleration in innovations," Dr. Venkat Ramana Sudigali, Director and CEO, Excell Multispeciality Hospital, Hyderabad said.
"AI and ML are looked more seriously. Patients are now embracing technology, logging to website and mobile apps. They are willing to be treated by consultants who are not in front of them. It saves patients' crucial time in travelling. Moreover it is cost effective as well," he said.

Follow and connect with us on Facebook, Twitter, LinkedIn, Elets video