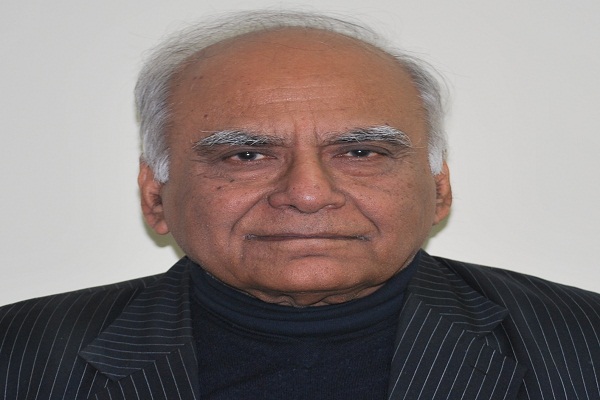 Globally, many pharma companies are in the race to come up with an experimental coronavirus vaccine. Many are on fast track mode on the vaccine development and majority of them have gone through experimental animal challenges and pre-clinical toxicology and Phase I and Phase II clinical trials. Fast-tracking has happened by hastening the regulatory approvals as well as taking in partners for recruitment of volunteers for Phase I and Phase II; many of them also simultaneously putting up production facilities. The Indian pharma cos may also have to follow the same path. Padma Bhushan Prof Nirmal Kumar Ganguly, Former Director General, Indian Council of Medical Research (ICMR), while speaking to Prathiba Raju, Assistant Editor, informed that in a vaccine production corners cannot be cut, and the pharma companies and the researchers need to follow certain timeframe and adhere to the procedure.
Informing about the vaccines that are being developed worldwide, Prof Ganguly said," Out of the 200 vaccines which are being developed for COVID-19 globally, about 19 of them are in a bid to complete the trials on a faster mode. Several of them have completed the phase II trial, while Indian vaccine is entering into the first volunteer, first patient trials."
"As the humans around the globe affected by the infectious virus are eagerly waiting for a vaccine, it could be available only by early 2021 and not before that," he claimed.
Explaining the vaccine development process, Prof Ganguly also said, "One of the major issues with COVID-19 is the requirement of pre-clinical toxicology published by the US Food and Drug Administration (USFDA) about the various stages of COVID-19 vaccine development. This is because it is slightly different from other vaccines. As this virus causes a lot of inflammation, attacks the immune system and causes multi-organ infirmity and respiratory issues, a vaccine that does not cause an immune response to attack its own body is necessary. In order to achieve this, pre-clinical toxicology should be done according to the guidelines provided by FDA comprising three stages.
Also read: Russian University completes human trial of Covid-19 vaccine: Report
"The first is the test-tube test for antibodies called the proof of concept, which takes a month's time for completion; second, a toxicology test is done on the mice; most lab mice resist infection by SARS-CoV-2, a type of transgenic mouse called the human ACE2 mouse is used for the test. For the mice to get infected, it takes 11 days. If a hamster is used for the test, it takes around 14 days. The third stage is testing on the monkey and it's crucial. So, you need to take toxicology tests of the monkey to make sure the nature of its antibodies and then you have to challenge it with a live virus. After this procedure, it should be seen whether the virus is recognised or not by the convalescent plasma," he notified.
Talking about the phases of the clinical trial on humans, Ganguly also mentioned, "The human trial of phase I is done in three age groups – 18 to 55, 55 to 70, and 70 and above.
Elaborating further, he said, "After Phase I human study, different doses of vaccines are used in humans in Phase II, which takes time and is crucial in vaccine development. So, many companies are doing these phases I and II simultaneously. American pharmaceutical major, Moderna Inc. developed a vaccine prototype, mRNA-1273. It is one of the first ones globally to successfully complete phase I and phase II with 1,000 samples and is moving to phase III. Phase III needs good surveillance that also takes time. Many Chinese, German and Indian companies are going to Brazil as they have higher prevalence of the COVID-19 infection.
Commenting upon the shortcuts taken, he said, "Most of the clinical toxicology procedures by the Indian pharma companies for the COVID-19 are done outside India and they term it to be fast-tracked. The vaccines are being fast tracked by resorting to simultaneous action where it is possible. Another method is regulatory reviews taking place on the fast track, including ethics and the last method is the starting of the manufacturing process after the phase II and going to the countries which have a high disease burden. All of these reduce the time taken. However, the safety and the basic processes have to be completed. The best is that we wait for the analysis of phase III and then introduce it appropriately.
"In the Moderna phase I trial, out of 45 volunteers some had serious adverse effects like high fever in high dose. Such adverse effects will be a challenge in future as they are going to larger vaccine campaign phase III with 30,000 people. They are ramping up their production facility so that they can get the vaccine developed by October and launch it by December or January 2021. Whereas, Oxford Vaccine Group has completed phase II trials of COVID-19 vaccine in 500 more volunteers and they have got good response from neutralising antibodies and T-Cells. Oxford has tie-up with many countries, and one of the manufacturers is Serum Institute of India; they have ramped up the production facility. They are expected to produce almost one crore vaccines in a year and they said that these will be priced at Rs 1,000 per vaccine."
He also said,"Anybody who makes the first vaccine will have an advantage over others. That is why there is a race among the pharma companies. I hope they abide by the safety protocols. There is a huge competition among countries like the USA, Russia, China, Europe and India. Fast tracking manufacturing processes will fast track the introduction of vaccines too. The Government of India is keen on facilitating the Indian companies for manufacturing of the vaccines through funding facilitation in the trial sides and also setting up a timely review process. All Indian agencies stated that they are committed to help Indian companies to achieve their targets. India has become a major vaccine manufacturing hub in the global manufacturer of vaccines and particularly in the developing and low-income world. The major Indian companies in the race are Gennova, Messenger RNA vaccine, Serum Institute (Oxford vaccine), Cadila for GLP vaccine with the Nova vax, the Bharat Biotech, Zydus Cadila where the vaccine has gone to first volunteer two days back. However, India is little behind than others as many have already completed phase II trials."
Another important thing Professor pointed out is, "Even if the vaccine is produced, its efficacy will be in an unknown quantum; it can be even 40 percent or 60 percent if it is administered. So, no vaccine manufacturer can be sure about the efficacy of their vaccine.
"Even though COVID 19 vaccine is being developed in a fast mode, it will still take at least 15 to 18 months. When it is said to be fast-tracked, other factors like compliance of the drug regulatory authority are also included. Fast-tracking needs to be done through a lot of effort, and certain Indian companies are trying their best. However, I would also remind vaccine makers that globally, many vaccine manufacturing companies are stuck in Phase II. So, in vaccine production, corners cannot be cut, and the pharma companies and the researchers need to follow a certain timeframe and adhere to the appropriate clinical process. No vaccine or no country should compromise the safety aspect in a vaccine even in an emergency," he stressed.


Follow and connect with us on Facebook, Twitter, LinkedIn, Elets video