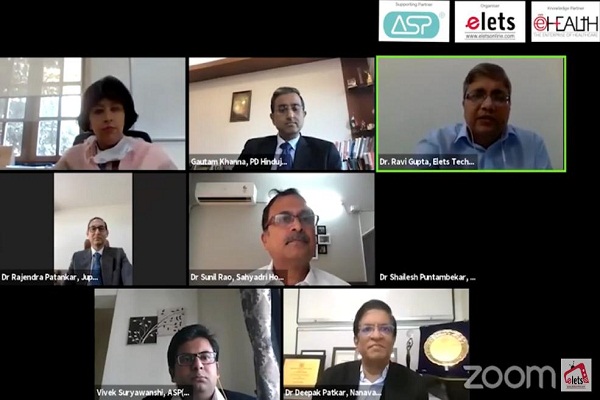 Amidst the Corona crisis which has hit every sector including healthcare, innovations seem to be the talk of the town. As healthcare service providers are grappling with an ongoing crisis due to corona and following national lockdown, they are looking for feasible solutions which can help them sustain the tough time. Innovative solutions, strategic moves, and latest technologies are proving to be game-changer which not only help providers to ensure safety of all (staff & patients), but help them to manage resources prudently and provide best care to patients. The eminent experts encapsulate various aspects of these facts in a recently held webinar discussion moderated by Ravi Gupta, CEO Founder & Editor-in-Chief of Elets Technomedia.
Gautam Khanna, CEO, PD Hinduja Hospital & Research Centre, said: "As COVID-19 has wreaked havoc everywhere, we are engaged in battle against the pandemic. There have been challenges for the hospitals as this is an uncharted water. We all are learning to navigate as we move along. We have created a separate COVID facility in a separate building. We also have modified protocols and separate teams, isolation wards and ICU to combat Coronavirus."
"People have risen to occasion and developed protocols to tackle all types of patient–asymptomatic, infected, other serious issues and all. Workforce is limited due to containment. It is also a constraint and inhibits hospitals to run normal operations. We have stopped elective procedures to ensure safety and social distancing. That has resulted in a huge financial burden. Hospitals are facing an estimated loss of Rs 7,300 cr/month due to 20-30 percent occupancy loss currently," he further added.
Dr Sunil Rao Medical Director, Sahyadri Hospitals Limited, believed: "All of our hospitals are engaged in combating COVID-19. Along with Pune and Nashik Municipal corporations, we are committed to tide over the crisis. At present we have eight positive cases being treated at our facility. First challenge was to convert the ICU bed into COVID bed. We had to change complete infrastructure. We also run lab chain, and for collection we developed a booth. We use ultraviolet devices and reusing N 95 masks. We also made some changes to the way entrance is designed."
Shedding light on how they are leveraging these tough times, "We conduct motivational sessions to convince staff as we got many resignations initially when the first patient hit the hospital. We made arrangements for staff to stay at hospital like in hostel. Another innovative initiative we took was that we converted asymptomatic contacts into a working force."
Dr. Shailesh Puntambekar, Medical Director, Galaxy Care Hospital, held an opinion, "We are laproscopic and robotics cancer unit. We are part of care group of hospitals which has 16 hospitals across the country with capacity of 2,700 beds. Our hospitals are designated to treat cancer patients. Presently, we do treat cancer patients with all precautions in the wake of the pandemic."
Also read: Covid-19 fear compromised treatment access to 40% heart patients: Study
"In the wake of pandemic, we thought to have lesser number of patients initially. But somehow, there was huge panic among cancer patients and they swarmed in seeking medical aid. They felt that cancer was more devastating during covid time. We are doing covid testing but at the same time we also do cancer surgeries. First priority is to protect our staff as well as patients. We faced lots of training issues and shortage of PPE. We assured staff of their jobs security, managing our cash flow. We have cut down the regular charges of surgeries."
Rajendra P.Patankar, CEO, Jupiter Hospitals, said: "We are tackling the pandemic along with Pune municipal corporation. We have identified critical beds and isolation areas in the hospital. We don't have any positive cases currently. Few cases came to us but fortunately their reports came negative. We started curtailing out-patient departments as cases started mounting. By the time lockdown came in, we suspended elective surgery. Occupancy was 20-25 percent."
"It's a national challenge and we are at forefront to tackle crisis.We have lots of constrains–procurement of equipment, material, and retaining manpower. We dedicated entire floor to hospital staff treating covid patients. Duties were managed like four days and then given off for four days. Teams were created. When one team was in hospital, another team was on leave to ensure safety of all staff," he added.
Dr Deepak P. Patkar, Director – Medical Services, Nanavati Hospital, believed: "Out of three, two hospitals have been converted into COVID building to treat such patients. We have total 16 patients being treated. We are facilitating CT scan where no PCR testing available. We were the first hospital which started taking surgery after covid testing. Training is one area we focussed upon and it is a regular practice now. We created separate area for doctors and nurses treating covid patients. We had separate lift for patients. Footfalls in OPD have dropped from 1,000 to 150, imaging has dropped to 20 percent. We are triaging patients–giving red bands to positive patients and green bands to negative one."
Dr Tarang Gianchandani, CEO, Sir HN Reliance Foundation Hospital & Research Centre, held the view: "We are doing laboratory testing for COVID positive patients. It has been real time interesting experience to manage COVID as well as non COVID hospitals. Biggest challenge we face was to change mindset of healthcare professionals. We started screening from very moment when few cases were cropped up. Initially there was lots of resistance from the ground. Most of the doctors thought that management was overreacting as no hospitals were putting restrictions. The mindset change was most important. We created videos, verbal dialogue to change mindset. I addressed 2500 people over a call and ensured everybody calls were answered and concerns addressed."
Vivek Suryawanshi, Regional Sales Manager West, ASP, said: "ASP is a global leader today in infection control. We primarily work in instrument reprocessing and got products and solutions for that. Usually people visit hospitals to get rid of ailments but imagine the situation if someone gets infected with a bug in the hospital. The Hospital Acquired Infection is a major risk. One in 4th in developing countries such as India acquires infection."
Sharing details about product, he further said: "Today, hospitals need to upgrade practices to prevent infection and sterilization plays an important role. HAI can bring an additional economic burden to the patients as they have to stay for a prolonged period in the hospitals. CSSD performs a critical role in managing infection. It is considered the heart of a hospital to prevent infection. If there is any gap in reprocessing then it will affect hospital infection standards. Our product Sterrad processes instrument in 20 min. It is a low temperature plasma sterilizer validated by the US FDA."


Follow and connect with us on Facebook, Twitter, LinkedIn, Elets video