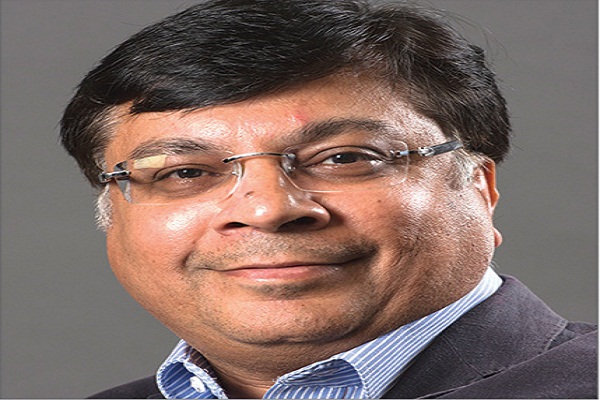 A webinar on 'Medical Devices and API sector: Challenges & Emerging Opportunities' was held on 22nd May, 2020 for business and trade collaboration between India and Japan in the post COVID-19 scenario. The webinar was organized by the Embassy of India, Tokyo in partnership with the Department of Pharmaceuticals, Ministry of Chemicals and Fertilizers, Govt. of India at the initiative of Ambassador HE Sanjay Verma & AiMeD (Association of Indian Medical Devices Industry)
Sanjay Kumar Verma, Ambassador of India to Japan shared his valuable thoughts on the golden opportunity for India and Japan to further boost their relationship in the context of the ongoing COVID-19 crisis. Dr. P. D. Vaghela, Secretary, Pharmaceuticals presented the sectoral view and the investment opportunities in the pharmaceutical and medical device industry in India. He also presented various initiatives taken by the Government of India to promote trade and business in the country. Navdeep Rinwa, Joint Secretary, Pharmaceuticals explained the Department's schemes to promote manufacturing of bulk drugs and medical devices viz. Production Linked Incentive schemes and Promotion of Bulk Drug/Medical Devices Parks and requested the delegates to avail benefits of the schemes.

Representatives of Japan & India: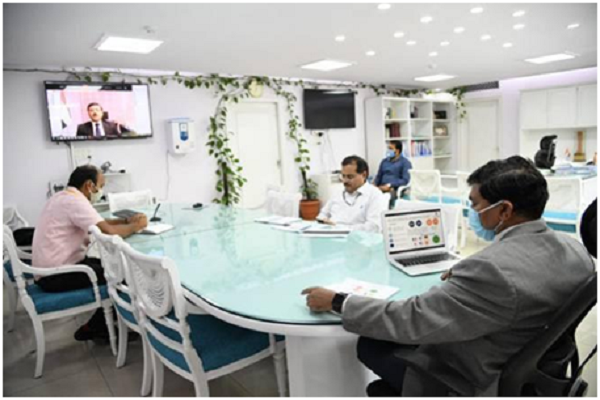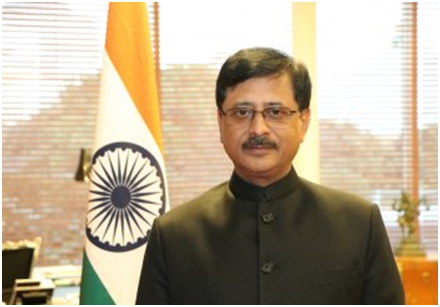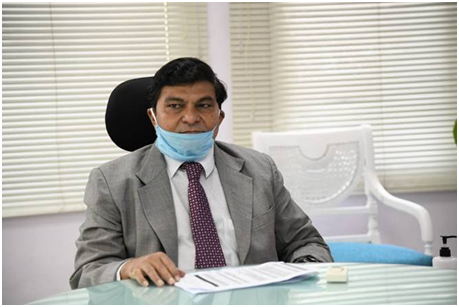 Pharmaceutical Traders Association and Japan Federation of Medical Devices Associations deliberated on the Post COVID-19 challenges & opportunities for Pharmaceutical & Medical Device sectors and its impact on the global supply chain and suggested that cooperation between the two countries can contribute to stabilize the supply-chain of especially APIs and Medical Devices. Representative of JETRO Chennai also shared insights on challenges and emerging opportunities in API sector and Medical Devices.
Mona K C Khandhar, Minister (Economic & Commerce), EoI, Tokyo mentioned about the resilience and strength of the Indian economy and detailed on the stimulus & reform packages announced by the Government of India to address the COVID-19 crisis and to improve the investment environment. The advantages of Indian economy, FDI ecosystem & Japan specific facilitation were also mentioned.
Representatives of Japanese subsidiaries Nipro India Corp and Eisai Pharmaceuticals India Pvt Ltd shared a detailed presentation and their experience about 'Make in India' program.
Representatives of major Indian Pharmaceutical and Medical Device Associations presented the future growth opportunities and way forward for Pharmaceutical and Medical Device industry in India.
Overwhelmed by the interest expressed by Japan's Medical Device Industry, Mr. Rajiv Nath Forum Coordinator, AiMeD on behalf of Indian Medical Devices industry invited Japanese investors in the field of Medical Device (including Medical Electronics & IVD) who are interested to set up Manufacturing base in India via
1) Technical Collaboration with Japanese MSME
2) Joint Venture with Japanese SME
3) 100% Direct Investment by Large Company
4) Licensing of Technology / Patent by MSME
"We invite Japanese expert manufacturers to teach us & partner with Indian and be a part of India's upcoming big story in global Medical Devices sector. Let us replicate the success of Automobile & IT industry." Said Mr. Nath. India imported 544 Billion Yen (38800 Cr ₹) of Medical Devices in 2019 & exported 178 Billion Yen ( 12700 Cr ₹) of Medical Devices with market size at Retail & Institutional sales level of over 1500 Billion Yen ( 1,05, 000 Cr₹) . India has Potential for over 1000 Billion Yen (70,000 Cr ₹) investment in Medical Devices over next 5 years.
India is targeting 1200 Technical Collaborations with Indian Investors for 600+ Billion Yen, 200 Joint Venture by Overseas Foreign Investors for 200+ Billion Yen and 50 MNC 's for 200+ Billion Yen.
Last month , the Indian Med Devices Industry had requested Indian Ambassador to invite Japanese Inc to shift Factories from China to India for enabling actual Make in India instead of spending over 200 million $ to assist them to shift elsewhere and suggested that Indian Govt. can possibly offer to subsidize by 100 Million $ this shifting.
"The Dark Cloud of COVID has one Silver Lining – Make in India of Medical Devices has become a valued entity as the few factories that are there, not only took up the challenges to meet the demands of the buyers in scenario of disrupted supplies, of the 85% import dependent market but are being looked at globally as possible 2nd factory to the World after China," said Nath.
In his presentation Nath explained the potential Japanese Collaborators that the business environment in India is changing to bring in a new era to boost Manufacturing of Medical Devices with the following measures having been taken in last 2-3 years:
a) Correction of Inverted Duties for 78 Devices on January 19th, 2016 & 5% Cess added on to Basic Duty on 01.03.2020.
b) Launch of ICMED Quality Assurance Certification by QCI
c) Medical Device Regulatory Framework, separately from Pharma being implemented in phases by MoH&FW.
d) Central Govt. and State Govt. are creating Medical Device Parks with Common Manufacturing Facility to create a conducive cost effective Manufacturing Environment
e) A Preferential Market Access Policy to protect investments and support Indigenous Manufacturing under Make in India Public Procurement Order.
f) India Invest providing facilitation services to investors as Make in India enablers
Representatives of State Governments of Gujarat, Telangana, Himachal Pradesh and Goa offered finer details of the investment opportunities in their respective States including package for incentives and taxation benefits, ease of doing business initiatives, land availability, infrastructural facilities, regulatory framework and invited Japanese companies for investing in their respective States.
Representatives of Andhra Pradesh MedTech Zone, SMT Technologies ,Allengers , Transasia, Trivitron, Hindustan Syringes & Medical Devices Ltd and Wockhardt, Sun Pharma, Panacea Biotec in Pharma Sector and other large number of Japanese companies also participated in the webinar as part of G2B and B2B networking.

Follow and connect with us on Facebook, Twitter, LinkedIn, Elets video