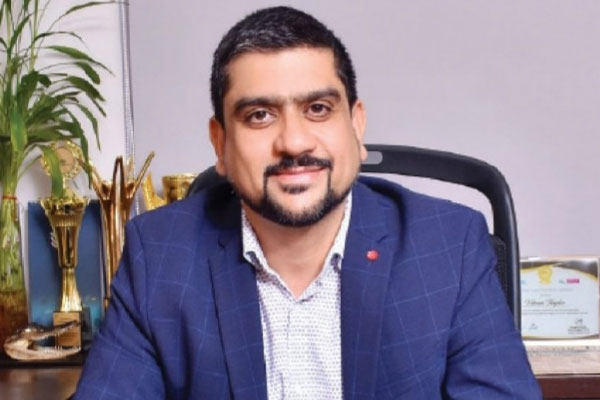 Telehealth has emerged as a viable tool for healthcare providers to improve accessibility, provide remote care, and helping governments in achieving Universal Healthcare, writes Vikram Thaploo, CEO – TeleHealth, Apollo Hospitals Enterprises Limited, for Elets News Network (ENN).
The advent of new age Information Technology has not only revolutionised the field of communication, but has also opened new dimensions in the field of healthcare. Using technology to enable remote populations get better access to doctors might have been unfathomable till a few decades back. However, today Tele Medicine as we call it is a fledgling phenomenon. It allows healthcare practitioners to break the barriers of distance and reach patients sitting even in remote areas using video conferencing tools. The first real use of video communication in medicine can be traced back to the 1950s and 60s when the University of Nebraska established a two-way television set up, which was linked with a state hospital to perform video consultations. In India, Apollo Hospitals Group pioneered the concept of telehealth 20 years back. On March 24, 2000, Bill Clinton, the then US President, commissioned the world's first VSAT enabled village hospital at Aragonda in Chittoor District of Andhra Pradesh, marking the formal introduction of telehealth services in India.
Today, telehealth has emerged as a viable tool for healthcare providers and governments to improve accessibility, provide remote care, and help them in achieving Universal Healthcare. According to market research, the global telehealth market is expected to grow to around USD 20 billion by 2026. India's telehealth market too is growing at a rapid pace as more and more healthcare organisations start looking at telehealth as a workable solution to address geographical disparities in the availability of healthcare services. In fact, NITI Aayog members have also held consultations with stakeholders to analyze the role telehealth can play in making the goal of 1,50,000 health & wellness centres under Ayushman Bharat a functioning reality.
The growth of smartphone ownership and spread of broadband Internet connectivity have been the two most prominent developments that have, in recent years, created a large potential market for teleconsultations. The market is also buzzing with increasing startup funding. A report by one of the Big 4's last year stated that if telehealth replaced 30 to 40% of in-person outpatient consultations, India could save up to USD 10 billion and improve care for the poor and those living in remote areas.
Let's take a look at areas where telehealth can play a defining role:
BRIDGING THE RURAL-URBAN GAP
India's rural-urban divide in terms of accessibility to healthcare facilities is widely known. Rural areas that are home to over 60% of the population have access to less than 30% of the doctors. In fact, estimates by the National Health Mission (NHM) say that the doctor-patient ratio in rural areas is six times lower than in urban areas. Official figures suggest that there is a whopping 82% shortage of specialists in Community Healthcare Centres (CHCs).
Given this huge void, healthcare providers and social entrepreneurs in India have already gauged the potential of telehealth services to grow in under-served areas. The government has also initiated a series of telehealth-based projects to make doctors and consultations easily accessible to people living in rural areas and urban slums. The government's focus on digital India has imparted a lot of impetus to the adoption of technology-driven healthcare.
At Apollo TeleHealth, we have already been partnering with state governments of Andhra Pradesh, Uttar Pradesh, Himachal Pradesh, Jharkhand, among others within the country. In addition, we have also collaborated with countries like Fiji, Malaysia and many others to enable telehealth projects for under-served populations.
While ASSOCHAM report projects India's telehealth market to reach $ 32 million by 2020; other reports project the market much above. Over the next 10 years, an increasing number of consultations in rural areas are likely to happen through telehealth.
Even medical emergencies like heart failure, critical accidents, snake bites are being handled effectively by Apollo TeleHealth along with monitoring chronic conditions via connected devices.
ADDRESSING OVERCROWDING AT HOSPITALS BY REPLACING OUT-PATIENT CONSULTATIONS
Increasing penetration of telehealth services not only enable people in rural areas to depend less on unqualified medical practitioners, but it also saves a lot of people from spending time and money on travelling long distances to seek medical help. Telehealth centres, when made accessible to a large number of under-served people, can help significantly reduce the long queues in government hospitals.
The report cited above also concluded that telemedicine had the potential to replace half of the in-person outpatient consultations in India, and an accelerated implementation could enable us to tap 60 to 80% of this potential by as early as 2025. Though telemedicine has lots of advantages, it must not be considered as a complete replacement for care by doctors; instead, it must be developed to act as a bridge.
DISEASE SCREENING AND DISEASE PREDICTION
With non-communicable diseases (NCDs) emerging as the leading cause of deaths, the need for increasing disease screening has gained much prominence in recent years. Regular screening can help identify diseases such as diabetes, hypertension, heart ailments, and some forms of cancers in the early stages when they can be treated or prevented.
Mass disease screening programmes in western countries have helped successfully reduce mortality rates due to noncommunicable diseases. Telehealth can help India institute wide-scale disease screening programmes through remote monitoring of patients. The health data collected and sent to doctors through electronic means can be studied and interpreted and consultations booked for people needing medical interventions or advice. Through data analysis of the accumulated data, researchers can also work to develop models to predict disease incidences and outcomes.
HOLISTIC WELLNESS IN THE DIGITAL AGE
Reaching out to the under-served consumers in many ways is the primary focus of telehealth services. However, it is not the only focus. Enabling easier access to multiple doctor's opinion and providing holistic wellness advice are another vital components that have gained eminence.
The emergence and success of medical apps indicate that telehealth also offers diverse solutions to healthcare problems of people. Through these applications, patients can have easy access to the best of doctors and wellness experts in different specialties, including alternative medicine experts. This is how mobile health technology is also enabling the creation of an integrated healthcare model for the masses.


Follow and connect with us on Facebook, Twitter, LinkedIn, Elets video